If you are looking for texture without an overpowering flavor, then this sun kissed yellow crunchy veggie babycorn is your answer!
A good choice to stay fit, babycorn is filled with healthy benefits that your body needs. Whether stirred, fried, baked or steamed, babycorn can turn your everyday meal around. Here are few quick, easy and no-fuss babycorn recipes that will make your meal a happier one. See:
1. Pulao
A spicy babycorn rice dish, it is infused with aromatic garam masala and tangy tomatoes. Cook rice and side by side, in a bowl, add chopped tomatoes, coriander leaves, green chilies, ginger and garlic, grind it. In a pan, add garam masala and sauté cumin seeds, cinnamon, bay leaves, cardamom, chopped onions and cloves. Add babycorn and cooked rice, stir it with the rest of the ingredients. Add salt according to your taste and in a pressure cooker, place the rice for 10 minutes and serve the babycorn rice with raita!
2. Jalfrezi
A delicious dish made with babycorn, giving out a spicy, sweet and slightly tangy taste. For babycorn jalfrezi, slice babycorn, capsicum and onions and sauté in a pan with oil. Add the ginger garlic paste, onions, capsicums, red chilies, tomato puree and babycorn, sauté. Stir it well and mix coriander powder, cumin powder, garam masala, salt and sugar for 10 minutes. When the curry becomes semi-dry, add the vinegar. Stir and serve it garnished with coriander leaves.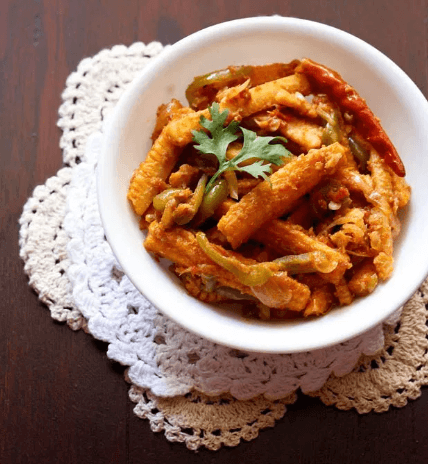 3. Okra Salad
If you're looking to get creative with babycorn, try babycorn okra salad. So, fry onions in hot oil, add fennel seeds, mustard seeds and season with salt. Add shredded garlic and crushed red chilies, fry till golden and stir in the okra. Add babycorn, green chilies, coriander, tomatoes and lemon juice before serving.