By Dietitian Muskan Bansal at Fast&Up
Confused about what to eat before working out at the gym?
What you choose to eat is important when it comes to a pre-workout snack. You should first refuel your body with the right food and nutrition before putting the machine that is your body through its paces. Prior to exercise, consuming the right nutrients will not only improve performance but also reduce muscle strain. And no, I'm not talking about any pre-workout supplements. I'm talking about real, delicious meals and snacks. The kind of foods you would enjoy anyway—and will enjoy even more when you know they're helping you reach your fitness goals. Here are 7 High Protein Pre – Workout Recipes
1. Spirulina smoothie with granola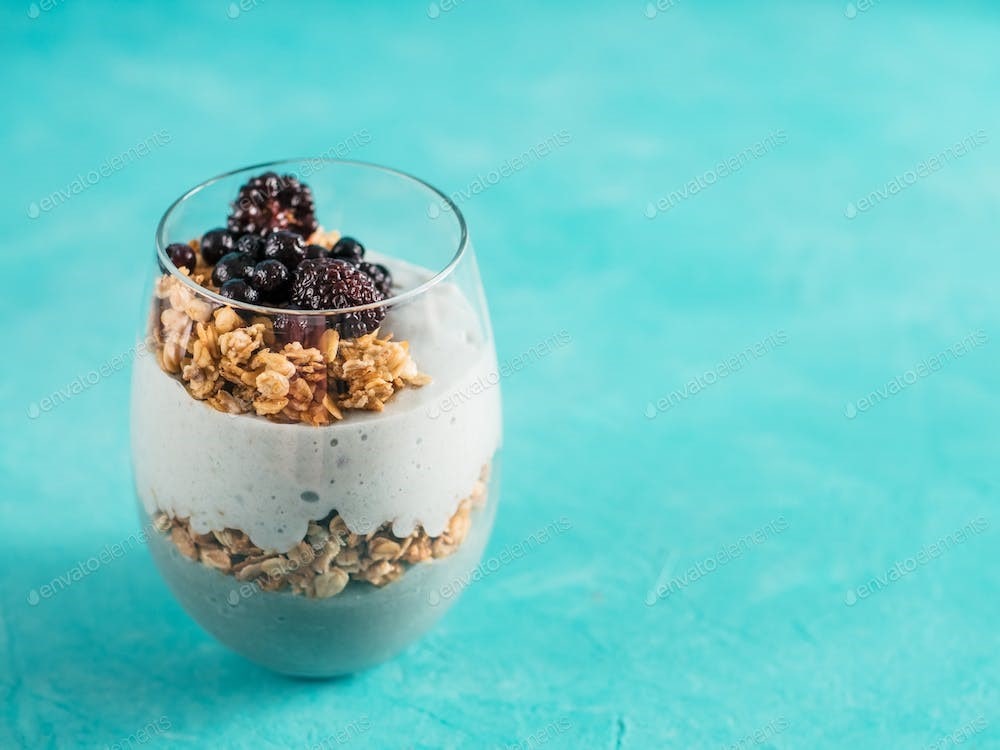 Image credit: Spirulina smoothie with granola (Envato Elements)
Ingredients
• ½ Cup (120 ml) Unsweetend Almond Milk (or your choice milk)
• 1 Cup Berries (blueberry & blackberry)
• 1 Banana Peeled and Frozen
• 1 tsp Spirulina Powder
• For Topping Homemade Granola
Instructions
1. Add all the ingredients to a blender and blend until creamy and smooth.
2. You can adjust the amount of almond milk to make it thicker or thinner, depending on how you enjoy it.
3. Garnish the smoothie with homemade granola.
2. Layered chia pudding parfait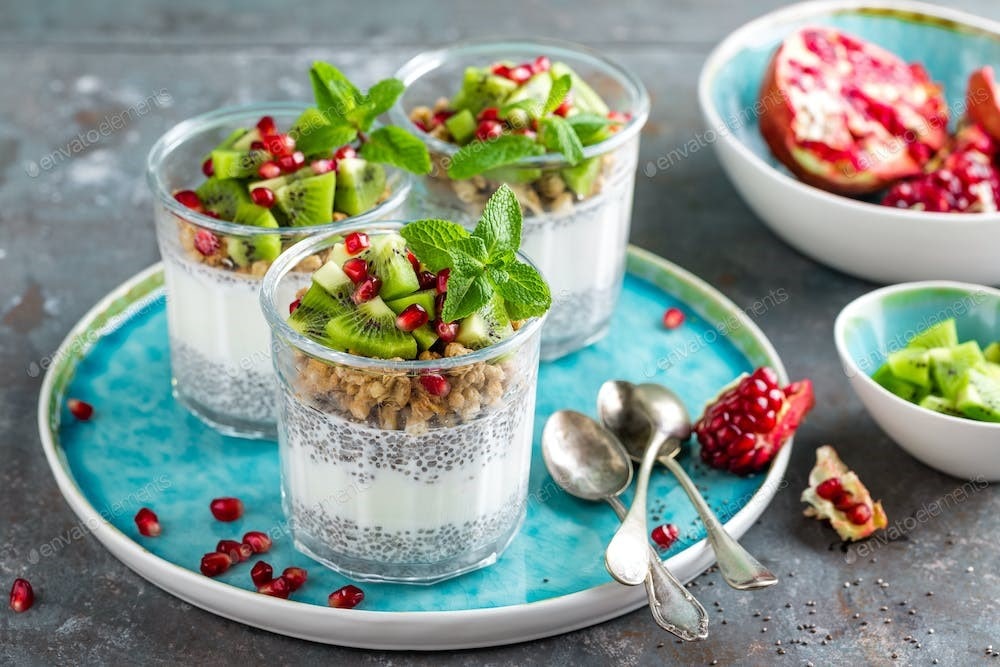 Image credit: Layered chia pudding parfait (Envato Elements)
Ingredients
• 2 Tbsp chia seeds
• Your Choice Milk (120 ml)
• 1 Tbsp Maple Syrup or Honey
• 1/2 tsp Cinnamon Powder
• 1 Pinch Salt
• 1 tsp Vanilla Extract
Yogurt Layer
Yogurt of your choice.
Fruit layer
Fruit of choice – chopped or diced into small pieces.
Instructions
1. To make your chia pudding- Add all ingredients to a bowl and allow to chill in the fridge for at least 2 hours or overnight (this helps the pudding thicken).
2. Once your chia pudding is thick, prepare your layered parfaits by layering chia pudding, yogurt and fruit in small containers or jars and continuing until your container is full!
3. Oats In The Jar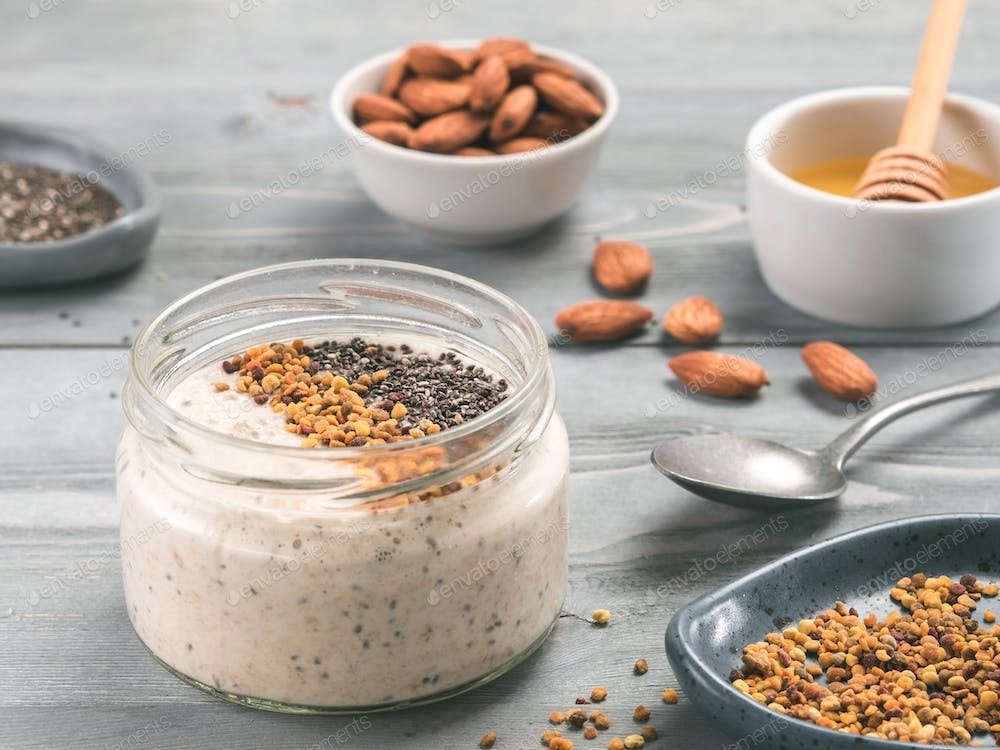 Image Credits: Overnight Oats In Jar (Envato Elements)
Ingredients
• 1 Tbsp Almond Butter (sub any nut butter)
• 1 tsp Chia Seeds (optional)
• 2-3 Tbsp Rolled Oats
• 1/2 Cup Milk (use your choice of milk)
• Your Choice of Fruit, fresh or frozen
• 1tsp Honey
• pinch of sea salt
Instructions
1. Add oats, milk, honey, chia seeds and sea salt into a jar or storage container with a lid. Stir ingredients together. Place in the fridge overnight.
2. If they seem too thick you can add a little more milk to loosen the mixture. Top with your favorite toppings of fruits with nuts & seeds and enjoy.
4. Granola bars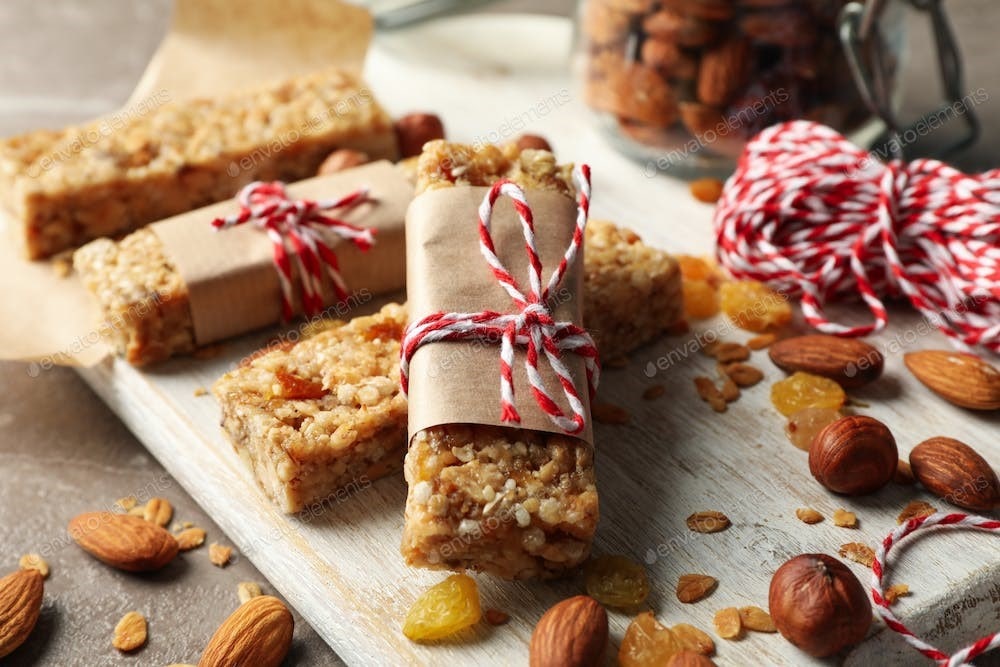 Image Credits: Granola Bar (Envato Elements)
Ingredients
• 2 Cup Rolled oats
• 1 Cup Almonds (chopped)
• ½ Cup Pumpkin Seeds
• ½ Cup Sunflower Seeds
• 2 Cup Medjool dates / Khajoor
• 2 Tbsp Water
• 2-3 Tbsp Peanut Butter
• 1 tsp Vanilla Extract
• Pinch Salt
Instructions
1. In a heavy-bottomed pan roast 2 cup of rolled oats.
roast on low flame until the oats turn aromatic.
transfer to a bowl and keep aside.
2. Now take almonds, pumpkin seeds and sunflower seeds in a pan.
roast on low flame until they turn crunchy.
transfer to the same bowl.
3. In a mixer jar take 2 cup medjool dates, 2 tbsp water. if you are using regular dates, then soak the dates to soften.
blend to smooth paste.
transfer the dates paste to the pan along with peanut butter.
cook on low to medium flame until it is well combined.
4. Mash and cook until the mixture turns glossy and separates the pan.
5. Transfer the dates peanut butter mixture to the same bowl of roasted nuts.
6. Also add vanilla extract and pinch salt.
7. Mix well using your hands. make sure everything is well combined.
8. Mix until it starts to hold the shape. do not worry if the mixture is sticky, the oats will absorb moisture.
9. Now transfer the mixture to the tray lined with baking paper.
press and level up forming a smooth layer.
now cover and refrigerate for 4-5 hours or until it sets completely.
10. Cut into the desired shape and enjoy a healthy granola snack bar
5. Homemade peanut butter with toast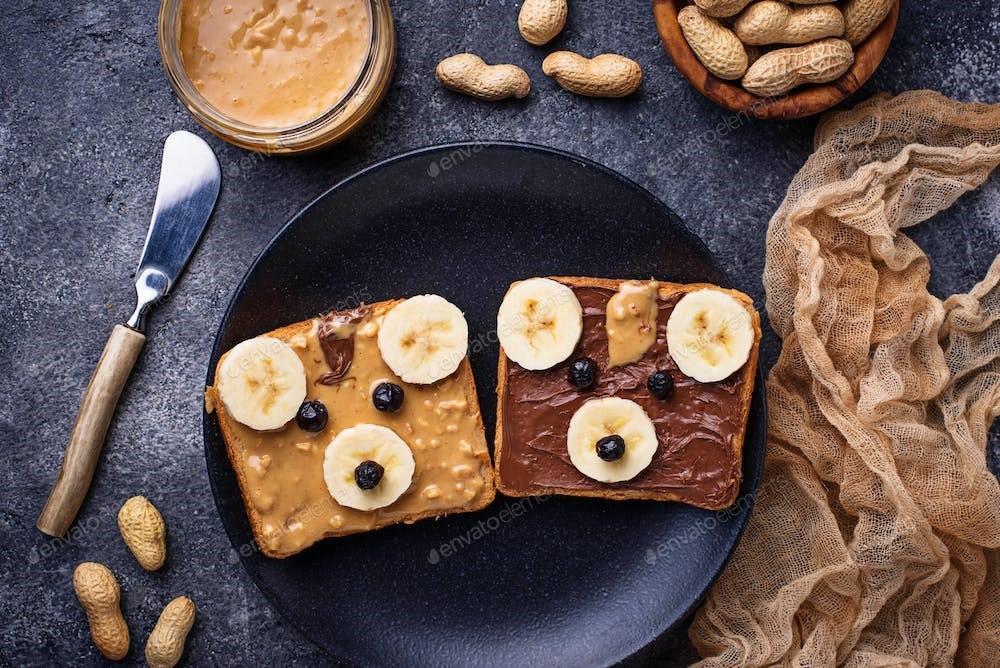 Image Credits: Peanut Butter Toast (Envato Elements)
Ingredients
• 1 Cup Roasted Peanut
• 1/2 tsp Kosher Salt
• 1 Tbsp Peanut Oil or any other oil
• 1 to 2 Tbsp Honey or any other sweetener (optional)
• 1/2 tsp cinnamon powder (optional)
Instructions
1. Remove the skin of the peanuts by rubbing the peanuts together in your hands.
2. Place the peanuts, salt and honey into the bowl of a blender. Process for 1 minute. Scrape down the sides of the bowl. Place the lid back on and continue to process while slowly drizzling in the oil and process until the mixture is smooth, 1 to 2 minutes.
3. When your peanut butter is ready Spread that on the toast and enjoy.
6. Chickpea Salad Recipe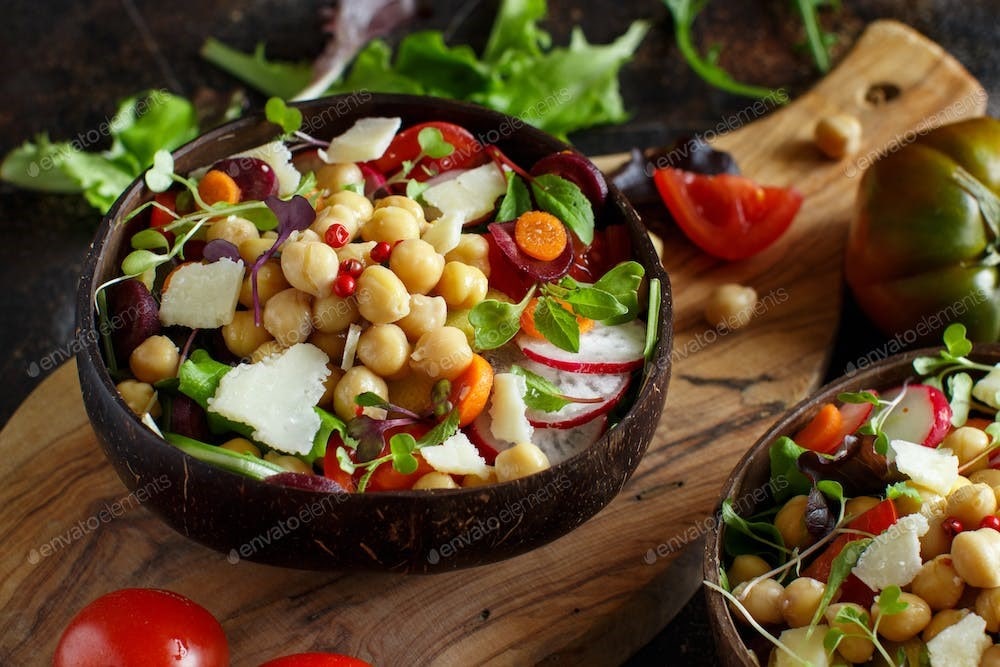 Image Credits: Chickpea Salad (Envato Elements)
Ingredients
• 1/2 Cup Chickpeas
• Small Onion Chopped
• Small Tomato Chopped
• 2Tbsp Roasted Peanuts
• 1/2 Medium Cucumber
• 1 tsp Lime Juice
• Black Salt & Black Pepper as required
• Chopped Coriander Leaves for Garnishing
Instructions
1. Wash all the vegetables, chop and mix them in a bowl with boiled chickpeas.
2. Then add roasted peanuts, salt & pepper as required.
3. Add lime juice and mix all the ingredients properly.
4. Garnish with chopped coriander and enjoy.
7. Overnight soaked almonds porridge
Image Credits: Porridge With Almonds (Envato Elements)
Ingredients
• 200ml Milk (Milk of your choice)
• 2-3 Tbsp Homemade Granola
• 1tsp Honey / 2 Dates
• Handful Almonds
• Any chopped fruit of your choice.
Instructions
1. Add milk, granola, chopped almonds & honey to a jar or container and give them a good stir. Refrigerate for few minutes to chill it and top with your choice chopped fruit.