On the occassion of Republic Day, here we are sharing an Indian tri coloured pasta recipe from Aditya Rao, Culinary Chef at Simpli Namdhari's and a Tricoloured Dhoklas recipe from Chef Thayanithi Tamilarasu, Senior Sous Chef, Signature Club Resort, Brigade Group.

Recipe: Indian Tricoloured Pasta
Indian Tricolor Pasta
Pasta – 1 cup
Orange layer
Red Bell Pepper – 40g
Onion – 1 tbsp (chopped)
Garlic – 1 clove (chopped)
Tomato – 100g
Tomato Ketchup – 1 tbsp
Oil – 1 tsp
Processed Cheese – 1 tsp (grated)
Salt and pepper to taste
White layer
Butter – 1/2 tbsp
Maida flour – 65g
Milk – 200 ml
Processed Cheese – 1 tsp (grated)
Salt and pepper to taste
Green layer
Spinach – 1/4 cup
Parsley – 2-3 sprigs (roughly chopped)
Garlic – 1 clove (chopped)
Onions – 1 tbsp (chopped)
Oil – 1 tsp
Processed Cheese – 1 tsp (grated)
Preparation:
Orange Sauce: Mildly coat the tomato and red bell pepper with oil. Heat on an open flame till the skin is slightly roasted. Allow to cool and remove outer skin and grind to a fine paste. Sauté garlic and onion in a pan on medium flame till translucent. Add paste and cook for a minute. Add tomato ketchup, cheese, salt & pepper to taste and mix well. Remove from heat and keep aside.
White Sauce: Melt butter in a pan, add flour, sauté, add warm milk and stir continuously to avoid lumps. Add cheese and continue to stir. Season with salt and pepper. Once the sauce thickens, remove from heat and keep aside.
Green Sauce: Bring 200 ml water to a boil, add spinach, blanch for a minute and transfer immediately into a bowl of cold water. Grind to a puree along with parsley. In a pan sauté garlic and onion until translucent. Add spinach-parsley puree, cheese and cook for a minute. Season with salt and pepper. Remove from heat and keep aside.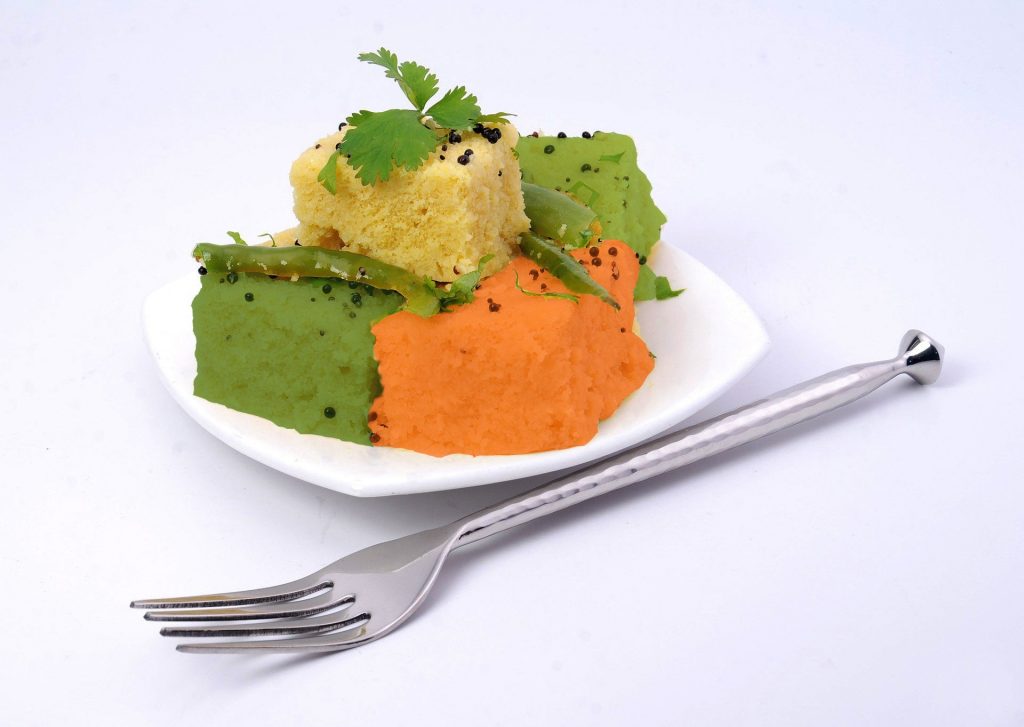 Pasta: Boil 1 litre water in a deep bottomed vessel. Add salt, a tsp of oil and pasta. Cook for 5 to 10 minutes. Ensure that the pasta is not over cooked. Drain and keep aside to cool.
Plating: Divide the pasta into 3 equal portions in 3 separate bowls. Mix orange sauce into one portion, green sauce into another portion and white sauce into the remaining portion. Mix well. On a plate place a round cookie cutter, fill in the green pasta and pack tightly using a spoon, repeat with white and orange pastas. Carefully remove the cookie cutter and garnish with juliennes of green, red and yellow peppers.
Tricoloured Dhoklas
Ingredients
Raw Rice – 3 cups
Chickpea – 1½ cups
Curd – 1 cup
Ginger Paste – 2 tbsp
Salt – 1 tbsp
Baking Soda – ½ tbsp
Green batter
½ cup chopped spinach
1 green chili
Saffron Batter
1 tsp turmeric powder
1 tbsp red chili powder
 Tadka
1 tsp mustard seeds
1/2 tsp cumin seeds
7 Curry leaves
2-3 tbsp oil
Cooking Instructions
Soak rice and lentils in separate bowls for at least 8 hours.  Drain water and grind the mixture to a thick consistency using as little water as possible.  Add sour curd and a little hot water, and leave to ferment. Do not refrigerate. After 6 hours, add salt and grated ginger to the mixture. Divide the mixture into three equal parts in three different bowls.  Add turmeric and red chilly powder to one part and mix well to make the orange batter.  For the green mixture, grind spinach and 1 green chilly into a smooth paste and add it to the second portion. Cook the dhokla mixture in small bowls in a steamer for about 15 to 20 minutes. Your tri-color dhokla is ready to serve.
For tadka, heat 2 tbsp oil in a pan, add mustard and sesame seeds, curry leaves and 2 green chillies (optional).