At home, everyone is trying new dishes and turning into MasterChef. Cravings are increasing but ordering or dining outside is still less. So to help you out, prepare a few street food items at home. This time, dishes made on tawa that are filled with Indian flavors, take a look:
1. Tawa Pulao
A popular Mumbai street food, Tawa Pulao is a rice dish filled with Indian spices and veggies.
To cook this, boil rice really well and keep it aside. Steam carrot, potato and green peas and chop them. In a tawa, melt butter, add cumin and fry till brown. Then add onions, ginger garlic paste, tomato, steamed veggies, capsicum, turmeric powder, salt, chili powder and pav bhaji masala to sauté. After 5 mins, add rice and mix it really well, garnish with coriander leaves and sprinkle lemon juice on the tawa pulao. Serve with raita, papad and pickle.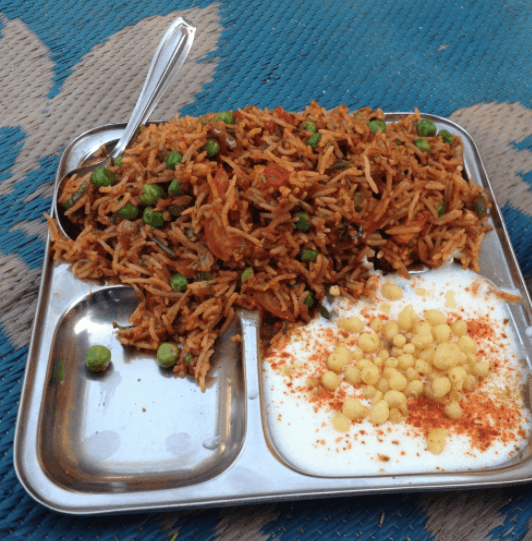 2. Chicken Masala
An aromatic dish for meat lovers!
For this, take chicken in a mixing bowl and add chili powder, turmeric powder, kasuri methi and salt. After margination, heat butter in a tawa and add marinated chicken to sauté. Later on, add oil, onions, carom seeds, cumin, ginger garlic paste, green chilies, capsicum, chili powder, coriander powder, tomato puree, turmeric powder, yogurt and salt, stir well. After ten minutes, sprinkle garam masala powder and lemon juice. Serve hot by garnishing fresh coriander and mint leaves.
3. Tawa Pizza
Pizzas made at home are as good as the outside ones, this time with a twist!
Tawa pizzas are yum, for making the dough, in a mixing bowl, add all-purpose flour, salt, sugar, baking soda, olive oil, lemon juice and baking powder. Knead the dough and add water in parts to get a soft one, keep it aside. Then, take the dough and divide into five equal parts. Take each part and roll it well between your palms, flatten and sprinkle some flour. Using a rolling pin, make round pizza bases. Heat a tawa and brush olive oil on it to place the pizza base. Spread the pizza sauce on the cooked side, sprinkle mozzarella cheese, veggies of your choice. Cover it till it becomes golden and crisp and the cheese has melted. Sprinkle chili flakes and serve!