Reebok India wants to help their audiences with their post-Covid recovery and have created a post covid recovery guide in collaboration with nation-wide experts. This collaboration is targeted at guiding people through the phases of restfulness and recovery needed in these trying times. This rollout will be a week-long initiative with content built across 3 pillars – Breathing & Mental Wellness, Nutrition and Fitness, and is being executed with Reebok's brand friends through highly informative and credible IGTV Videos, which will help guide people through their recovery journey. These IGTV videos have been followed up with a summary post for ease of access and a Q&A series where people get a chance to ask their questions.
The program has been running on Reebok India's Instagram profile and on the respective experts Instagram profile.
Following is the content being shared by each expert –
Vrinda Mehta
is a holistic fitness coach for physical and mental well-being. In her sessions, she talks about the importance of keeping your mental wellness positive, breathing exercises to follow, different ways to kick-start your day and much more.
Link to her content: https://www.instagram.com/p/CPFT9qqlvwn/
Namrata Gulati
is a Sport & Fitness Nutritionist with Sports Authority in India. In her sessions, she talks about the importance of nutrition, following the right diet to keep your immune system healthy, share post recovery diet routine to follow and much more.
Link to her content: https://www.instagram.com/p/CPPuCnVsWD3/
Amit Dahiya
is a certified personal trainer, certified marathon trainer, cross functional L1 and co-founder and head coach at 6262 Fitness. In his session, he talks about the importance of workout to follow for post-COVID recovery and step by step instructions on dynamic stretching and building strength.
Link to his content: https://www.instagram.com/p/CPUyBZ6MhlW/
Namrata Purohit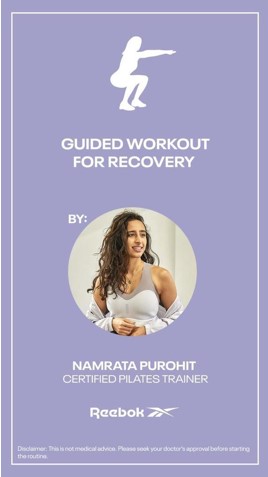 is a certified fitness instructor, entrepreneur, author and founder of The Pilates Studio. She focuses on staying healthy, fit and encourages others for it as well. She believes in growing together and helping people achieve their best version together.
Namrata will also be sharing a post-COVID recovery workout guide on Friday on her Instagram profile.
Link to her Instagram account: https://www.instagram.com/namratapurohit/
Through this initiative, Reebok aims to help people by lending its support to the ones in need and reminding everyone to follow the right protocols to bounce back to being fit and healthy.
A few quick reminders to keep in mind for everyone –

For more information, please visit the Instagram handle @reebokindia
About Reebok India
Reebok International Ltd., headquartered in Boston, MA, USA, is a leading worldwide designer, marketer and distributor of fitness and lifestyle footwear, apparel and equipment. An American-inspired global brand, Reebok is a pioneer in the sporting goods industry with a rich and storied fitness heritage. Reebok develops products, technologies and programming that enable movement so people can fulfill their potential. Reebok connects with the fitness consumer wherever they are and however they choose to stay fit – whether it's functional training, running, combat training, walking, dance, yoga or aerobics. Reebok Classics leverages the brand's fitness heritage and represents the roots of the brand in the sports lifestyle market.