Manyavar, India's leading brand in men's celebration wear, is proud to launch a one-of-a-kind limited edition collection, 'Legendary Celebrations', in collaboration with Marvel. It is Manyavar's first Marvel-inspired collection of Indian wear outfits that highlights the captivating world of Marvel and the distinctive styles of Manyavar.
The collaboration between Manyavar and Marvel was inspired by the global blockbuster Marvel Studios' film, Black Panther which made the character a fan favorite. During the memorable coronation scene, King T'Challa dons an exquisite outfit which had similarities with Indo- Western outfits that inspired chatter on social media amongst fans of Manyavar in India for a collaboration. That is how Legendary Celebrations came about.
Legendary Celebrations, the Marvel-inspired collection by Manyavar, features beloved Marvel characters paired with Manyavar's commitment to impeccable design and craftsmanship. Each piece in this collection is intricately designed, drawing inspiration from the personality of iconic Marvel Super Heroes such as Iron Man, Black Panther, Captain America, and Thor who have captured the hearts of millions of fans worldwide. Which one is your favorite?
On the occasion of the launch, Vedant Modi, Chief Marketing Officer of Vedant Fashions Limited said, "With great honor and pride, we announce our most unique collaboration with Marvel, that merges the worlds of fashion and fantasy and brings to you the Legendary Celebration. Who knew comments on social media would prompt us to create such an inspiring collection with Marvel. Our Manyavar loyal community has been the driving force behind this collaboration, and we are proud to deliver a collection that fulfills their desire and shows our unwavering dedication to meet our customers' aspirations. With this Marvel-inspired collection from Manyavar, we are very thrilled to have delivered what India asked for! This collection is a progressive evolution of Indian wear for the leading generation of the world. This exciting collaboration with Marvel is a step forward in our mission to superpower celebrations."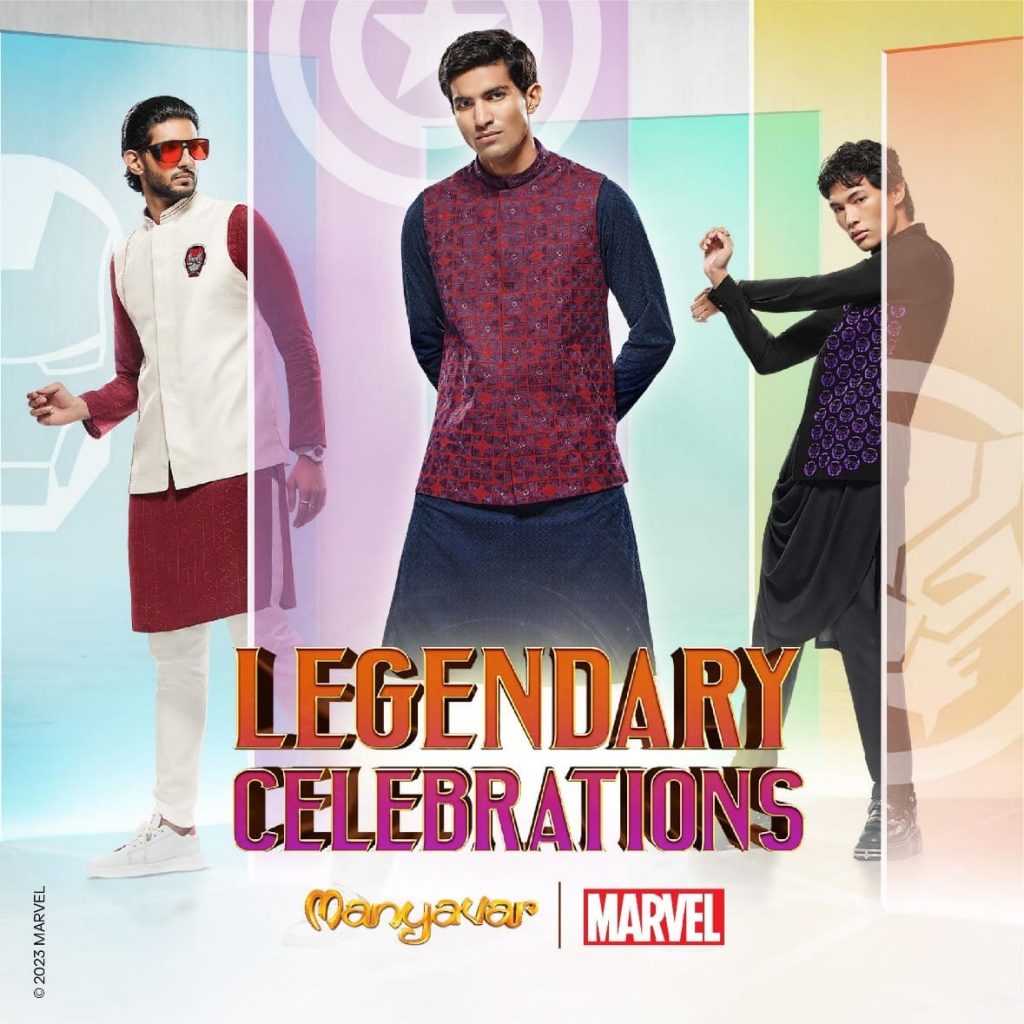 The Legendary Celebration collection transcends boundaries and resonates with fans, delivering an unmatched fusion of style and excitement. By infusing the distinctive traits of Marvel characters in each piece, Manayavar aims to captivate not only Marvel enthusiasts but anyone seeking a cool and empowering look.
The collection will be available in select stores and their website: https://www.manyavar.com/
It is priced from: 2999 INR to 14999 INR
About Manyavar
Manayavar brings the best fashion wedding collection to dress up your finest on the main day. The collection will give the grooms stylish makeover that will make their day fashionably special. With sophisticated embroidery work to expert craftsmanship and design, Manyavar is all you need to amp your style quotient.
Vedant Fashions also offers its range of wedding and celebration wear for women, through Mohey, and caters to the entire family with its regional heritage brand, Mebaz.