Marvel Avengers Campus opens at Disneyland Paris on 20th July 2022, with the promise to empower guests to take an active role alongside Earth's Mightiest Heroes and live out their own heroic story. Marvel Avengers Campus is an entirely reimagined universe dedicated to discovering, recruiting and training the next generation of Heroes, right here, right now in Disneyland Paris. Everyone is invited to join the action – teaming up with the Avengers and their allies throughout the land; slinging webs like Spider-Man; flying into space with Iron Man and Captain Marvel; and suiting up and re-fueling in true Super Hero fashion.
Opening as part of the 30th Anniversary celebration of Disneyland Paris, Marvel Avengers Campus is the next key milestone in Walt Disney Studios Park multi-year transformation plan and represents the Resort's next level of exceptional guest experiences. With Marvel Avengers Campus and Disney Hotel New York – The Art of Marvel, Disneyland Paris is poised to be the ULTIMATE destination for Marvel fans to live an immersive experience among their favourite Super Heroes.
WELCOME TO AVENGERS CAMPUS
Avengers Campus has been created by Tony Stark himself to discover, recruit and train the next generation of Super Heroes. For the first time, recruits will be empowered to take an active role alongside the Avengers.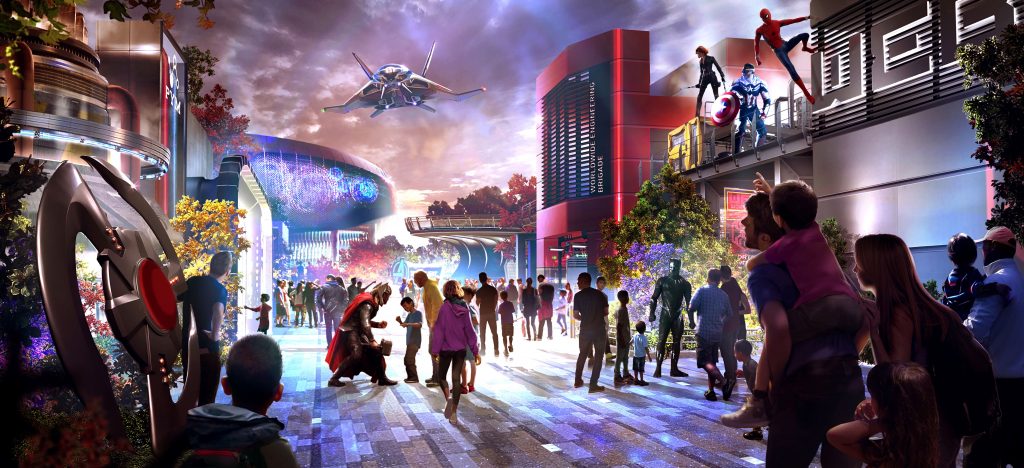 To fulfill this promise, Walt Disney Imagineering teams in Paris and around the world have worked alongside teams that brought the Avengers films, television series and comics to life. Together, they have designed and created a brand-new place in the Marvel multiverse that champions the inner Super Hero that lives in all of us. In fact, regardless of whether they are long-standing Marvel fans or come new to the Super Hero world once they enter Avengers Campus, they all become recruits, ready to take the next step in their heroic journey!
During their "Adventure with a capital A", recruits will be able to gear up like some of their favourite Super Heroes with an exclusive shopping experience and of course, refuel like the Avengers would with various delicious eats and treats at restaurants PYM Kitchen, Stark Factory and more!
LIVE-ACTION & HEROIC ENCOUNTERS
Recruits will have the opportunity to meet Spider-Man, Iron Man or Captain Marvel in a new dedicated building unique to Avengers Campus in Disneyland Paris, the Training Center. For the first time in a Disney Park, a dynamic "freeze frame" video sequence, created by Disney PhotoPass™ with 27 cameras all around the action, can capture these meetings with Captain Marvel or Iron Man and turn them into unforgettable moments. These special encounters will be available for booking through the Disneyland Paris mobile app.
"F.R.I.D.A.Y." the famous Artificial Intelligence designed by Tony Stark himself will be watching out and interacting with the Earth's Mightiest Super Heroes. Uploaded to the building façade of AVENGERS ASSEMBLE: FLIGHT FORCE building – the Avengers Headquarters – she will also welcome recruits to the Campus, monitor it for threats, and signal the arrivals and departures of Avengers. F.R.I.D.A.Y.'s presence will be exclusive to Disneyland Paris.
ACTION-PACKED ADVENTURES WITH IRON MAN, CAPTAIN MARVEL AND SPIDER-MAN
Exclusive to Disneyland Paris, AVENGERS ASSEMBLE: FLIGHT FORCE is every Super Heroes fan and thrill seekers dream come true. On this high-speed rollercoaster, recruits will team up with none other than Captain Marvel herself and the one and only Iron Man.
Recruits will be briefed by Iron Man himself, equipped with a brand-new Mark 80 armor exclusively designed for his missions at Avengers Campus. With no time to waste, they will have the opportunity to team up with the two Avengers on a high-speed mission. They will embark and fly up through space in a vehicle that Stark has equipped with a homing device, to lure the threat away from planet Earth.
Height requirement to ride AVENGERS ASSEMBLE: FLIGHT FORCE is 120 cm, equivalent to 47 inches.
SPIDER-MAN W.E.B. ADVENTURE is a new generation of attraction at Disneyland Paris where recruits of all ages will be given web-slinging superpowers accomplished through innovative technology created specifically for this attraction. The mission: team up with Spidey and help capture the out-of-control Spider-Bots – Peter Parker's robot sidekicks – before they wreak havoc on the Campus.
There is no height requirement for this attraction, allowing young aspiring heroes to join the action.
REFUEL LIKE A SUPER HERO WITH EXCLUSIVE DINING EXPERIENCES
Pym Kitchen is an innovation science lab where the food and drinks tell a story. Just as Ant-Man and The Wasp use "Pym Particles" to grow and shrink to just about anything, Pym Technologies applies this science to the creation of shareable bites, inventive entrees and sweet treats as a buffet. Recruits will be able to savour items at unusual scales, including both gigantic shareable pretzel sandwiches, hot dogs, burgers, cakes, and their tiniest versions for those who wish to try everything.
Stark Factory is a quick service restaurant where recruits refueling will get to enjoy a cooking show experience with homemade pizzas fresh from the pizzaiolo oven, including a vegetarian option, salads, and a choice of fresh pasta. The signature dessert will be paying tribute to Thor as it will be inspired by the God of Thunder's very own favourite treats as seen in Marvel Comics.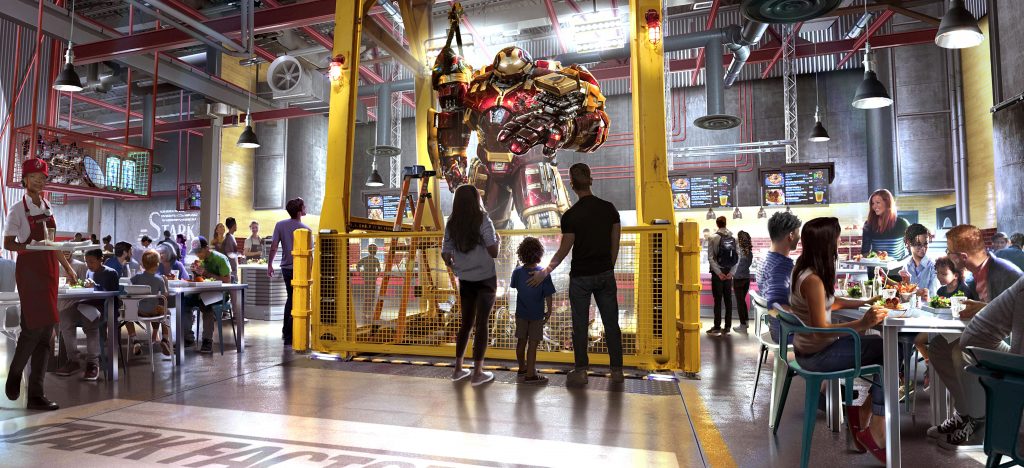 The WEB – Worldwide Eating Brigade – food truck will be run by the WEB workshop's inventors and serve a variety of Asian noodles and coconut balls. The FAN-tastic Food Truck, Tony Stark's favourite, will be parked nearby, serving New York style hot dogs, including vegan sausages, various types of sauces and toppings; and a cheesecake on a stick for dessert. Avengers Campus will also be home of the Super Diner, a small traditional American restaurant serving Reuben sandwiches, a signature North American recipe made with corned beef, cheese, Sauerkraut, and a savoury dressing, grilled between slices of rye bread.
THE REAL HEROES BEHIND THE SCENES
More than 450 cast members known as Campus Personnel are being discovered, recruited and trained to operate Marvel Avengers Campus. They will play a key role at the heart of the recruits experience to bring this parallel dimension of the Marvel multiverse to life like never before. Guests or "recruits" will enjoy truly interactive, next-level storytelling as Campus Personnel introduce them to new stories and train them for missions taking place across the campus, creating moments of adventure and discovery that will drive all recruits of all ages to action.
Generating more than 450 job openings – two thirds of which are long-term positions – our objective is for around 70% of our Campus Personnel to join from diverse roles across the Resort.