Karva Chauth, one of the most auspicious days for all Indian married women. They observe a fast for the whole day, to pray for the wellbeing of their husbands.
This year, Bollywood stars have freely indulged in social media display of affection, giving fans an insight into their extraordinary romance. Scroll down:
1. Anushka Sharma
One of India's favourite couples, Anushka Sharma and Virat Kohli celebrated their second Karva Chauth and fasted together. Isn't that super adorable?
Taking on their social media, both the stars posted similar pictures. The Bollywood actress went all cheesy and wrote, "My partner for lifetime & beyond and my fasting partner for the day. Happy karvachauth to all 🌝💜".
While, the Indian skipper captioned the picture as, "The ones who fast together laugh together ❤😃. Happy karvachauth 😇".
Not only us but even b-town can't stop gushing over this couple, see: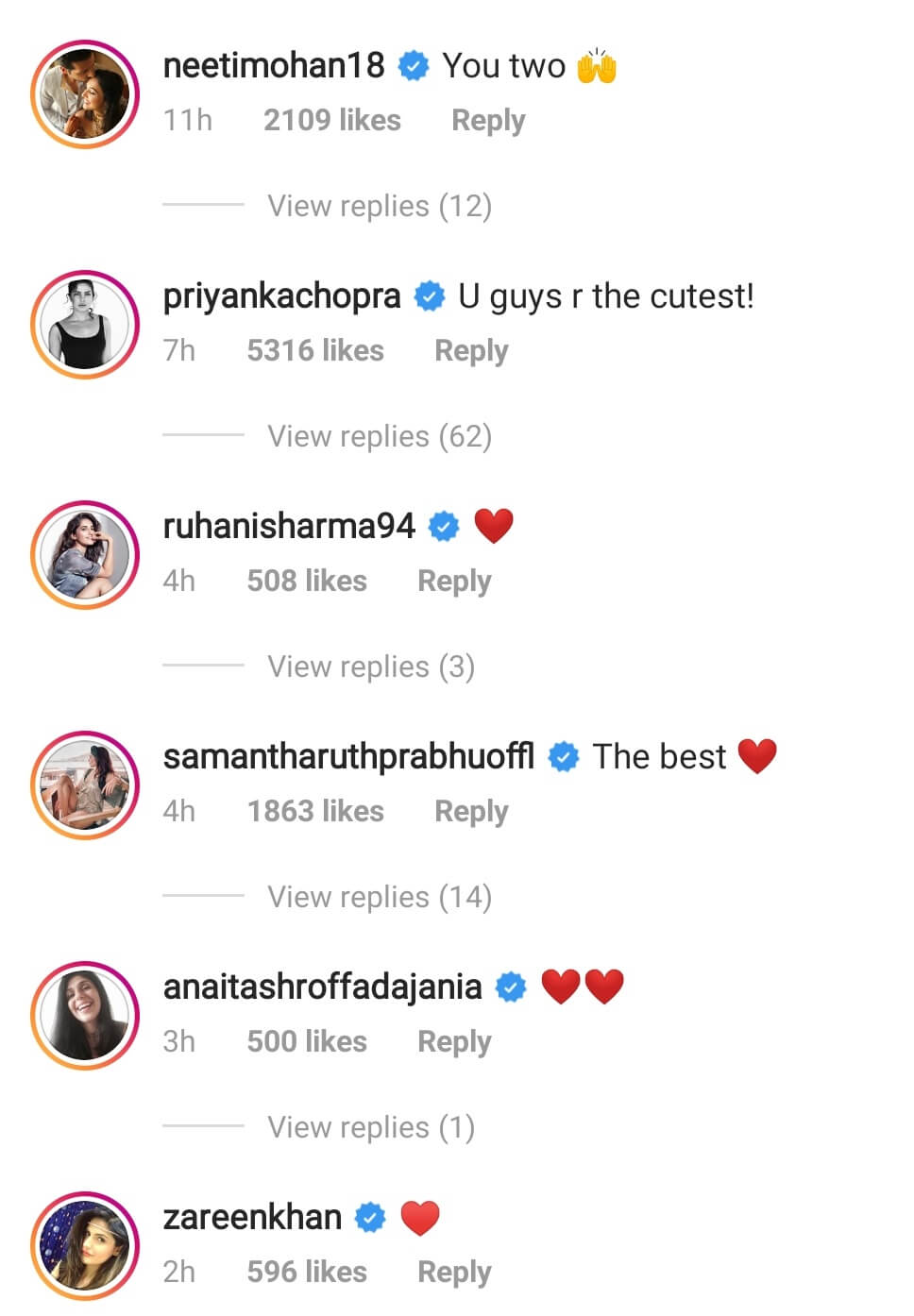 2. Priyanka Chopra
Priyanka Chopra's first Karwa Chauth celebration was unusual in many ways, starting with the fact that it was at a Jonas Brothers concert in Los Angeles, USA.
'The sky is pink' actress shared a picture with her hubby Nick Jonas, dressed in bridal red, complete with sindoor and glistening red bangles, she captioned it, "Karwa chauth at a @jonasbrothers concert. Definitely a first I'll always remember! 😂❤🙏🏽 @nickjonas
Why should Nick Jonas stay behind, right?
The singer penned down such an adorable note on his Instagram, for the queen of heart, Mrs Jonas. Thanking her, he wrote, "My wife is Indian. She is Hindu, and she is incredible in every way. She has taught me so much about her culture and religion. I love and admire her so much, and as you can see we have fun together. Happy Karva Chauth to everyone!"
3. Shilpa Shetty
Bollywood actress and fitness inspiration, Shilpa Shetty Kundra shared pictures from her celebration with husband Raj Kundra on Instagram, they are no less than a movie scene.
Sharing a quirky series, Shilpa wrote, "No marriage is perfect…It is a union of two imperfect souls who with a little thoughtfulness, patience and love…add a lot of life to the number of years ,they live as partners 💕💕💐💐 ❤❤Thank you @rajkundra9 for fasting with me every year.. Our 10th year…Falling more in love with you. Ahem! Hubby loves the last pic 😅🙌🏼😂Don't miss the smile…Enjoy the feet touching once in a Red Moon .😜Haha #karvachauth #husband #bestfriend #longlife #rituals #gratitude #love #unconditionallove #partner #hubby".
This year also, Anil Kapoor and his other half Sunita Kapoor threw a special Karwa Chauth party. Shilpa Shetty attended it with other celebrities. Posting a picture with her girl gang, she captioned it, "Karva Chauth puja with the KC gang. Thank you @kapoor.sunita for getting us together and being the bestest hostess always #love #gratitude #love #longlife #karvachauth".
Shilpa looked phenomenal in a bright red saree, which she paired with a golden sling clutch. The perfect red outfit for the festive!
4. Tahira Kashyap
Ayushmann and Tahira shared a special moment on this festive but there was a twist in the tale!
Since, Tahira is recovering from her cancer treatment, the 'Bala' actor observed a fast for his beloved wife's long life and health. Itna pyaar, uff!
Taking to her Instagram, Tahira shared a video from Dubai where she was face timing with Ayushmann as he broke his fast after looking at the moon and her. What a beautiful moment!
She wrote, "Embarrassing you further @ayushmannk our #karvachauth moment! While I am in Dubai for an event, my certainly better half keeps a fast for me on his set! (p.s I am still popping some pills so couldn't fast) But how adorable are you Mr A! Love you so much❤
#fastinghusbands thank you @shrutiv11 for capturing this moment!"
Even Bollywood can't get over this, take a look: