The world finally sat up and took proper notice of the fire that has been ravaging Brazil's Amazon rainforest for the past three weeks. Amazon, which is often referred to as the planet's lungs, produces 20 percent of the oxygen into the Earth's atmosphere.
The fire, which originated a few weeks ago, has now grabbed the world's attention, including Bollywood celebrities who took to social media to highlight the condition of the Amazon Rainforest.
Take a look at reactions from Bollywood:
Anushka Sharma posted on her Instagram story, writing, "The Amazon rainforest has been burning for weeks and we are only just finding out about this!! This is such a scary news! Amazon forests are the lungs of this already suffering planet and they are on fire now! I wish this got more importance from world media!! #saveamazon".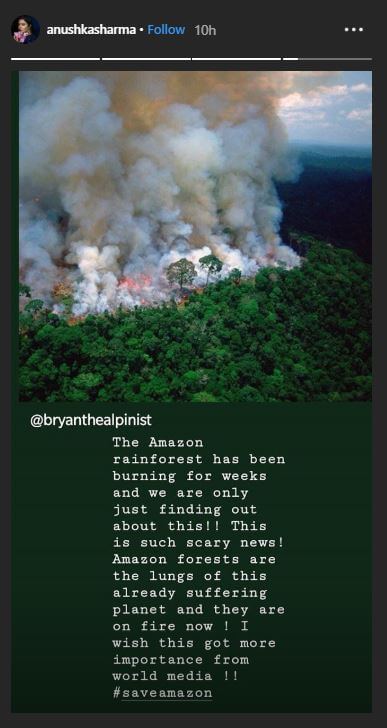 Arjun Kapoor, who has spoken about water crisis and floods on Twitter, also posted a message on his Instagram story, which reads, "It's scary how bad the fire at the Amazon Rainforest is!! I can't even begin to imagine the impact this will have on the world environment. It is truly saddening. #PrayforAmazon".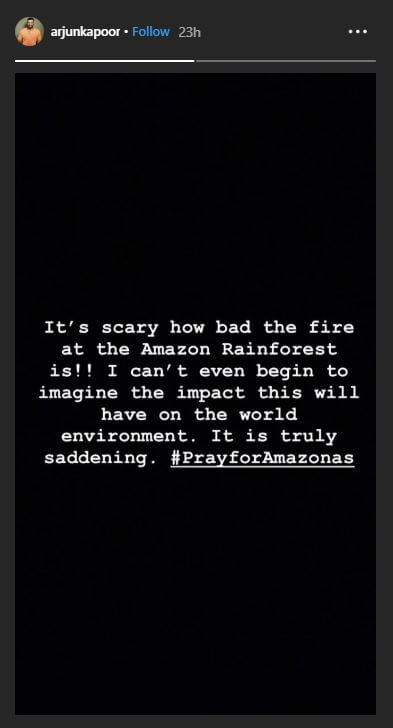 Take a look at the other Bollywood stars who shared and wrote about the Amazon fire on their Instagram stories:
Anil Kapoor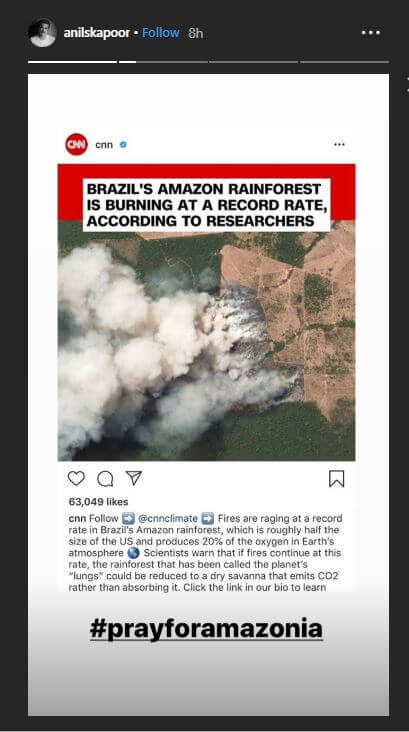 Sonam Kapoor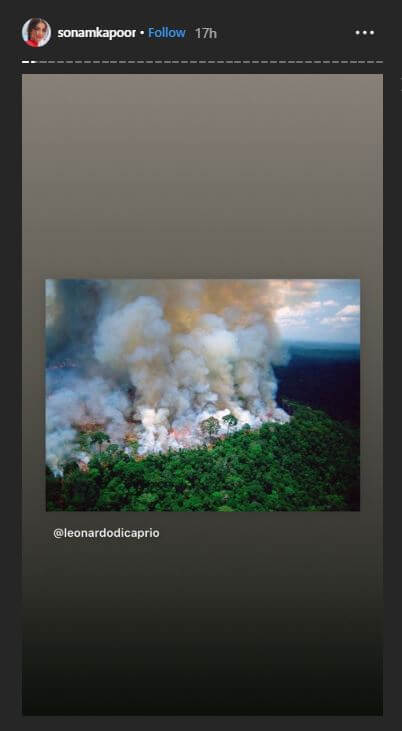 Ishaan Khatter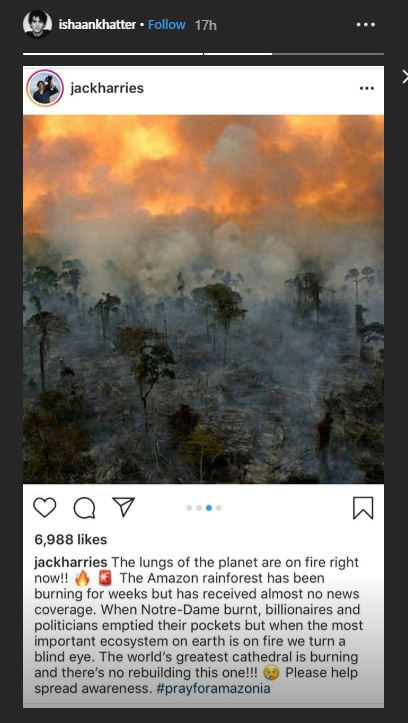 Alia Bhatt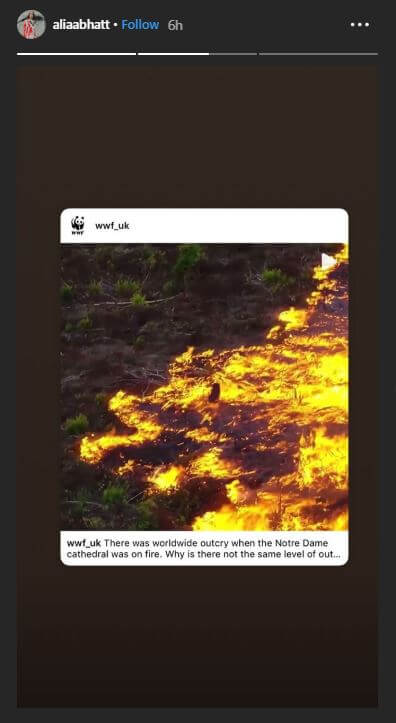 The 'Mission Mangal' actor Akshay Kumar tweeted about the same cause.
Been seeing heart-breaking & alarming pictures of the Amazon rainforest which has been on fire since more than 2 weeks!It is responsible for 20% of the world's oxygen.This affects each one of us…the earth may survive climate change but we won't. #SaveTheAmazon #PrayForTheAmazon

— Akshay Kumar (@akshaykumar) August 22, 2019
Taking to Twitter, the rising star of Bollywood, Ayushmann Khurrana wrote:
The Lungs of our planet Earth have been burning for weeks! #PrayforAmazonia https://t.co/eiduqZt257

— Ayushmann Khurrana (@ayushmannk) August 21, 2019
Disha Patani and Shraddha Kapoor shared Hollywood actor-environmentalist, Leonardo Dicaprio's Instagram post on their handle who wrote, "Terrifying to think that the Amazon is the largest rain forest on the planet, creating 20 per cent of the earth's oxygen, basically the lungs of the world, has been on fire and burning for the last 16 days running, with literally NO media coverage whatsoever! Why?"
https://www.instagram.com/p/B1c1X7lg9Ot/
Dia Mirza stressed on the impact of climate change in her Instagram post.
Bhumi Pednekar spoke about the importance of Amazon, writing, "The Amazon rainforest, the lungs of our planet, crisscrossed by rivers, millions of trees and rich biodiversity is absolutely crucial in maintaining balance in our ecosystem. It provides 20% of the air we breathe, consists of 40% of the world's tropical forests, holds 20% of the world's freshwater supply and 10% of world's species along with numerous indigenous tribes that call it their home. One of the most valuable places on this planet has been getting abused for years now. The Amazon has lost at least17% of their forest cover, deforestation is rampant and forest fires have reached preposterous proportions. The wrath of nature has just been intensifying with each year. You cannot imagine a world without the amazon, because there won't be one.  Action should have been taken years ago to protect our natural habitat! It's time to step up…before it's too late. #AmazonRainForest#PrayForAmazonia #PrayForAmazon#ClimateActionNow#ClimateEmergency"
The Amazon forest has been ravaged by fires between January and August this year and still continues to burn at an alarming rate which has left the whole world distressed.
Let's pray and save the Amazon Forests! Actually, wait, we urge you to do more than just pray and spread the news as much as you can, so that our leaders all rise up from their sleep!