Bollywood is taken over by sudden sickness and it reminds us all the quote 'Gardish Mein Sitare'. Now, whether their stars are in 'Gardish' or not but their health definitely is.
Earlier, Bollywood Shehanshah, Amitabh Bachchan shared a picture over his social media handle cancelling his Kolkata tour for KIFF while apologising to his fans for the absence because of a medical condition.
Read his post here:
T 3543 – .. was to be in Kolkata for KIFF ,but a medical condition put me in bed .. apologies KIFF and the passionate people of Kolkata .. i shall make up some day .. sorry pic.twitter.com/5YvIe1VCgq

— Amitabh Bachchan (@SrBachchan) November 8, 2019
Prayers for his well being surfaced all over the internet and Big B calming down the worried audience shared many other posts giving a sneak peek from the hospital.
In one post he also showed his love for snacks and sports.
Have a look:
T 3544 – अस्वस्थ हैं, बिस्तर पे पड़े हैं ; लेकिन ये चल रहा है … BIKAJI .. 🤣 pic.twitter.com/1q2KPSCXXo

— Amitabh Bachchan (@SrBachchan) November 9, 2019
T 3544 – … the Fowler , the socks and the Premier League .. all day long .. in recouped state attempt .. 🌺 pic.twitter.com/uruPhDcLkT

— Amitabh Bachchan (@SrBachchan) November 9, 2019
Soon the sickness league was joined by 'Padmavaat' actress Deepika Padukone who recently with her hubby was seen enjoying at her best friend's wedding in Bengaluru. The actress took to her official Instagram handle sharing a story captioning it as "When you have too much fun at your best friends wedding!" and we can see a bedridden Deepika in it.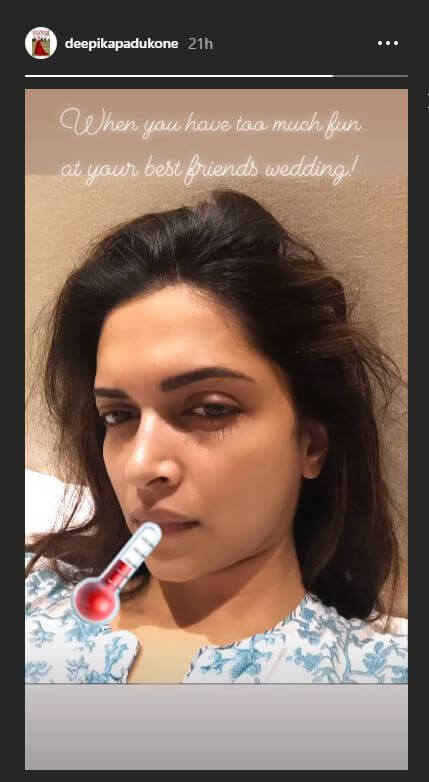 Get well soon guys!