In an attempt to look our best, we only prep our skin and hair with various beauty care regimes. Now, let's pay attention to our feet and hands!
With well-manicured feet, you'll get a boost of self-confidence. Sometimes you might not have time to visit the salon so why not nourish and soften your feet at home with kitchen ingredients?
Feel relaxed after trying the below given DIY Pedicure:
1. Jasmine
To get the most soothing DIY pedicure, equip yourself with home ingredients. For a better and luxurious feel, add jasmine's essential oil, massage oil and flowers. Jasmine removes roughness and dryness of feet, restores moisture and relieves aching heels. It contains natural herbal qualities that work as a skin freshener.
How to do it:
Take a tub of warm water and add two tablespoon of jasmine massage oil and bath wash. Soak your feet and shower them with jasmine flowers. With the help of a nail brush to clean the nails and later on, using a pumice stone gently rub your heels to soften out the dead skin. Rub the orange slices and let the juice soak into the feet's skin as it will reduce the tan.
Once this is done, add sea salt, jasmine massage oil and the essential oil in a bowl to scrub this paste on your feet. Again, soak your feet in lukewarm water. Mix oatmeal and water to make a thick paste that should be applied on your feet for five to seven minutes. File the nails and wipe your feet clean!
You will be rejuvenated!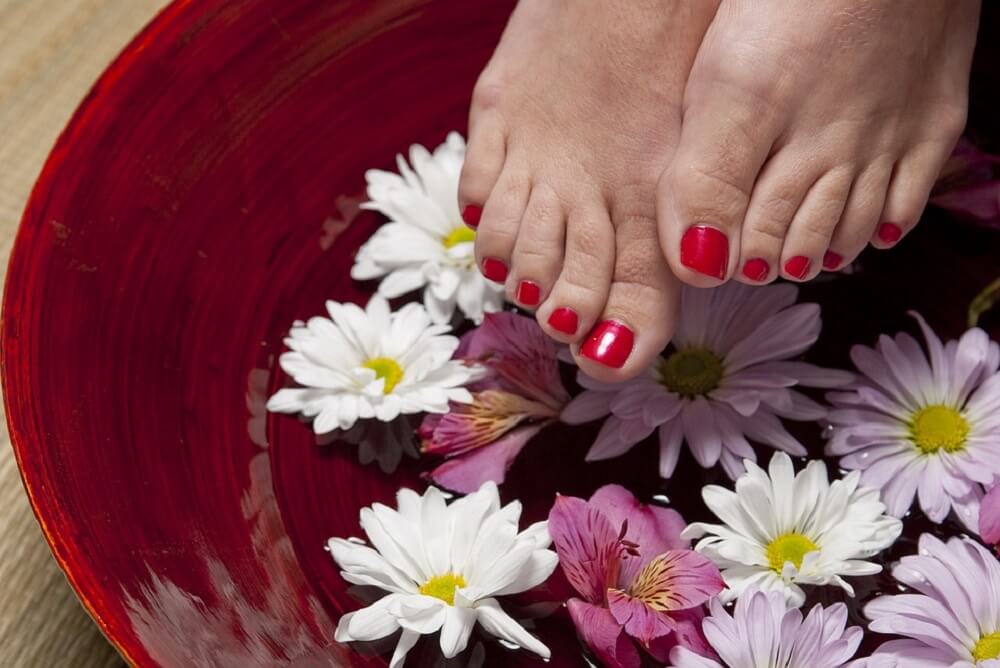 2. Cuticle Oil
With hectic days ahead, we don't give enough care to our feet. So go home and find products like honey, castor oil, stones, sesame oil, cream, candle and cotton socks to give all your concentration and love to your feet. Also, add cuticle oil to the DIY pedicure as it deeply moisturizes the cuticle, skin and nail area.
How to do it:
To get softer feet and feel rejuvenated, use a nail polish remover to remove any excess oil on the nail bed. Soak your feet in a tub of warm water and massage honey on the nails to soften the surrounding areas. Continue the feet pampering session by massaging your feet with castor oil and cuticle oil.
Add stones in the warm water tub and roll your feet on them to feel relaxed. Apply sesame oil with a cream until the foot's skin absorbs it. Melt a candle and when it cools, brush it on your heels till it solidifies. Put on cotton socks and peel off the layer of wax after 20 minutes. Say hello to smooth and soft feet!