As the festive season continues to create excitement and the new year vibe adds to the celebratory spirit, the thought of enjoying quality time with your loved ones, binging on your favourite sweets and celebrating the festivities in your favourite traditional attire makes you want to soak up every bit of the festive extravaganza.
With COVID slowly fading out of the global landscape, it's about time to revamp your wardrobe and up your style game with the latest fashion and some oh-so desirable clothing sets. As you immerse yourself in the preparations for Diwali, we have put together some of the best co-ord sets to add spark to every season and occasion.
AND's Uber Chic, Corporate Casuals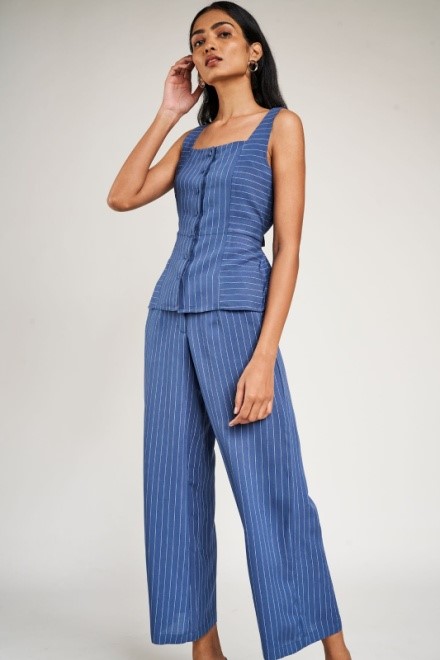 This blue, A-line co-ordinate set by AND adds a rather sharp and sassy twist to this minimalistic attire, with its front button details, stylish cuts, accentuated waistline and matching fabric. Wear this to a casual event with friends or family and this look can manage to hold its own with its fashion sensibilities.
Couche's Set of Crop Top and High-Waist Trousers for a Birthday Bash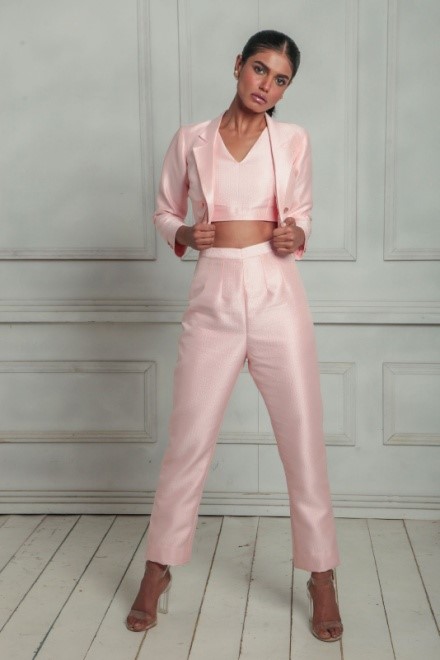 With a combination of a V-neck crop, a tailored jacket and matching, high-waist trousers, this Couche look packs a flavourful punch with its luxury and couture appeal. Ranging from the simplistic style of the outfit and the colour choice to the plush fabric and unique pattern of every garment in the set, this look can bring to life a birthday celebration with its blend of sharp and soft couture aesthetics.
Devina Juneja's Leather Funk for an Off-Duty Day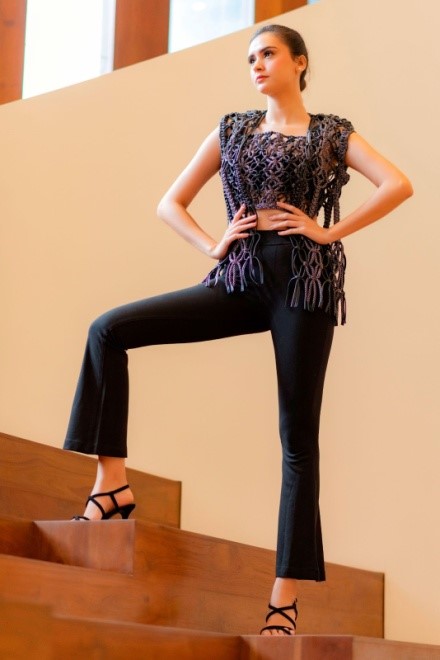 The pairing of a Manhattan vest and a Manhattan jacket is all things smart, classic and sustainable. Incorporating upcycled, upholstery leather and the art of macrame weaving, Devina Juneja's three-piece, black leather outfit offers a refreshing touch to prêt wear with its royal cuts, elegant style and design intricacies, which is ideal for a day of indulgence.
Flirtatious' Exotic Escapade for a Bachelorette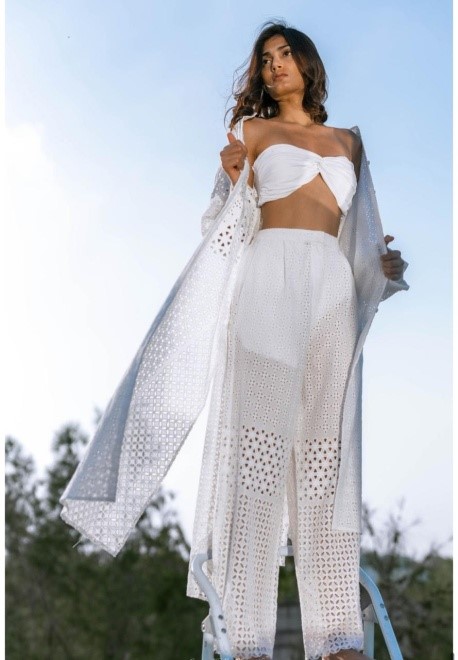 The all-white ensemble by Flirtatious includes a bralette, a cape and loose, flowy pants. While the look flaunts minimalism, the mutual shade, well-defined cuts, breezy, enticing pattern and circular details on the pants all add to the sensuous and scintillating appeal of this three-piece attire, which is apt for a beach holiday or a bachelorette.
House of Fett's Street Style Statement for a Shopping Spree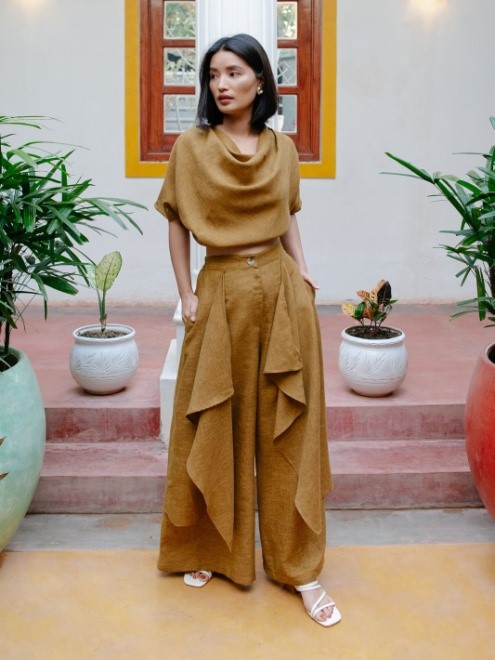 Boasting of a pairing of layered Mersin pants and a cowl-neck Mersin top, the mustard yellow co-ord look by House of Fett incorporates an individualistic style and a contemporary outlook to give a twist to your everyday fashion. The two-piece set is well-suited for a day of some retail therapy and creative pleasures.
Prints by Radhika's Day-Long, Silky Affair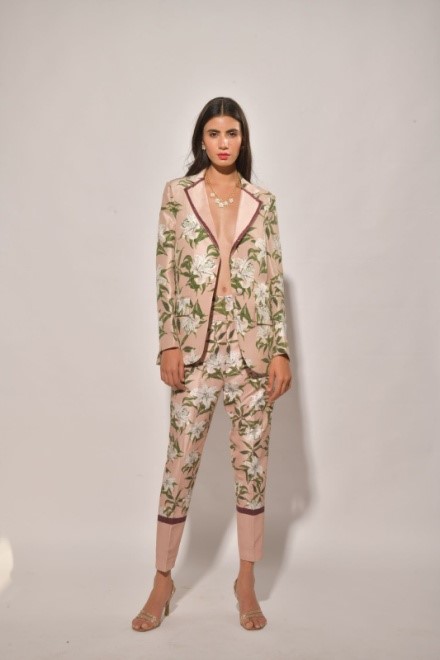 Prints by Radhika's floral co-ord set, which is a rich fusion of power, art and originality, includes a combination of knee-length pants and a loose jacket. The hand-painted, two-piece set lends a rather chic and cheerful vibe to the look, which can be flaunted at any time during the day.
Ridhi Mehra's Chanderi Charm for a Dinner Date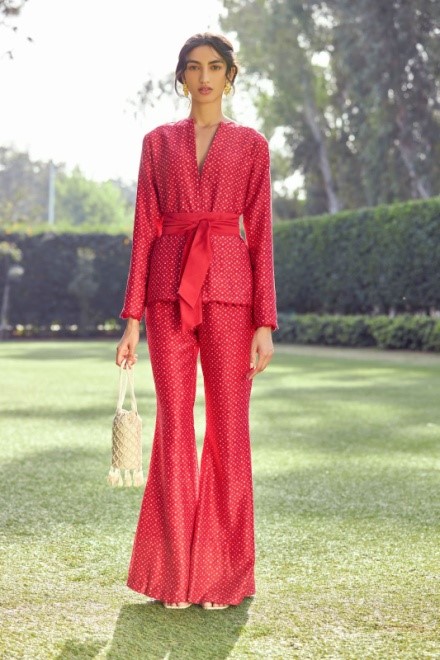 As a luxury and couture brand that redefines traditional Indian wear with a twist of contemporary patterns and styles, Ridhi Mehra's ensemble epitomizes Indian elegance and couture magic. Whether it is the belt over the V-neck top, printed designs, the sharp-looking bell bottom pants, or the premium fabric of the attire, it is hard to keep the matching top-and-pants sets from casting its spell on your date.
Vedika M's Colourful Canvas for a Brunch Outing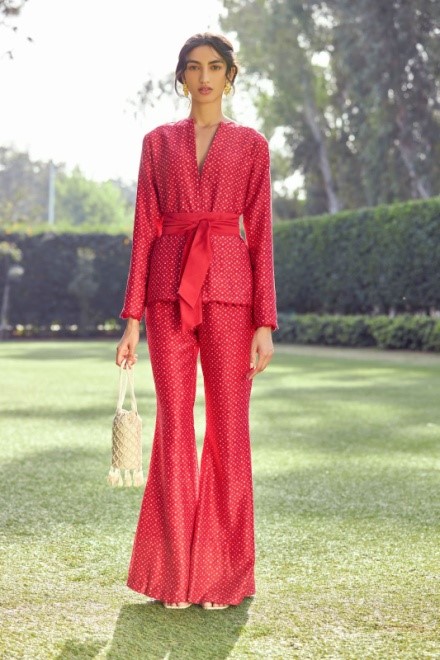 The outfit's colourful, quirky designs combined with the loose, flowy fit of the co-ordinate set exudes a strong, individualistic vibe, by incorporating elements of comfort, naturalistic elegance and artistic passion. The two-piece ensemble uses abstract designs along the length of the outfit, along with a vast colour palette, to create a lasting prêt impression on a brunch outing.
Zwaan's Lounge Comfort for a Girls' Soiree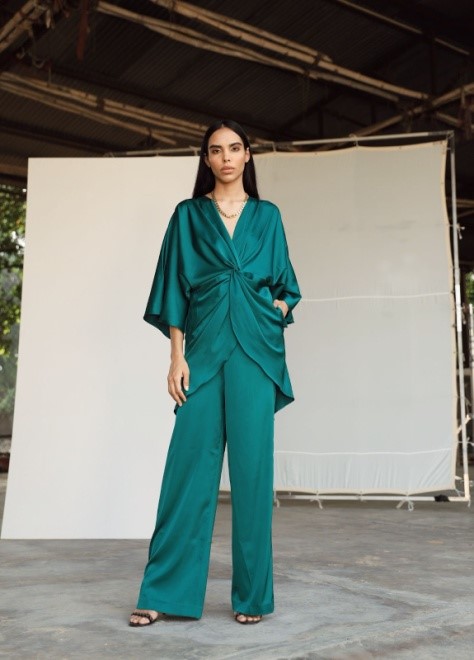 With a great deal of emphasis on simplicity and functionality, this bottle green ensemble by Zwaan reflects strong prêt sensibilities through its comfortable style and fit, eye-catching details, western silhouette and easy appeal. This bottle green co-ord set is a perfect and smart fit for a lounge session with your girls.