Masaba's strong commitment towards non-negotiable healthy lifestyle choices where nutrition is backed by science and premium ingredients, makes her the perfect ambassador for Chicnutrix, the brand said
Chicnutrix, an innovative nutrition supplements company to bring world class supplements to India inks fashion designer and actor Masaba Gupta as its first ever brand ambassador. Masaba will be spearheading several initiatives for the brand in the space of health, wellness and nutrition.
Its vision is to create the finest women beauty and health nutrition venture from India. Chicnutrix has been delivering beauty and health, inside out, with a touch of science for the glamour quotient. The start-up is taking healthcare beyond the traditional drugs, excavating the hidden molecular gems from all that mother earth has to offer. Chicnutrix persistently strives to translate this science to resolve the practical issues of our modern day lifestyle.
Commenting on the collaboration, Designer-actress Masaba Gupta said, "I have always felt that there is a need to take care of oneself from a very holistic approach, whether it is wellness, beauty, nutrition or overall related health. Vibing with our proud stories of womanhood, I am elated to join Chicnutrix as their first ever brand ambassador. I swear by something which is science backed nutrition with premium ingredients and that is exactly what Chicnutrix brings to the table. It is a start to a very interesting journey and I am looking forward to take this common goal of forming good habits help achieve good health inside-out."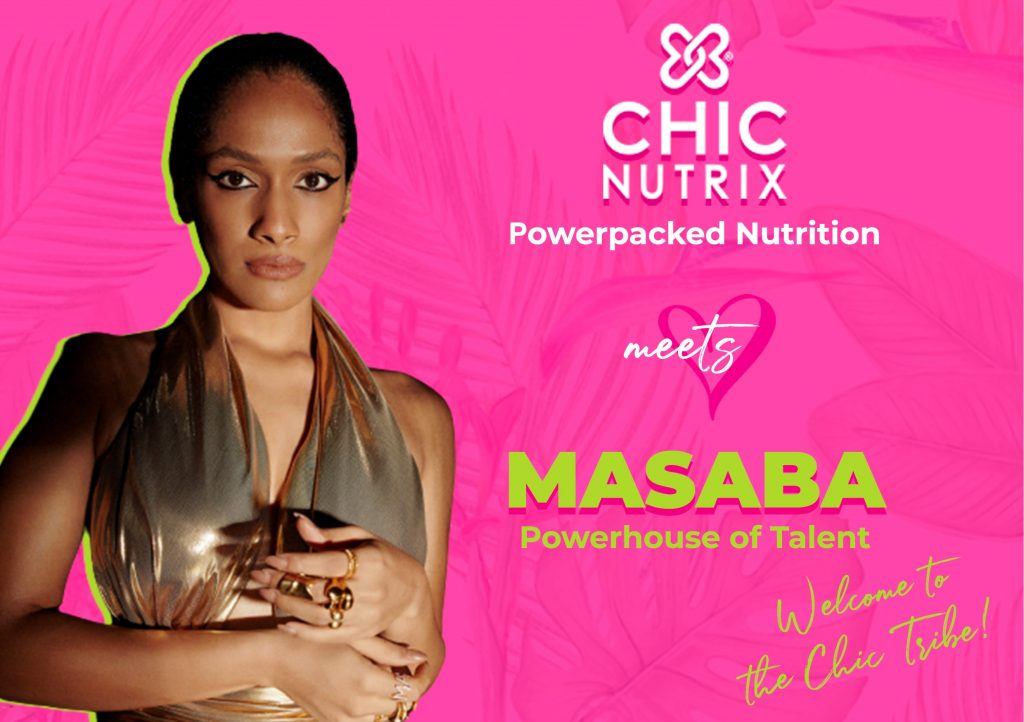 Speaking on the development, Ms Shilpa Khanna Thakkar, CEO at Chicnutrix said, "With immense pleasure, we welcome Masaba to our Chic Tribe. She is someone who is unabashedly unique, unarguably fearless, undeniably original and most importantly unquestionably inspiring. As a woman who has disputed all the 'so called' norms of normal to create a global brand name for herself is truly an incredible feat. It feels great to associate with an authentic voice who resonates so well with the brand. Her transformation over the years has been truly inspirational to many across the globe. With this association, we aim to amplify brand awareness across urban and rural markets to create many more captivating stories fuelled by pure, clinically proven and convenient nutrition."
Within 2 years of brand launch, Chicnutrix has serviced more than 2970 pin codes within India and has presence in 6 countries around the globe. It started from beauty nutrition and is now exemplifying beauty and nutrition supplement by its expansion towards women wellness.
About Chicnutrix:
Chicnutrix is an all-women's wellness, beauty and nutrition brand. Chicnutrix was launched in 2019 and started out as an innovative nutrition supplements company to bring world class supplements to India under its parent company, Fullife Healthcare. Today, Chicnutrix is a young brand that has taken healthcare beyond the traditional drugs and aims to target the various stages in a woman's life- from pcos to pregnancy, menopause, motherhood and other challenges that women face in their daily lives. As one of India's favorite wellness and beauty brand, Chicnutrix has grown four times since its inception with a presence In 6 countries and eight products under its portfolio ranging from skincare, hair care, nails, PCOS and UTI products.
For more information, log in to: https://chicnutrix.com/