JK Trust, a social initiative of Raymond, together with its supporting partners, signed a MoU with the Government of Nagaland to launch an "Employment Linked Skill Training Program" in Kohima during CSR Conclave. The program is one of its kind and is aimed at providing employment opportunities to the youth of Nagaland in garment industries. The MoU was signed in the presence of the Hon'ble Finance Minister of India, Smt. Nirmala Sitaraman and Hon'ble Chief Minister Shri. Neiphiu Rio. The project is supported by NABARD (National Bank for Agriculture and Rural Development), Silver Spark Apparel Limited (Raymond Group) and Directorate of Technical Education under the Government of Nagaland.
India has a demographic dividend advantage and if this potential is tapped, the country will witness good economic growth. Skill development will play a major role in this. Around 12.6 million people are employed in garment industries and this number is expected to increase to 15.8 million by the end of 2022 (as per an NSDC report).
Shri. Medo Yhokha, Hon'ble Advisor to CM Nagaland said; "Our youth has immense potential and with the right opportunities they can achieve newer milestones. I appreciate and welcome the efforts by JK Trust and Raymond for starting the skills training program."
Shri. Shaji KV, Dy. Managing Director, NABARD said; "NABARD has been working actively to support the rural economy through different schemes and initiatives. The North-East has untapped potential and we are happy to support JK Trust for implementing the Employment Linked Skill Training Program. We are hopeful that this will usher in newer opportunities for economic and social development of the state."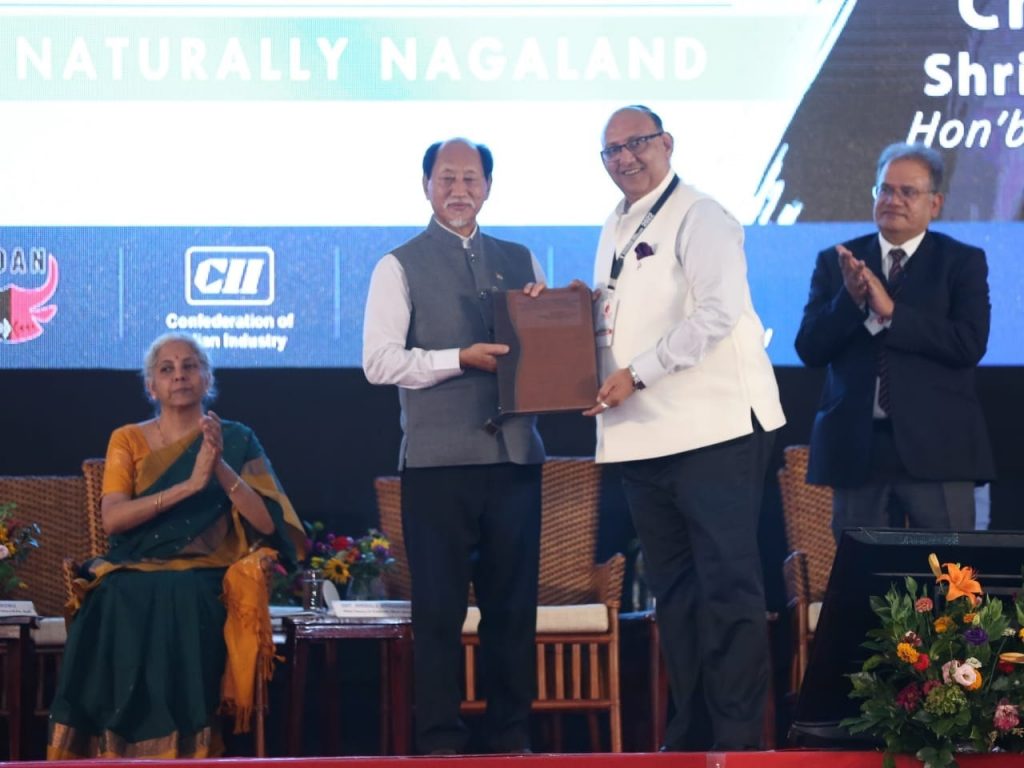 Shri. Ram Bhatnagar, CEO of JK Trust, said, "As one of the most relatable household names when it comes to home-grown garment brands, Raymond aims to make a difference in the industry by providing skills to the future leaders of the same industry. This would boost the garment industry's growth in Nagaland, provide employability to the youth of Nagaland and set up Nagaland as a potential base for industrial growth."
Nagaland is one of the best educated states in India and the youth here have the potential to contribute to socio-economic development, if provided with the right opportunity. The state has minimal industries and the lack of skilled workforce is one of the major challenges.
The project will bridge the existing gap between skill training imparted and skillsets required by industries. The project will also pave the way for garment industries to set up their units in the state with increased availability of skilled workforce.
The central hub is located in Government Polytechnic, Kohima, and is equipped with advanced machinery that is used by garmenting industries. The project will be implemented for five years and 1,080 trainees will be trained and provided employment opportunities in Silver Spark Apparel Limited, Bengaluru. The centre will be launched in the second week of September'22. The youth of Nagaland are invited to become a part of this initiative and leverage new opportunities for themselves as well the state.
The program will serve as a model for ushering in holistic development at grass root level for other North Eastern states.
About NABARD:
National Bank for Agriculture and Rural Development (NABARD) is an apex development financial institution under the jurisdiction of the Ministry of Finance, Government of India. The bank has been entrusted with "matters concerning policy, planning, and operations in the field of credit for agriculture and other economic activities in rural areas in India". It is also entrusted with the supervision of regional rural banks, apex cooperative banks and district cooperative banks in India. NABARD's initiatives are aimed at building an empowered and financially inclusive rural India through its specific goal oriented interventions in the Financial, Developmental and Supervisory sphere.
About JK Trust:
JK Trust is a leading NGO in India committed to augment the life of people in urban & rural areas through its sustainable interventions. With strong implementation background, the trust has been working in the development sector for more than 3 decades and has touched lives of 7.5 million across 14 states through its various interventions.
About Raymond
Raymond is India's largest integrated worsted suiting manufacturer that offers end-to-end solutions for fabrics and garmenting. Over the years, Raymond has been synonymous with quality, innovation and market leadership. It has some of the leading brands within its portfolio – 'Raymond Ready to Wear', 'Park Avenue', 'ColorPlus', 'Parx', 'Raymond Made to Measure' and Ethnix by Raymond amongst others. Raymond has one of the largest exclusive retail networks in the country with around 1,400 stores in more than 600 towns. The group has presence in engineering space engaged in precision engineered products with an expansive presence in national as well as international markets. Raymond forayed into realty sector through the launch of its maiden project TenX – an 'aspirational district' spread across 14 acres housing ~3,100 residential units and has recently launched a premium residential project – The Address by GS. Raymond also has presence in FMCG sector through Raymond Consumer care that offers wide range of products in men's personal grooming category and personal hygiene. Having enjoyed the patronage of over a billion consumers, Raymond as a brand has been consistently delivering world class quality products to its consumers over the past nine decades.
To know more, visit us today at www.raymond.in