By Dr Manoj Kutteri, Director & Chief Healing Officer, Atmantan Naturals
Amongst all the seasons, monsoons set the perfect breeding ground for germs and bacteria, which can lead to various digestive issues and upsets. After the tropical summer heat and the dust, the monsoons are definitely a welcome change. As Mother Nature recoups with rains, monsoon season is rejuvenation period for us. At the same time, we are prone to get various illnesses, which can be prevented or managed by using magical herbs given by same Mother Nature. The most common diseases during monsoon are respiratory tract infections, Cholera, Typhoid, Diarrhoea, Malaria, Dengue fever, Asthma etc.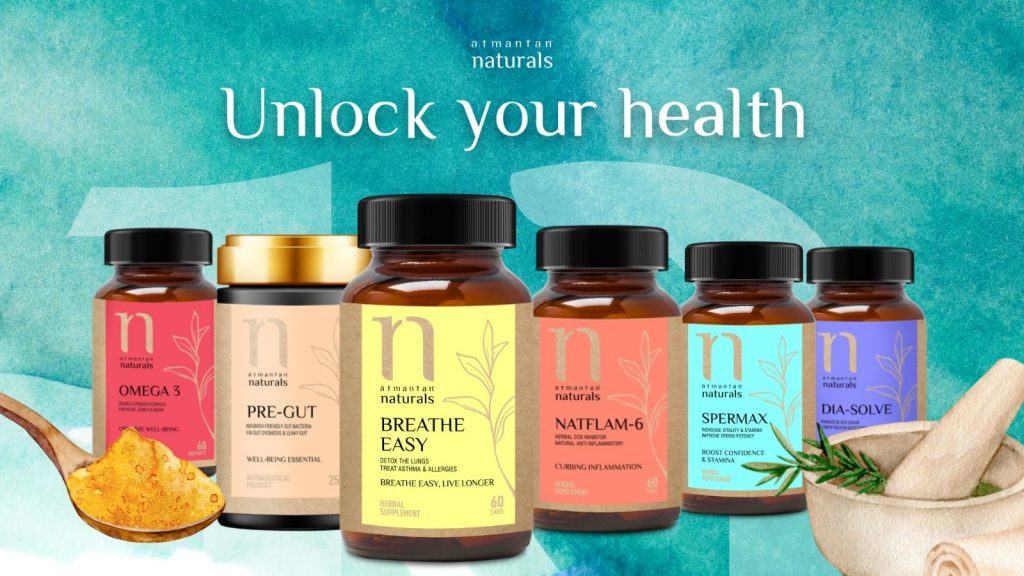 According to Traditional Ayurveda concept "What heals also prevents". Various herbs have properties to fight against infections. These herbs will boost your immunity and help fight all air-borne and water-borne diseases that are common during monsoon.
1.Turmeric:
is great for your health and you must include it in your diet. During Monsoon, this magical herb works wonders in improving your immunity keeping the diseases at bay. Turmeric is well known for its anti-inflammatory properties. Use of turmeric in Indian cooking has been an age-old tradition and it was believed that this helps to make the dishes free from all microbes. Try including it in your food and you can even add it with hot milk and drink every night. Turmeric and Curcumin is used as a great anti-dot for allergies and also as a natural anti-inflammatory mainly in the preparation of Allergy care and Natflam 6.
2.Basil:
or Tulsicontains phyto chemicals like UrsolicAcid,Eugenol , Bioflavonols such as Apigenin and lutein Ocimumosides, ,Ocimarin etc. Rosmarinic Acid isvery good anti microbial agent for infections relating to digestive system and respiratory system. Tulsi is also used in cooking for its therapeutic values and flavor. One of the easiest and most convenient ways of boosting your immunity system is to have about 1-2 cups of Tulsi tea daily. The hot tea neutralizes the cold coming into your body from the external environment and hence regulates your internal temperature. Tulsi is an active ingredient of Defence max, which is an effective immune enhancing medicine.
3.Triphala:
Acombination of 3 herbs (amla, beheda, harde) is a potent antioxidant. This aids digestive capability of the body which tends to go down during monsoon. Moreover, amla is the richest source of vitamin C, which reduces the severity of cold and makes the immune system stronger. Beheda helps in curing cough and clearing congestion. It also controls loose motions and cures diarrhoea. Gargling with the decoction of harde powder can soothe the throat. Harde is also a digestive aid and also helps in the pulmonary system of the body.
4.Licorice:
is associated with curing respiratory and digestive issues since ancient times. It's one of the finest cures for hyperacidity, gastritis, poor digestion, stomach pain, bloating, cold, sore throats and related problems. Gastrocare contains Licorice along with the highly active compound DGL.Also it is used as an effective immune boosting herbs in the Defence Max
5.Garlic:
has an anti-bacterial, anti-fungal, anti-viral and anti-protozoal property, it helps in relieving stubborn coughs and clearing mucus that blocks the lungs. The anti-viral and anti-bacterial property of garlic is attributed to the compound "Allicin" found in it that also provides the hot and strong flavor. The compound "Ajoene" present in garlic helps in controlling infections by bacteria, viruses and microbes. In addition, it also works as a natural preventive measure for cancer, more specifically colon cancer. It is also used for treating muscle cramps and muscle pain.
6.Ginger:
Ginger is one of the most efficient digestive herbs which can be added in our daily cooking. It contains anti-inflammatory phytochemicals that will help to relieve throat irritation quickly, and they also kill rhinoviruses, which cause respiratory infections like cold. Ginger is an active ingredient of Allergy Care.
7.Cinnamon:
Cinnamon has been used since centuries for curing digestion related disorders. Cinnamon has disinfectant qualities and pain-relieving properties. It is especially helpful in reducing painful cramps of IBS. It hasanti-bacterial and natural warming property and helps in treating sore throat, colds and cough Cinnamon tea can heal throat irritation, itching and can prevent the approach of an impending cold effectively.
8.Pepper:
consuming black pepper helps to stimulate the release of various digestive enzymes in the pancreas and intestines, which help to digestfat and carbohydrate. Pepper also provides relief from sinusitis and nasal congestion. It has an expectorant property that helps to break up the mucus and phlegm depositions in the respiratory tract, and its natural irritant quality helps you to expel these loosened materials through the act of sneezing or coughing, which eliminates the material from the body and helps you to heal from infection or illness. Pepper is an active ingredient of Natflam 6 and Gastrocare