Staying at home for months together, everyone's become a MasterChef. Keen to try something new to cook, Instagram's drool worthy posts have made some of us prepare new dishes and one of them is mug styled dishes. With mug cakes getting the hype, here's a list of other super delicious items that you can make real quick in a mug. Have a look:
1.Mug Pizza
A quick but real meal made using few ingredients, mug pizza is filling for one person. For this, mix flour, baking powder, baking soda and salt together in a microwavable mug. Add milk and oil to the mixture, mix well. Spread some marinara sauce on the surface of the mixture. Sprinkle cheese, veggies of your choice, red chili flakes and oregano. Microwave for a minute and enjoy straight away!
2.Mug Burrito
A fast way to make a nutritious breakfast, mug burrito is simple and for this, press in a fresh tortilla. Crack in your eggs and whisk up with a fork while not tearing the tortilla. Add in your favourite beans, cheese and scallions. Season with salt and pepper to mix all together. Microwave for a minute, let it cool down and serve with some sour cream and salsa on top.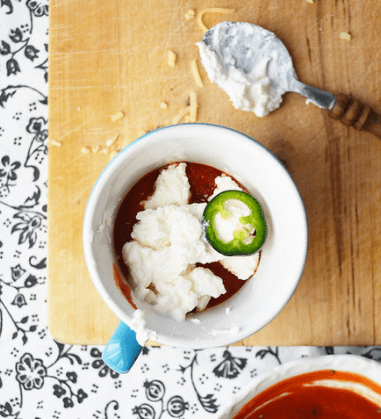 3.Mug Lasagna
What's better than homemade lasagna and that also in a mug? To make this, break the pasta sheet in a microwavable mug. Cover it with water and olive oil, microwave for 3 minutes. Drain the water and remove pasta. In the same mug, spread pizza sauce, a layer of pasta, spinach, sausage and ricotta, repeat till the top of the mug. Sprinkle cheddar cheese and microwave for a minute before digging in!