29th September is commemorated as World Heart Day, a global platform and an initiative by the World Heart Federation. The COVID-19 pandemic has shone an attention on the healthcare profession, national healthcare systems and our individual responsibilities – for our own health and for the susceptible in society. The focus this year is to practise healthy living that can help maintain a good heart. Making minor targeted dietary changes could make a big difference both for health and the environment.
Eating a well-balanced diet offers one of the simplest, most effective ways of reducing not only the risk of heart disease but addressing other health concerns as well. So here are 5 brands that will help you begin the journey to a better heart health and also to make a healthy lifestyle choice.
MyFitness Chocolate Peanut Butter Crispy: With the finest peanuts and Belgian dark chocolate, this peanut butter has a chunk of crispy balls to make it as delicious as fine chocolate. Keeping the nutritional value intact, it is high in protein, healthy fats and other essential vitamins. MyFitness is India's first natural peanut butter with 95% less oil separation and a unique crispy variant of chocolate peanut butter keeping the nutritional values intact. It is India's highest-rated peanut butter brand with an entire nutritional product range to its name. The aim is to give every household access to high-quality tasty and nutritious food products while providing value for money. MyFitness peanut butter is the proof of their consumer-centric product innovation; a high protein, nutritious and delicious treat.
Available at https://www.myfitness.co.in/
Price: INR 549/-
Nourish Organics Cranberry Super Grain Granola: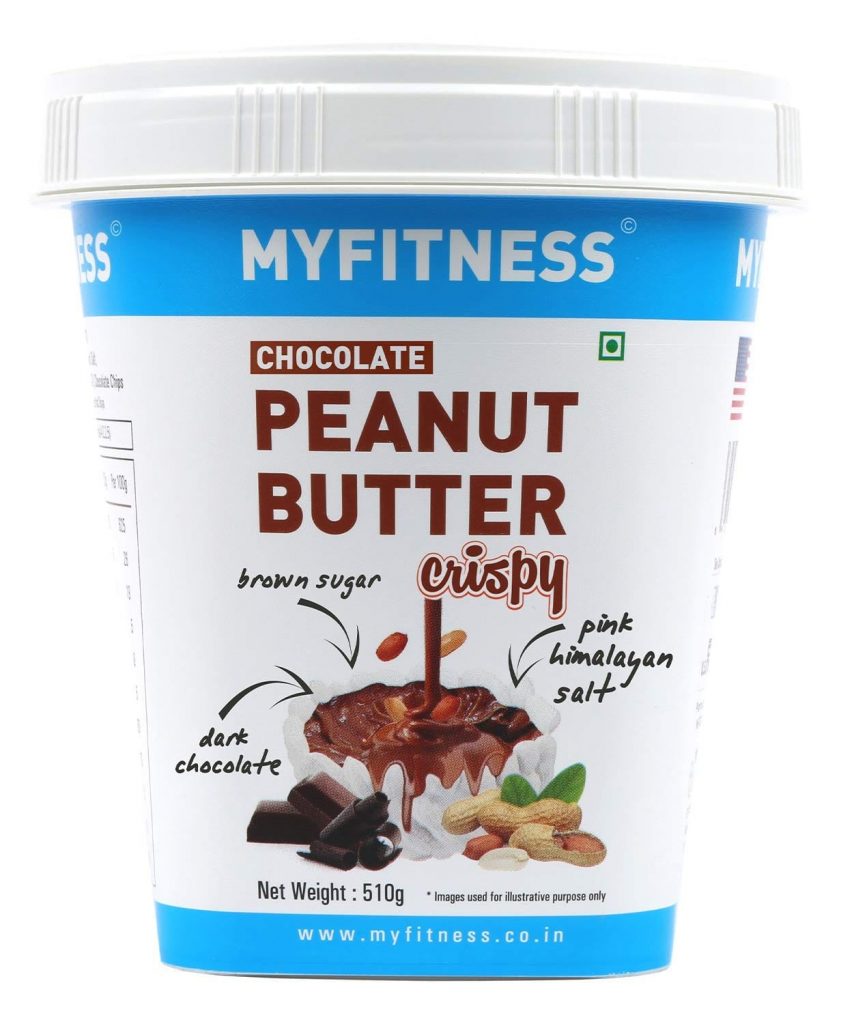 Tart dried cranberries add a delightful burst of tangy flavor to our Cranberry Super Grain Granola. Filled with hearty millet and quinoa, nuts, and seeds, this crunchy superfood granola is rich in antioxidants and health-boosting goodness. Nourish Organics is a clean food company that aims at making healthy eating easier through a wide range of wholesome, multi-grain breakfast cereals, nutrient dense cookies, on-the-go snacks, seed and nut combinations and health bars.
Available at https://www.nourishorganics.in/
Price: INR 450/-
Munchilicious Granola Dark Chocolate: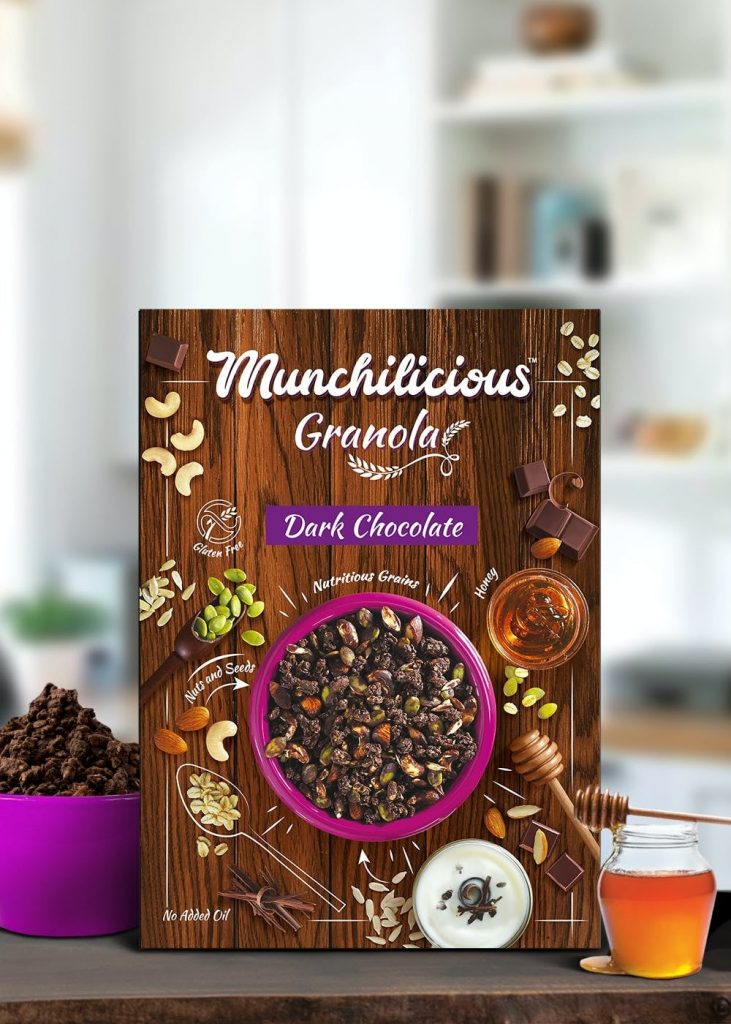 Allow your sweet tooth to relish these little pieces of heavenly nuts coated and combined with the scintillating blend of aromatic dark chocolate. Pretty forgiving in nature, this wholesome choco-nutty snack is the ultimate guilt-free bite for every die hard chocolate lover. It is loaded with 56% nuts, seeds and grains.
Available at : https://www.munchilicious.com/
Price: INR 650/-
MyProtein Gooey Filled Cookie: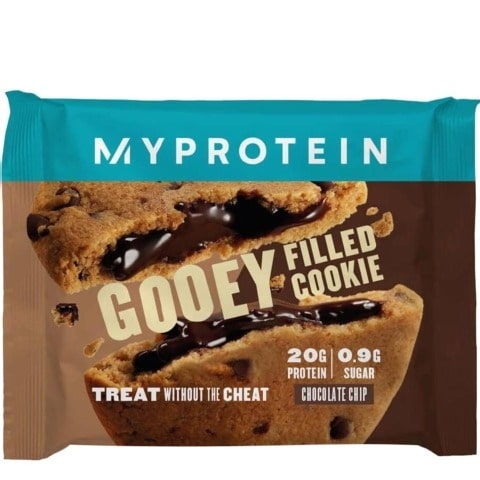 Set to change your snacking game forever, the cookie is baked to perfection with deliciously rich dough and oozing a smooth indulgent filling. The cookies come packed with 20g of protein to help you reach your daily protein requirement. A perfect way to keep cravings in check while supporting training goals. Being fibre-rich, they are a great addition to a balanced diet without any meal prep.
Available at : https://www.myprotein.co.in/
Price: INR 2299/-
Yoga Bar Dark Chocolate Oats: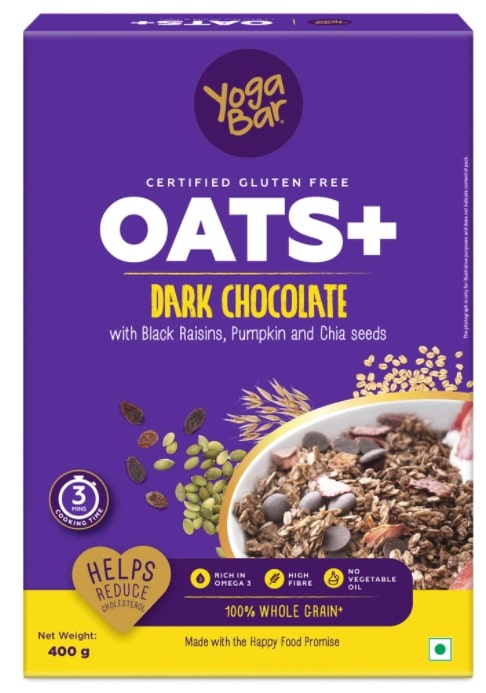 A super-healthy mix of nuts, seeds and premium golden rolled oats with the added goodness of chocolate. Hearty, healthy, chocolatey. It's rolled. It's gold. Great for your heart. Great for weight management. It's naturally delicious, plus the goodness of chocolate. You'll never have regular oats again.
Available at: https://www.yogabars.in/
Price: INR 225/-