Platinum Guild International (PGI), India's Men of Platinum, proudly continues to celebrate the indomitable spirit of men of character. These extraordinary men lead with their values, holding self-belief, resilience, compassion, and courage close to their hearts. With these qualities as their guiding force, they have crafted a new narrative of success. Forged from 95% pure platinum and inspired by celestial origins, each exquisite piece in this collection embodies the strength and essence of these remarkable men. Like the resilient nature of platinum, they stand strong, as beacons of inspiration and influence on those around them. Just as platinum never fades, they leave a lasting impact on the lives of those they touch.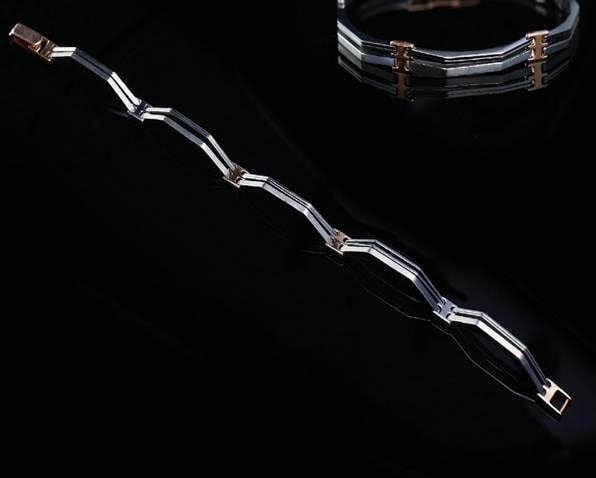 Step into the world of Men of Platinum, where every statement piece tells a tale of character and conviction. Of remarkable men who embrace their values with unwavering dedication, remaining true to themselves and their beliefs, even amidst life's most challenging moments. Like the enduring nature of platinum, their spirits stay untarnished through the passage of time, inspiring an entire generation through thoughtful acts and humble gestures.
Men of Platinum boasts a design language that is both unique and meaningful. Each intricate element is thoughtfully embedded with significance, reflecting the values and qualities of the exceptional men it represents. From distinct patterns to symbolic motifs, every piece is woven around the narrative of character, resilience, courage, compassion & inclusivity making it more than just a statement of style, but a powerful expression of identity and purpose. The distinctive peaks and troughs in the designs symbolize the resolute perseverance, resilience and courage of Men of Platinum to overcome all challenges in the quest for their dreams. The clean, bold lines represent their clarity of thought, and solidity of conviction, while the aerodynamic elements embody their inventiveness, versatility and ability to adapt quickly.
Elements such as colour, diamonds, and bold disruptions in form speak to these values. The new Men of Platinum collection offers a wide range of versatile platinum pieces for men, including chains, pendants, and c.
Platinum, with its inherent values, instantly elevates the wearer's style, making a subtle yet distinct statement. The Men of Platinum jewellery range showcases intricate designs that effortlessly transition from leisure Sunday brunch to curated business dinner settings.
Upgrade your wardrobe, as you choose from these key pieces from the new Men of Platinum collection:
The Platinum Arched Bridge Bracelet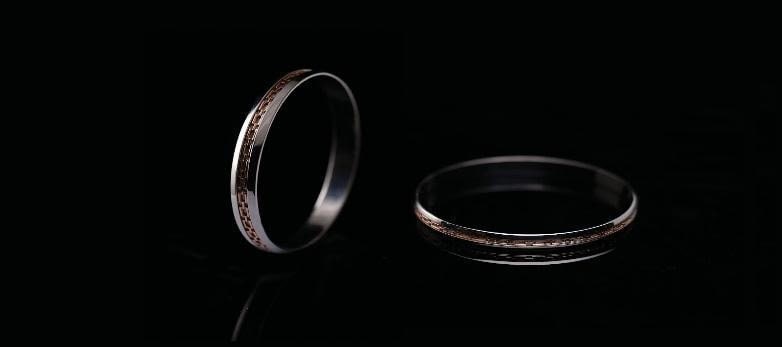 This striking bracelet features platinum arches that effortlessly bridge a series of solitary rose gold facets. Crafted in Platinum, a metal that never fades or tarnishes even after years of wear, making it truly rare. The interlinking design serves as an ode to the remarkable character of those men who forge connections and bring people together through the power of compassion. A perfect addition to a formal board-room look that can just as easily transition to elevate a semi-formal evening dinner attire, this design captures the very essence of these men of character.
The Platinum Gilded Accents Wristwear
This captivating Kada is all about subtle elegance and solidity. Crafted with meticulous precision, its minimal geometric gilded patterns complement men who are resolute when it comes to their values and beliefs. Crafted in Platinum, a metal known for its unmatched strength, it is truly rare. As rare as those men whose strength lies in staying true no matter what. Subtle, yet distinct this intricate Kada can bring alive a simple kurta -pajama look for a day function and just as easily add a touch of panache to a statement ethnic fusion look for an evening soiree
The Platinum Serene Blue Cube Ring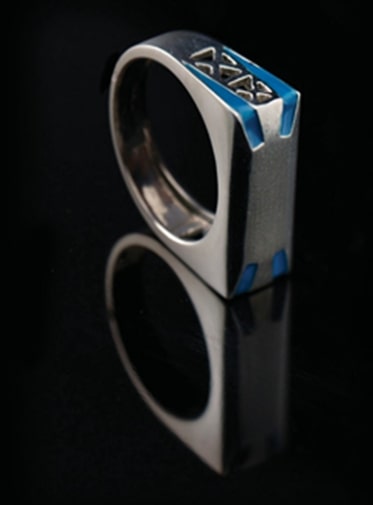 Infused with a hint of blue, this ring stands is an ode to inventiveness. Its geometric motifs and sharp edges blend seamlessly with the solid box shape, while the criss-cross grooves amplify its bold silhouette. It mirrors the spirit of those pioneering men who, with an unwavering passion, innovate and build on their vision tirelessly. Forged in enduring Platinum a metal that never fades and retains its natural white, making it rare. The subtle shade of blue adds a playful dimension to a more serious black-tie look, bringing out the versatile personality of the wearer. The ring can just as easily be teamed with a traditional look to add a touch of drama and colour.
The Platinum Rope Chain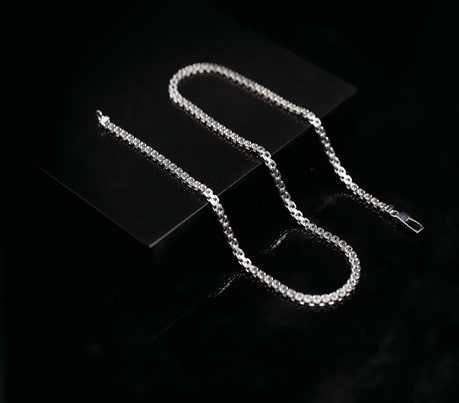 This chain features a twisted braid like rope with a robust hold. Crafted in Platinum, a metal that always stays true, without losing its natural white sheen even after years of wear, making it truly rare. Its design resembles a braided rope, symbolizing unity, and strength in the face of challenges. The Platinum Rope Chain is the perfect addition to a semi-formal blazer look for a fun night out with friends. This Platinum Chain can also be paired with a collared shirt to elevate the daily office look.
The Platinum Overlay Pattern Chain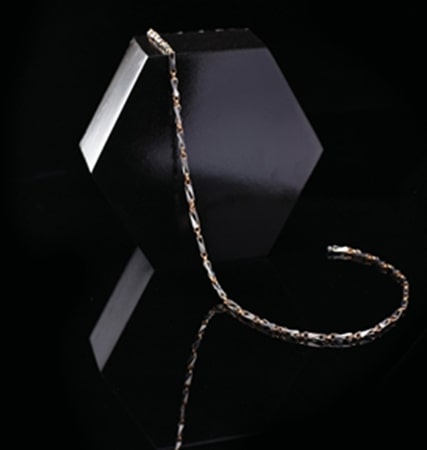 This dual-toned chain entices with a series of overlapping facets and intricate loops, creating a captivating design. Crafted in Platinum that stays unchanged and unaffected by time. Making this metal rare. Each facet represents moments of unwavering courage, where you chose to stand tall amidst life's fiercest storms. Intricate but not too loud, this Platinum overlay pattern chain promises to take your ethnic look to the next level. Subtle and yet resplendent, the overlay chain can be worn across a spectrum of colours and add a touch of glamour to an embellished kurta as well as bring alive the regal vibe of a traditional Bandh Gala attire.