Creating contemporary Indian folk music, Raghu Dixit is reaching out loud and far in the entire world.
Rising of Indian music in the west, kudos to Raghu Dixit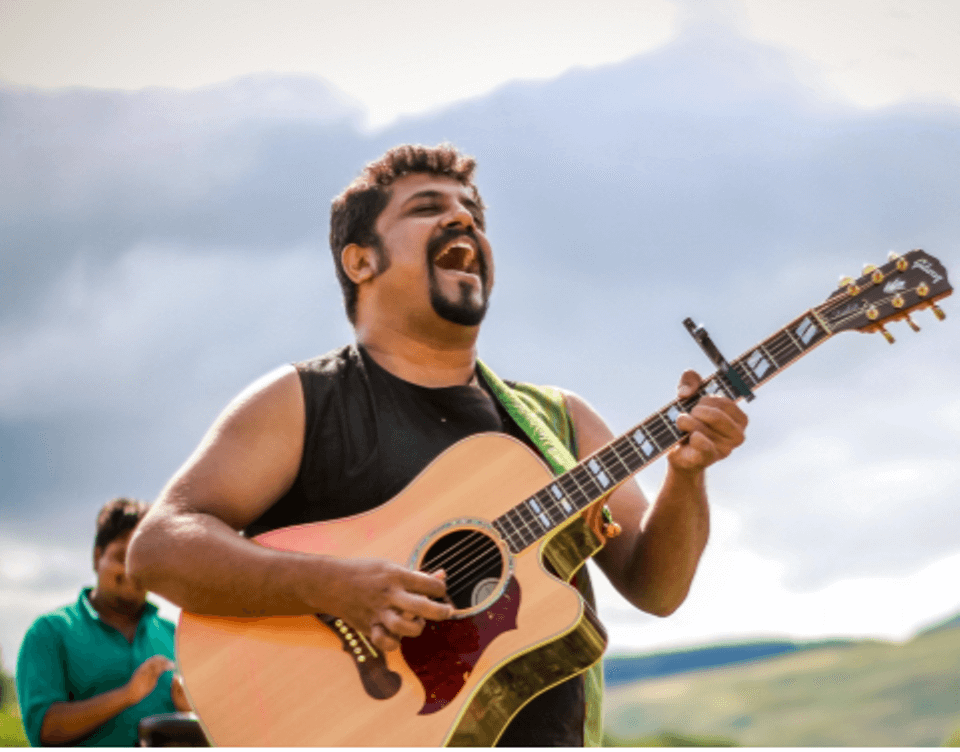 Turning into a household name in India, Raghu Dixit and the honesty in his music is making his persistent presence abroad, a staple part of the world music scenario. Having a pragmatic approach to music and being intriguing with his journey, Raghu Dixit weaves an interesting background through music.
In conversation with Raghu Dixit, the musician whose efforts spoke enough for him to break into the UK and then towards the rest of the world. Excerpts:
 1) From being a Bharatanatyam dancer to working as a microbiologist in Belgium, how did music make its way into your life?
Once, I performed Bharatanatyam for our annual college fest. Jeffery, my classmate who used to play guitar and sang English songs thought it was effeminate for a man to wear makeup and perform classical dance. The macho thing was to play the guitar and sing. When he jibed backstage, I challenged him that I would play the guitar and sing an English song while he should learn Bharatanatyam, all in two months. I managed to do it under two months and was thrilled with the experience, so I got hooked to it and never stopped. After I finished my Masters in Microbiology, I joined a pharmaceutical company in Bangalore. From there, I was sent to Belgium for training where my landlord heard me sing and made me perform on a local radio station. This made me believe that I have something special going on and should give music a serious shot. Soon, I quit my job and came back to India, believing I will become a successful full-time musician. It took me 7 more years before I released my first album but since then, I have not looked back.
 2) What will you say are pivotal points in your musical career that made it all worth the journey?
The biggest pivotal point apart from getting into music full-time was being discovered by Vishal-Shekhar. They started a new music label just to release my album which went on to become the highest selling non-film music album in India in 2008 and number 1 on the UK world music chart in 2010. We have performed in major music festivals around 30 countries so far. This includes twice at Glastonbury, at the Windsor Castle for the 60 year anniversary of Queen Elizabeth as the Queen of England and for the Queen of Mysore at the Mysore Palace for the 100th year anniversary of The Late King Jayachamarajendra Wodeyar. We have been featured on the BBC's 'Later…with Jools Holland' along with Robert Plant, Adele, Mavis Staples and Arcade Fire. Also, we have been awarded Best New Artist by Songlines Music Magazine, Best Live Act at the UK Asian Awards, GIMA Awards for Best Independent Album and also Best Live Act in India, are some of the highlights of my journey as a musician so far.

 3) You compose music for Bollywood as well as the Raghu Dixit Project. How are they both different? What will you say is the selling point of Raghu Dixit Project?
Both are equally satisfying experiences for me as an artist even though the processes are different. Performing on stage with my band is fun, energy is palpable and the gratification is instant with a cheering crowd in front of you. Film music is challenging since the vision for the sound track is defined by the entire team, story, cast and film's atmosphere. The results are evident much later, the process happens in the quietness of a studio and in solitude.
Colourful, happy, simple and folk inspired multi-lingual music has always been the band's USP. We don't perform songs that evoke sadness in the audience but songs that are high on energy with lyrics that spread positivity, that's the highlight of our shows and music.
 4) Your songs have hit the number one spot in UK charts. How did you enter the UK circuit?
The UK and the rest of the world has always been on my mind and believed that my music deserves to be heard. We made a conscious effort of saving money from our Indian concerts and invested in developing well-planned career prospects in the UK. We are very proud of what we have achieved in our quest so far.
5) Give us a glimpse about your performance in the virtual entertainment experience, 'Love 2 Humanity'.
The only thing that's different for me performing virtually is the absence of a physical crowd. I feed off the energy of a crowd but sitting in my studio and imagining a crowd to perform was a bit of a challenge. Otherwise, it made no difference for me and I thoroughly enjoyed performing the concert, had my share of fun.
 6) Along with other artists from 'Love 2 Humanity', you are part of the post-lockdown anthem. Tell us about your experience.
I didn't get involved because making this anthem will impact my musical journey. I truly empathize with the entire cause and we are all in this together. I am happy and honoured to be a part of this huge ensemble of artists and personalities from India. I hope the message we intend to spread through the 'Love 2 Humanity' reaches out to the entire world.
 7) Many find this lockdown a time to indulge their creative mind. How has it been for you in terms of the creative process?
The initial three weeks, I went downward spiral mentally and had a relapse of my depression. But one morning, I snapped up in my head and got back to exercise with my trainer on video calls. I enrolled myself into learning the piano and music theory. Self-development was my priority and since then, this lockdown feels like blessing in disguise. Also, I took part in various fundraising online concerts, a fulfilling experience. I really didn't indulge in any creative process except taking part in inspiring songs made by various artists and worked on 'Love 2 Humanity' Concert's anthem.
8) We are now seeing folk music making its way back in the commercial mainstream, any thoughts on that?
Folk music was always there in the mainstream music. But the internet boom via smart phones has made it all very accessible.
 9) Which is your all-time favourite song?  Who will you say has been your biggest inspiration?
Ambar is my all-time favourite composition and I turn into one whenever I sing it. The words of the song, written by Neeraj Rajawat, truly resonate with me. My biggest inspiration has been this beautiful country that we are blessed to be born in. Rich with cultures, heritage, mythologies, languages and diversity, there is no dearth for inspiration for an artist in India.
 10) Any exciting new project that we should keep an eye out for?
The new album is definitely a reason for excitement. It's a collection of songs speaking about falling, breaking, rebuilding and the glory of the human spirit through the difficult times that life throws at us.
Image Source: Mayur Channagere