It wasn't so long ago that our grandparents whispered bedtime stories, spoiled us with delicious food, and made our scraped knees heal with their magical touch. Now it's our turn to show them the same love and encourage them to live their relaxed retirement life to the fullest. From travel pouches to motivate them to see the wonders of the world to crochet kits that unleash creativity, find one-of-a-kind gifts that will be really appreciated (and utilised).
1. Cake stand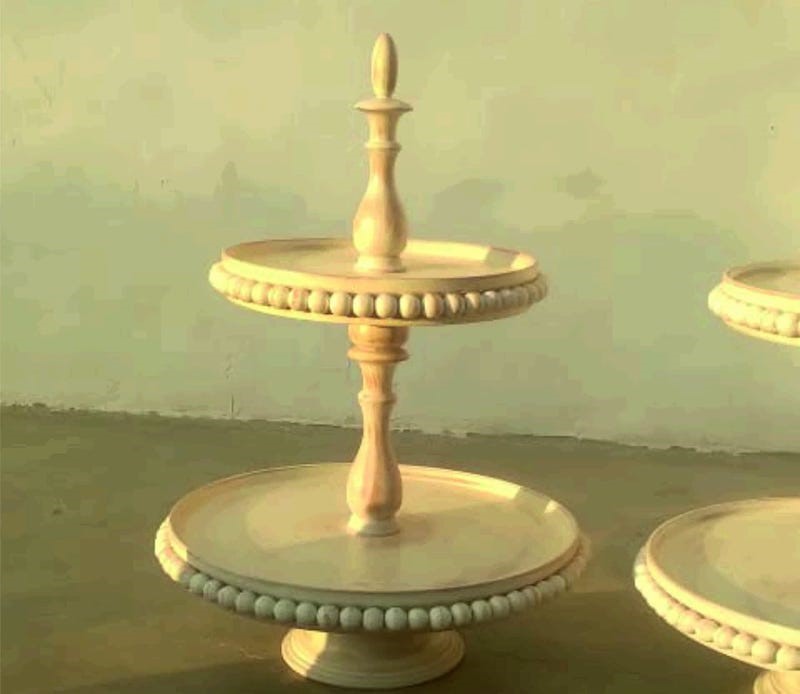 From Etsy shop TahniDesigns
If your grandparents start whipping up sweet treats the moment they hear about your arrival, a cake stand will be perfect to elevate their evening chai parties. It is handcrafted from ethically sourced steam beech wood and has exquisite detailing on the edges.
2. Travel bag
From Etsy shop Chezshipra
Retirement comes with travel and relaxation plans and if your grandparents aren't planning a trip, this travel bag can be a great way to motivate them—even if it's just to come visit you in another city. This 100% cotton handmade organiser perfectly rolls up to keep their travel essentials together and always be travel-ready.
3. Daffodil crochet pattern
From Etsy shop mycreativebutterfly
Gift them a blissful afternoon of crocheting by the window with this instant download of a daffodil crochet pattern that is all shades of bright and sunny. They can use the easy pictorial instructions to create the flowers or, better yet, you could join them for their crafternoon and figure it out together.
4. Teal kimono robe
From Etsy shop mommyrobeclothing
If your grandma loves comfortable dressing, get her an easy-breezy robe to lounge over the weekends. This tie-dyed kaftan is made of ultra-soft cotton which is breathable and free-flowing. It can be customised to her size and features floral accents on the borders and sleeves.
5. Personalised portrait
From Etsy shop PortraitCafe
A personalised portrait can be one of the most precious ways to show your appreciation. Share a joyful photograph of your grandparents with the seller, and in return, receive a captivating portrait that you can conveniently download and then get framed for them.
6. Cottage kitchen postcard
From Etsy shop Artenderfoot
There is a lot to learn from our grandparents—the art of writing letters and showing gratitude can top the list. Write a heartfelt postcard to your grandparents with this charming one featuring a vintage cottage kitchen and see them light-up when it gets delivered. The art featured here was originally hand-painted and then printed on a thick kraft paper in the artist's studio.
7. Wall hanging planter
From Etsy shop Storoot
A little green in any corner of the house can elevate the ambiance. These ornamental wall propagation vases are designed to brighten  spirits while also serving as a unique showcase centrepiece. They will also be a great choice to display delicate twigs or vibrant garden blooms and add a touch of nature's charm to your grandparents' surroundings.
8. Personalised apron
From Etsy shop Livelinenstore
Spent countless hours in grandma's kitchen helping her make jams and pickles? Time to gift the cooking queen a personalised apron with her name on it! It is handmade with breezy linen and comes with pockets at the front to keep things handy while cooking, gardening, or painting.
9. Handmade photo scrapbook
From Etsy shop ArtoVilla
This handmade scrapbook will bring the magic of fond memories alive all over again. Together you can flip through the pages of a scrapbook laced with sweet and mischievous anecdotes from their lives. You can also reach out to the seller with a customisation request.
10. Doormat
From Etsy shop Doorcandydoormats
What better feeling is there than being spoiled by your grandparents? Bring over a humorous doormat to show them how loved you feel in their home. Crafted from Indian coir and featuring a slip-proof PVC backing, this doormat will be a charming addition to their home.
11. Wooden yarn winder
From Etsy shop Woody24into7
Enhance their spinning and crocheting experience with this exquisite wooden yarn winder. A wonderful addition to any craft evening, it's destined to become a focal point at your grandparents' gatherings.
12. Jaipur quilt
From Etsy shop archanaliving
Presenting an exquisite Jaipur quilt, perfect for cocooning in comfort while reading a captivating book. Crafted with care, this reversible piece is woven from 100% cotton, boasting intricate block-prints designed by the skillful artisans of Rajasthan.
13. Mustard woollen scarf
From Etsy shop TheCharkha
Celebrate the guardians of our past and the inspirations for our future with a beautiful woollen scarf. It is made with marino wool from the Bikaner region of Rajasthan and will be a perfect gift for the coming chilly months.