Nykaa launches five new tinted variants of the Serial Kisser Lip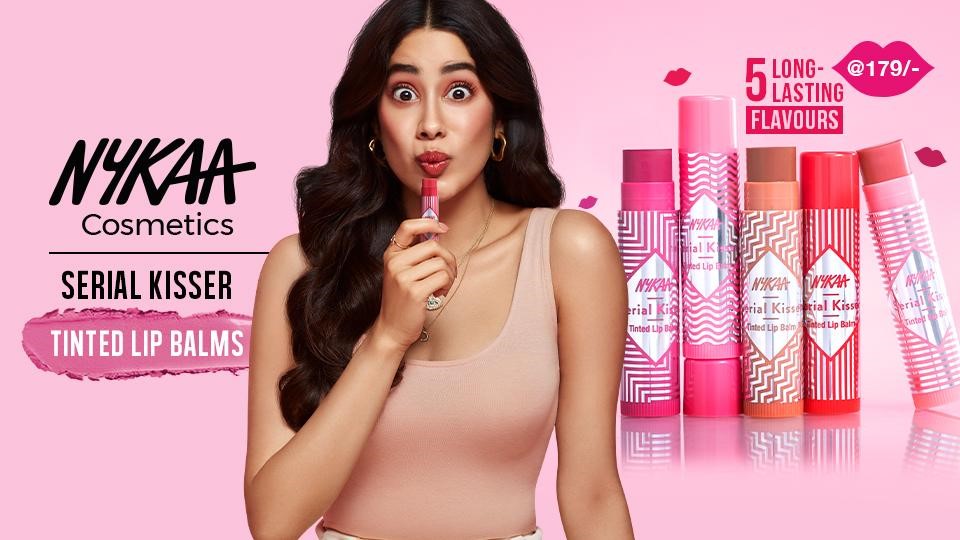 February 2022: Add a pop of color and hydration to your lips with Nykaa's new Serial Kisser Tinted Lip Balms – the perfect combination of colour and care for the winter season. Rich in natural butters and oils, this makeup plus skincare hybrid glides on the lips for a dewy, juicy kiss of hydrating colour. Drenched in pigment, the sheer coat will stay on for hours without drying your pouters. Time to prep your lips for that pretty pout!
The Nykaa Serial Kisser Tinted Lip Balm is available in 5 fun and fruity flavors for a mouthwatering experience – Strawberry, Raspberry, Pomegranate, Cherry, and Chocolate. The shade range is a mix of nudes, red, and pink, perfect for everyday wear. They are enriched with the goodness of Vitamin E, shea butter and emollient oils, ensuring moisture is locked-in throughout the day. The best part about these beauties is that they provide UV protection and are extremely lightweight and non-greasy.
Commenting on the launch, Vishal Gupta, Executive Vice President, Nykaa Brands, says, "Our previous lip balms have received immense success, and with tinted lip balms, we want to help women ace the no makeup trend. Our aim is always to raise the benchmark for our products and give consumers something they have been waiting for. The combination of colour and care that we offer in this product is exactly what the market needs, and we are sure it will be well received."
The Nykaa Serial Kisser tinted lip balm will be available on Nykaa.com and in Nykaa stores across India and is priced at INR 179 only. The range is completely cruelty-free, paraben-free, and vegan. Get your favorite Nykaa Serial Kisser tinted lip balm here
About Nykaa Beauty
In 2016, Nykaa identified a gap in the market for on-trend, high performing quality-driven beauty products specially curated for Indian consumers and thus launched its own consumer beauty brand. Starting with Nail Enamels as their introductory range, today Nykaa carries a large number of products across its consumer beauty brands portfolio; Nykaa Cosmetics, a comprehensive makeup and beauty accessories brand owning cutting-edge product formulations & high-quality standards. Nykaa Naturals is a naturally derived ingredient-focused brand catering to all types of Indian hair, skin tones and skin concerns. It consists of three sub-brands – Nykaa Wanderlust, a signature bath and body offerings for men and women; Nykaa Skin Secrets, a range of masks powered by Korean technology and a blend of Indian natural ingredients. Nykaa Naturals Hair addresses the demand for solutions targeting the most common hair concerns, featuring natural ingredients specifically for Indian consumers. Nykaa Beauty also offers Moi by Nykaa, a collection of fine fragrances. In 2019, Nykaa collaborated with celebrated fashion designer, Masaba Gupta to launch Masaba by Nykaa, a beauty range featuring lips, nails and fragrances. Staying true to the Nykaa ethos, the brands continue to delight and inspire their consumers by offering high performing products & the latest trends in beauty through content across all their platforms. Adding a science powered skincare brand to its portfolio, Nykaa SKINRX was recently launched to target specific Indian skin concerns using clinically researched and globally recognised active ingredients.
About Nykaa:
Nykaa (FSN E-Commerce) was founded in 2012 by Indian entrepreneur Falguni Nayar with a vision of bringing inspiration and joy to people, everywhere, every single day. Derived from the Sanskrit word 'Nayaka', meaning one in the spotlight, Nykaa has emerged as one of India's leading lifestyle-focused consumer technologies platforms. Since its launch, Nykaa expanded its product categories by introducing online platforms Nykaa Fashion, Nykaa Man, and Superstore. Delivering a comprehensive Omnichannel e-commerce experience, Nykaa offers over 4,500 brands and over 4.6 million product SKUs through its website and mobile applications. The Nykaa Guarantee ensures that products available at Nykaa are 100% authentic and sourced directly from the brand or authorized retailers.
Through engaging and educational content, digital marketing, social media influence, robust CRM strategies, and the Nykaa Network community platform, Nykaa has built a loyal community of millions of beauty and fashion enthusiasts. Over the years, Nykaa has received many accolades for disrupting the beauty market. At the 17th India Business Leader Award in 2022, Nykaa was awarded as the Disruptor of the Year and Kantar's Brandz List features Nykaa as one of most valuable brands in India. www.nykaa.com