Indulge your senses with the warm and energising essence of coffee bottled up in the new range
Can there be anything better than waking up to the smell of coffee? We think not! While that cuppa is great for your soul, why should your skin miss out? Give your body a shot of coffee with Nykaa's latest edition to their Wanderlust Bath & Body Range – Ethiopian Coffee, that brings the richness of lush Ethiopian coffee plantations encapsulated in a delicious skincare regime. The Ethiopian Coffee Bath and Body Range brews a perfect medley for your mood which transports you to the lush coffee plantations sprawled across acres of hilly landscapes, while giving your skin a boost of antioxidants.
Wanderlust has bottled the nostalgic fragrance of coffee, unlocking memories of freshly plucked beans, roasted to perfection, to instantly rejuvenate your mind and body. Apart from the scent, coffee is a rich source of vitamin B3 and can help improve skin texture, boost collagen production, and make it firmer. The range includes 5 different products, including a Shower Gel, Body Butter, Body Lotion, Body Milk and Hand Wash This gender-neutral collection is the perfect way to start the day for every coffee lover!
Speaking about the launch, a Nykaa Spokesperson says "With Wanderlust, our goal is to always transport each person to their favourite travel escapades. The new Ethiopian Coffee range, with its heavenly scent, is a truly sensorial experience. Coffee is a popular superfood for your skin and hair. Thus, we're offering the best of both worlds with products that not just instantly awaken you but are also enriched with the goodness of Vitamin E, B3, green tea extracts and shea butter."
The Ethiopian Coffee Bath and Body range is inclusive of –
Nykaa Wanderlust Ethiopian Coffee Body Shower Gel –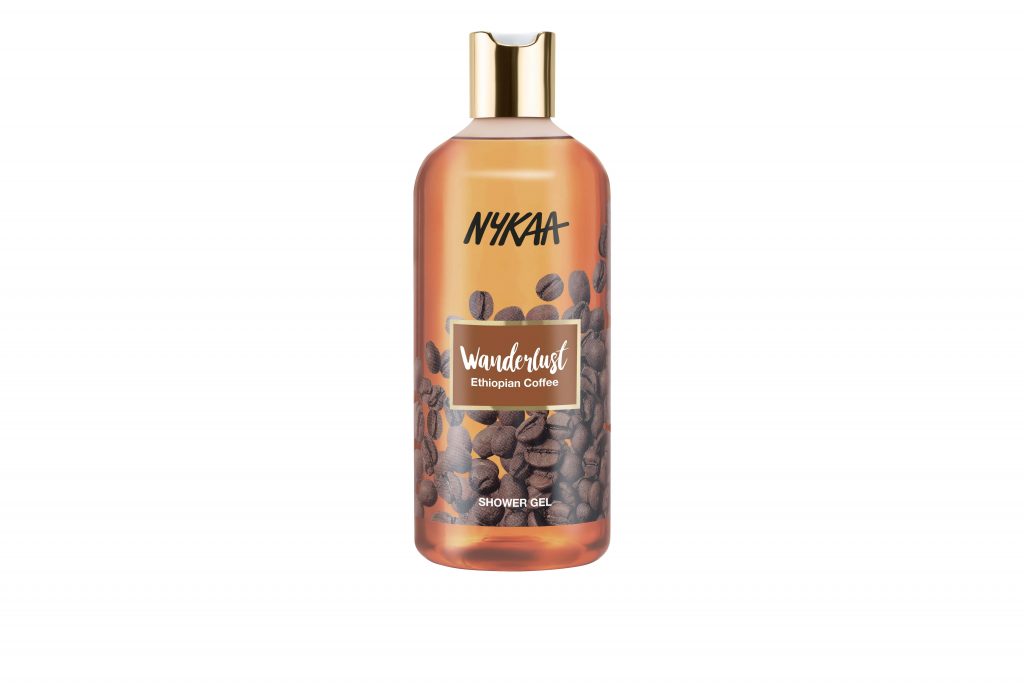 This purifying body cleanser enhances your mood with its warm and energising aromas that are attuned to instantly feel prepped and ready for your day.
Nykaa Wanderlust Ethiopian Coffee Body Butter –
A creamy, melt in your skin formulation, this body butter is enriched with shea butter, cocoa butter, coffee seed extract and Vitamin E. The ultimate skin food that is a powerhouse of antioxidants and collagen that firms up your skin.
Nykaa Wanderlust Ethiopian Coffee Body Milk –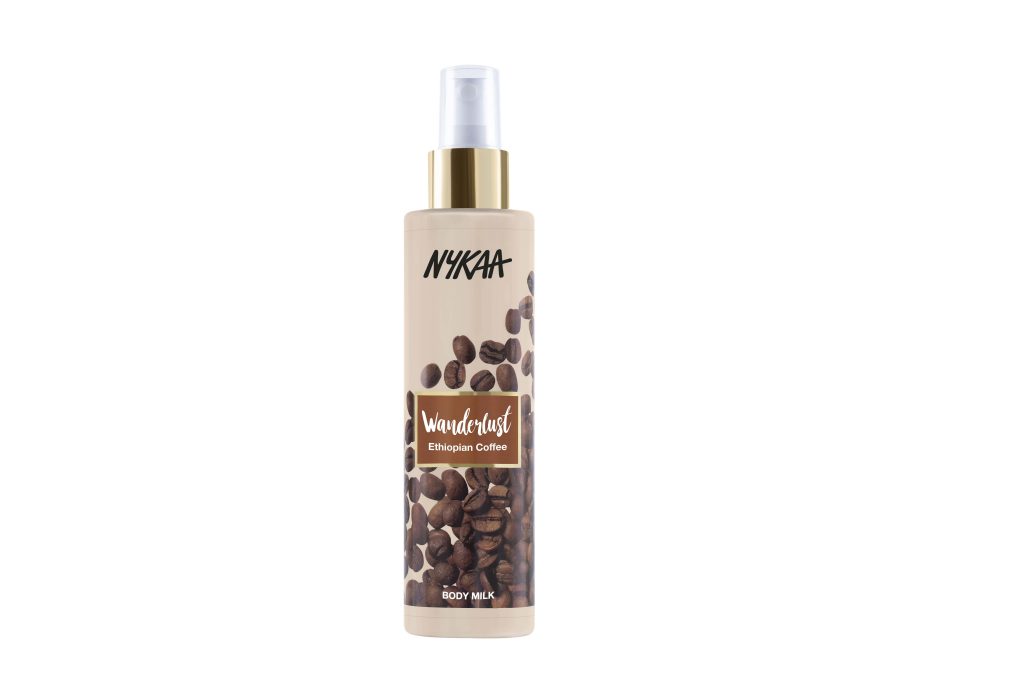 Revitalise your skin with this lightweight and potent formula that is nourished with Green Tea Extracts and Coffee Seed Extract Guarantee yourself supple, hydrated skin with this Body Milk formulation.
Nykaa Wanderlust Ethiopian Coffee Body Lotion –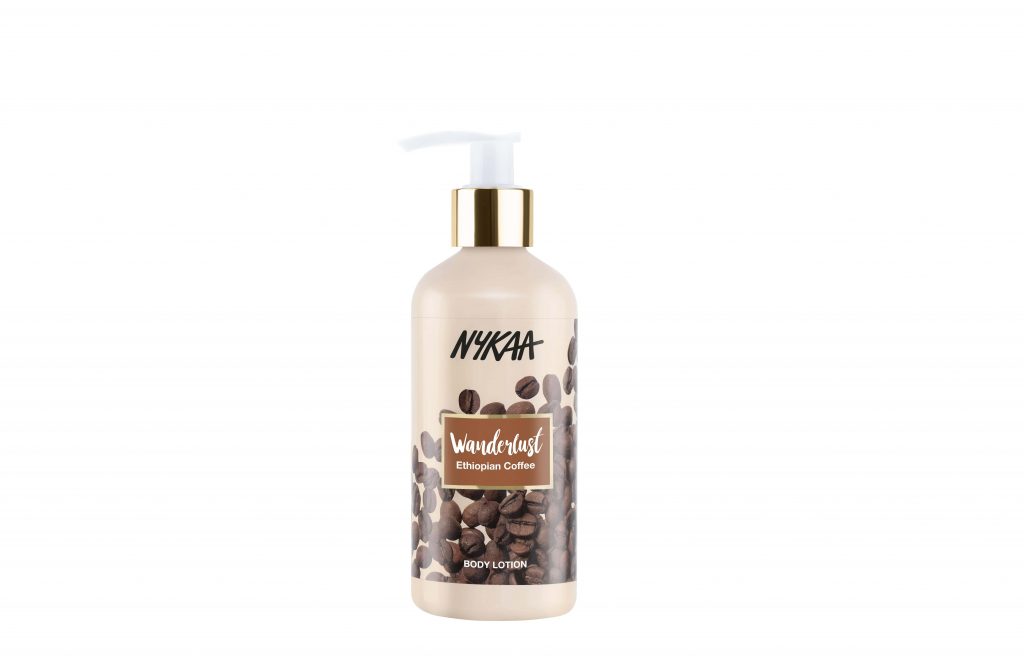 Give your skin a boost of hydration with this body lotion that locks in the moisture and seeps deep into your skin that leaves you feeling fresh all day long. Lotus and Watermelon Seed Extracts, combined with that of Coffee Seed Extract make for an invigorating experience.
Nykaa Wanderlust Ethiopian Coffee Bath & Body Range are priced at INR 299 onwards and will be available on the Nykaa website/ app and in-stores across India.
About Nykaa Beauty
In 2016, Nykaa identified a gap in the market for on-trend, high performing quality driven beauty products especially curated for Indian consumers and thus launched its own consumer beauty brand. Starting with Nail Enamels as their introductory range, today Nykaa carries a large number of products across its consumer beauty brands portfolio; Nykaa Cosmetics, a comprehensive makeup and beauty accessories brand owning cutting-edge product formulations & high-quality standard. Nykaa Naturals is a naturally derived ingredients focused brand catering to all types of Indian hair, skin tones and skin concerns. It consists of three sub-brands – Nykaa Wanderlust, a signature bath and body offerings for men and women; Nykaa Skin Secrets, a range of masks powered by Korean technology and a blend of Indian natural ingredients. Nykaa Naturals Hair, addresses the demand for solutions targeting the most common hair concerns, featuring natural ingredients specifically for Indian consumers. Nykaa Beauty also offers Moi by Nykaa, a collection of fine fragrances. In 2019, Nykaa collaborated with celebrated fashion designer, Masaba Gupta to launch Masaba by Nykaa, a beauty range featuring lips, nails and fragrances. Staying true to the Nykaa ethos, the brands continue to delight and inspire its consumers by offering the high performing products & the latest trends in beauty through content across all its platforms. Adding a science powered skincare brand to its portfolio, Nykaa SKINRX was recently launched to target specific Indian skin concerns using clinically researched and globally recognised active ingredients.
About Nykaa
Nykaa was founded in 2012 by Indian entrepreneur Falguni Nayar with a vision of bringing inspiration and joy to people, everywhere, every single day. Derived from the Sanskrit word 'Nayaka', meaning one in the spotlight, Nykaa has emerged as one of India's leading lifestyle focused consumer technologies platforms. Since its launch, Nykaa expanded its product categories by introducing online platforms Nykaa Fashion and Nykaa Man. Delivering a comprehensive Omnichannel ecommerce experience, Nykaa has had over 19.3 million monthly average unique visitors, with 3,826 brands and over 2 million product SKUs available through its website and mobile applications as of March 31, 2021. The Nykaa Guarantee ensures that products available at Nykaa are 100% authentic and sourced directly from the brand or authorized retailers. Through engaging and educational content, digital marketing, social media influence, robust CRM strategies, and the Nykaa Network community platform, Nykaa has built a loyal community of millions of beauty and fashion enthusiasts.