You probably first saw him getting out of a crate. And probably gave a double take on it too. It wasn't the days of Buzzfeed listings of 5 Indian models to crush on or the formidable hashtag #hot. It was just a very attractive man, stepping out of a crate, is all.
When Alisha Chinai sang Made in India, nobody expected her 'dil' to yearn for Milind Soman. The well-oiled half-naked young man would soon be the source of collective crush in the 90s and unlike his contemporaries, he managed to extend his attractiveness well into the millennium. Now 52-year-old and still retaining his boyish charm, (check out how the contestants on his show, India's Next Top Model, blush when he is on sets), Milind has truly been a big long handsome marathon. And by tying the knot last week with his long-time beau, Milind just broke another stereotype in celeb-dom.
Looking back, Milind seems to always been unconventional, all the time flaunting the very conventional brown Greek God looks.
Let us begin with the very infamous Adidas ad, and we don't mean the nudity part of it as much as we like it. Milind Soman was posing with his then live-in partner, Madhu Sapre in Mumbai before they split for good.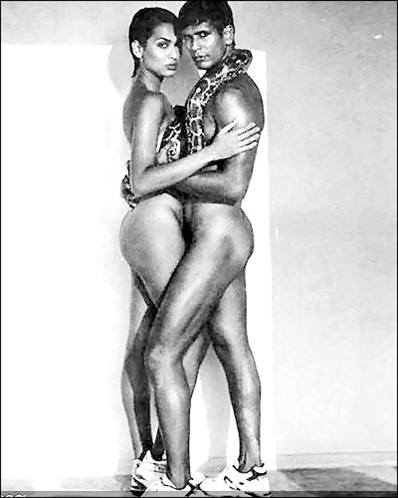 Milind also didn't really take up the whole 'Move to Bollywood' with much gusto. His movies were sparse and devoid of the masala plus incessant romance that we expect model turned actors to delve in. As expected, Milind failed to make any kind of mark in his cinema career. But we do enjoy watching him in hand-picked roles (read Bajirao Mastani), albeit they are far and few.
Then there has been a failed marriage, a few failed relationships and a very impressive track record on the field – running. Barefoot and with no care in the world, you can catch him sprinting across the bustling bylanes of South Mumbai in his delectable shorts for what seems like hours on end. But that is just one of the many ways Milind Soman seems to be impressing us with his ways.
But it wasn't until we saw his wedding pictures that the aforementioned collective sigh happened. Last weekend Milind wed Anita Konwar, a 23-year-old flight attendant in a ceremony where everyone looked happy and content. The only people not happy were the sweet silly teens inside ladies, quietly burning their secret wet dreams. Or maybe not.