Spreads awareness around early detection and health screening
At the NURA center, Milind Soman got a full non-invasive screening with Fujifilm's technologically innovative devices and shared his experience
Bengaluru, 03rd September 2021: Fujifilm India Pvt Ltd, the visionary leader in global healthcare and diagnosis technology, has announced their collaboration with actor, model and fitness-fiend, Mr. Milind Soman. As part of the Unity Run association, Mr. Soman visited the NURA AI- Health Screening facility in Bengaluru on 3rd September to spread awareness around the importance of early detection of cancer and got a full non-invasive screening with Fujifilm's technologically innovative devices.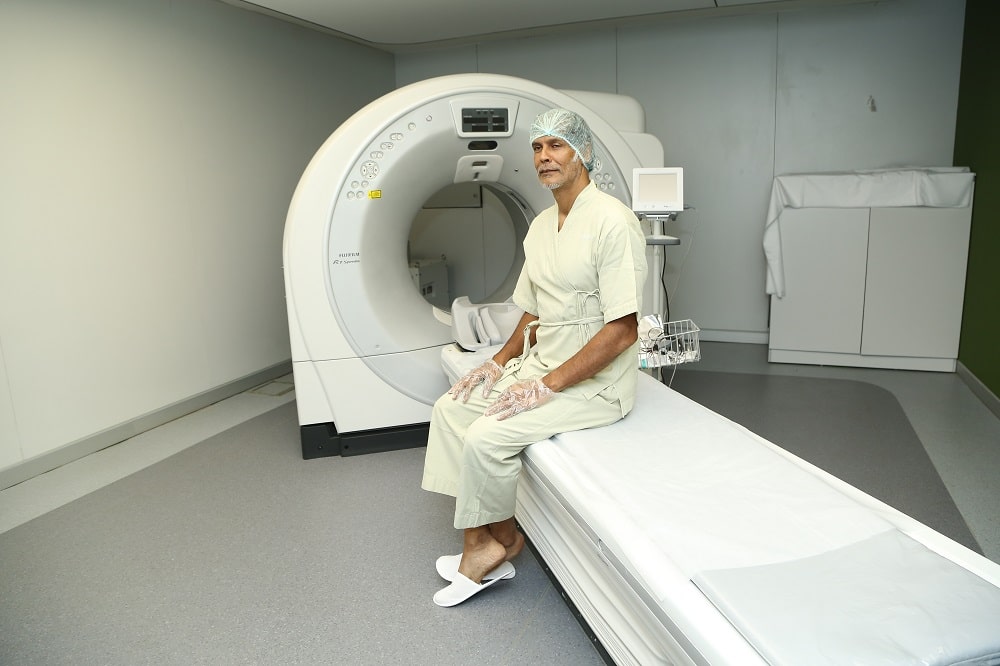 NURA is a collaboration between Fujifilm Healthcare & Dr. Kutty's HealthCare, that combines the best of AI-enabled imaging and expert healthcare. During his visit, Milind Soman highlighted the importance of regular screening and check-ups for people of all ages, to detect the early onset of cancer and other preventable ailments. To signify Fujifilm's resolute commitment to dealing with cancer issues and complications, he also entailed a short-run to create awareness among women in the city. As part of the screening, he undertook a quick 120 minutes- program to access his personal health. The AI-assisted devices at the facility have been designed to deliver intelligent scanning and diagnosis at ultra-low doses of radiation, making it a safe environment for regular screening. Along with cancer screening programs, the facility also addresses concerns regarding various lifestyle problems and helps in minimizing potentially life-threatening diseases.
Fujifilm India and Milind Soman have a firm commitment to make the world a healthier and fit place. To take this commitment further, Fujifilm India even collaborated and supported the Ironman Marathon runner during his "The Unity Run" from Mumbai to Statue of Unity, Gujarat as the healthcare-imaging partner on the 75th Independence Day.  The visit to the NURA facility is an extension of the Unity Run.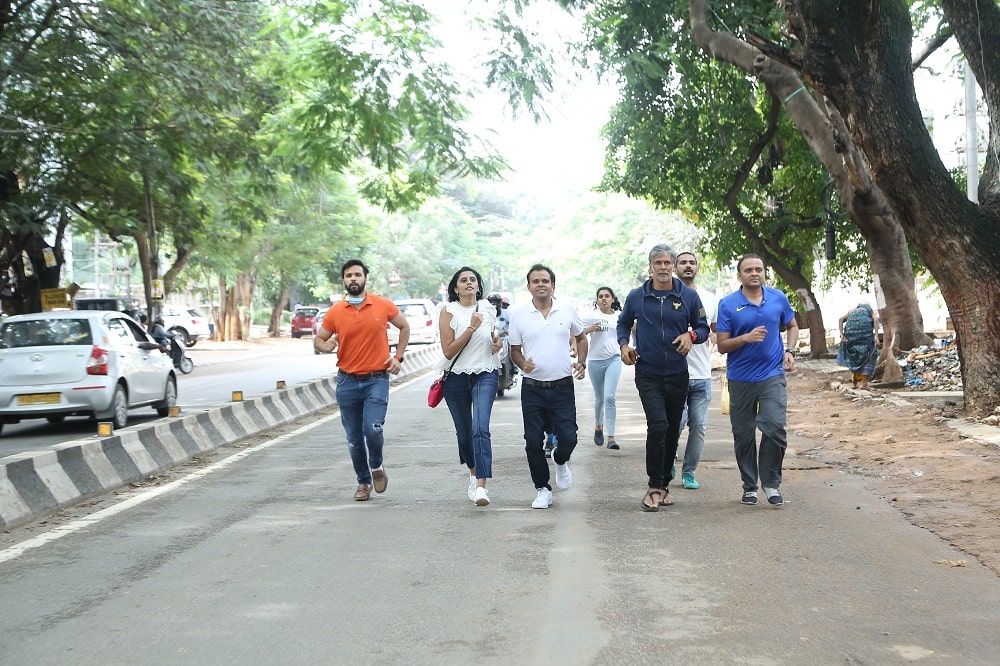 Commenting on this association, Mr. Koji Wada, Managing Director, Fujifilm India Pvt Ltd said, "With the increasing rate of cancer in the nation, it is pertinent to spread awareness regarding early screening and detection of various types of cancers. We are glad to be associated with Mr. Milind Soman for the herculean task of voicing out the importance of early screening and regular diagnosis for preventable disease as we spread awareness of the health hazards associated with the deadly disease. Fujifilm has always remained at the core of providing technologically advanced healthcare solutions and with this association; we take a step ahead in our commitment to make India fit and healthier."
Reaffirming his commitment towards a fit future, the Ironman Marathon runner Mr. Milind Soman said, "A healthy body is the best defense one has against numerous diseases in the world. It is our responsibility to keep our health in check and opt for early detection and screening. I am amazed by the work Fujifilm India and NURA have been doing in this field of early diagnosis, helping scores of people in their fight against cancer. It's my great pleasure to be associated with a leading imaging brand and support them in this cause by doing my bit in spreading awareness around the importance of early detection of cancer. Cancer is a demon that needs to be quashed, and it fills me with pride that I am associated with a cause that aims to overcome it"
Dr. Tausif Thangalvadi, Medical Director & General Manager, NURA said, "As a community, we have a culture of reactive medicine. We wait for diseases to strike before we can fight back. At NURA, we give you the opportunity to all-around diagnosis so that disease is prevented. With precision accuracy and enhanced safety using artificial intelligence (Ai), NURA is committed to enhancing the diagnosis system. Cancer, Heart disease, Visceral Fat level, Bone density can all now be detected before they become dangerous and difficult to treat. We encourage everyone to try NURA and shift to a culture of preventive medicine. And like Mr. Milind Soman, we encourage you to become a part of the NURA family and be the changemakers for health."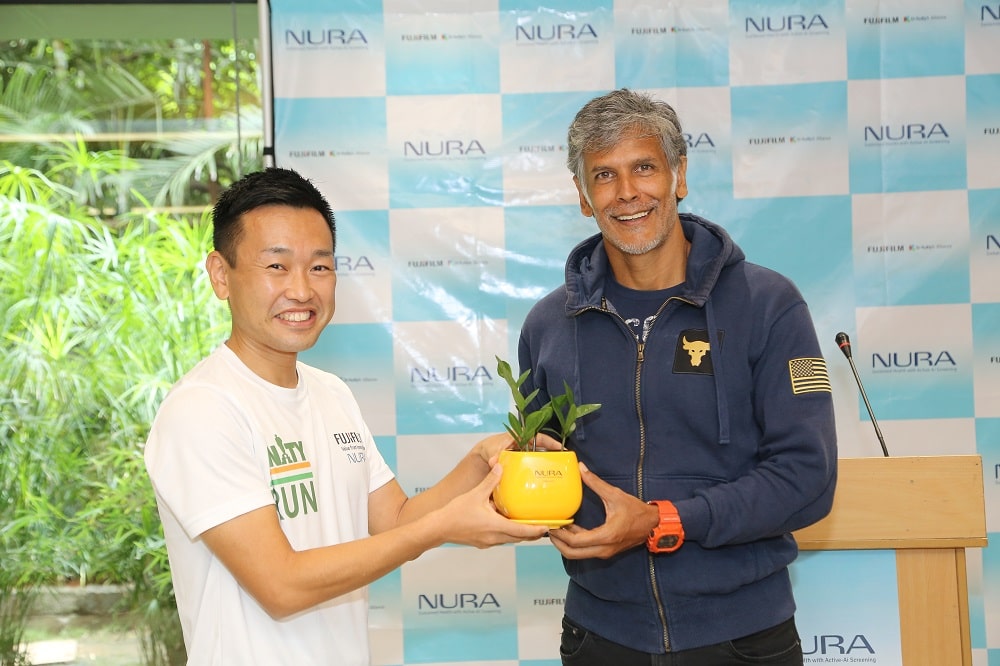 Cancer is a growing epidemic in Indian women. According to a recent report published by National Cancer Registry Programme (NCRP), estimates that the number of cancer cases is likely to increase from 13.9 lakh in 2020 to 15.7 lakh by 2025, an increase of nearly 20%. However, the one good thing is that at least one-third of common cancers are preventable. With initiatives like these and world-class screening facilities like NURA, Fujifilm has stood firm on its commitment to the fight against breast cancer.
About Fujifilm India Private Ltd
Fujifilm established in 1934 has believed in Innovation and the creation of new values through leading edge and proprietary technologies. FUJIFILM India as a firm believer in innovation continues to work hard to provide the Indian consumer the best products and services.
Our corporate slogan is "Value from Innovation."
Along with expressing Fujifilm's commitment to continue creating innovative technologies, products, and services that empower the potential and expand the horizons of tomorrow's businesses and lifestyles, the slogan also encapsulates the company's desire to combine our own original technology with human resources, expertise, and technology from around the world both internally and externally to create innovation. A new brand statement has also been created to articulate these commitments more specifically, and the slogan encapsulates the main points of the brand statement.
Our goal is to be a company that is able to resolve a diverse variety of the problems that face society, contribute to the world through the continuous creation of value-added products and services, and achieve sustainable growth through constant innovation. That was the commitment we made to the world when we launched our new corporate slogan "Value from Innovation". We quickly ascertain customer needs and communicate these clearly and accurately to those involved in product development. Instant camera – Instax is a successful example of this in the Photo Imaging business, which was developed after accurately assessing market demands and with all related business divisions working together throughout the entire process from production to sales on a worldwide scale.