One of the most known accelerators of skin aging is stress, which can come from both internal and external stressors. The stress we're experiencing on the inside can show visible signs of stress on our skin. One skincare ingredient that is known ­­­to soothe and calm these visible distressed skin concerns is Calendula. Native to the Mediterranean, Calendula, a member of the Marigold flower family, is known for its skin-soothing properties. For many centuries, it has been a highly regarded herb for skin treatment in both Ayurvedic and Traditional Chinese Medicine. Kiehl's chemists have been harnessing the power of the calendula petal for over six decades and are now using micronized, sun-dried petals in the formulas that make up the Calendula Collection.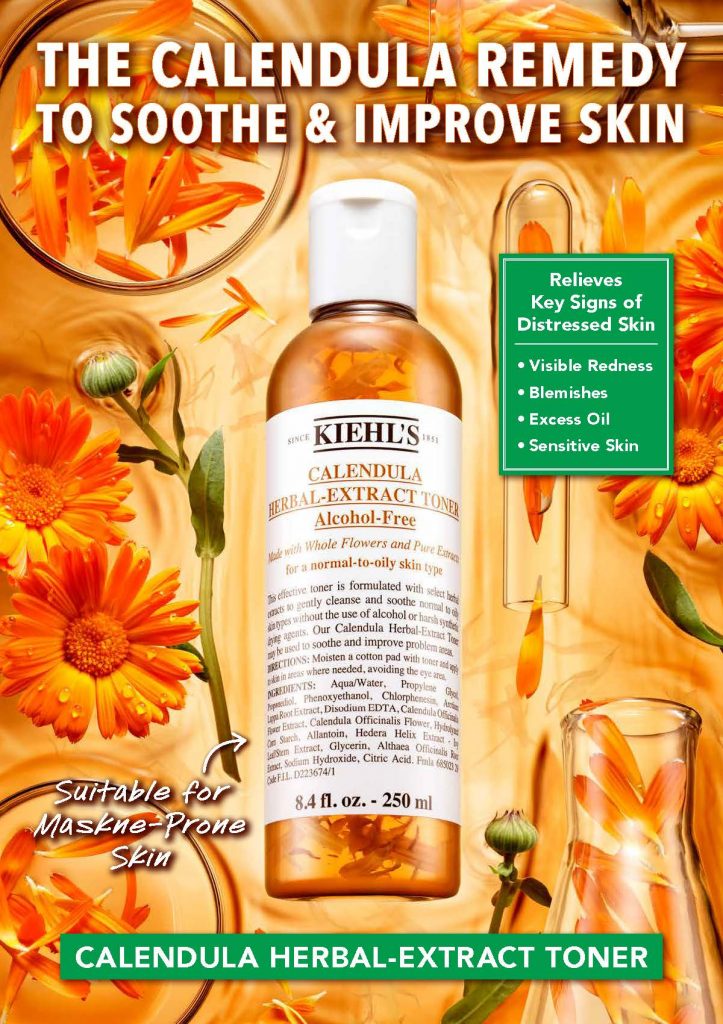 The first of Kiehl's Since 1851 Calendula products was introduced in the 1960s, with the launch of Calendula Herbal Extract Toner currently Kiehl's #1 best-selling toner globally. Formulated with hand-picked Calendula petals, it became an instant favorite for delivering a soothed and refreshed feel to the skin.
Ever since, Kiehl's chemists continued to harness the time-tested benefits of Calendula. In 2014, they developed Calendula Deep Cleansing Foaming Face Wash to thoroughly, yet gently clean and refresh skin. Launched in 2019, Kiehl's weightless Calendula Serum-Infused Water Cream helps to relieve skin from the feelings of discomfort along with strengthening the skin barrier.
Today, the full Calendula Collection helps "put a pause" on the look and feel of environmental skin stress with its skin-loving humectants that work to deliver the powerful soothing efficacy of Calendula quickly & efficiently. The collection with Calendula Extract helps visibly reduce skin redness and discomfort.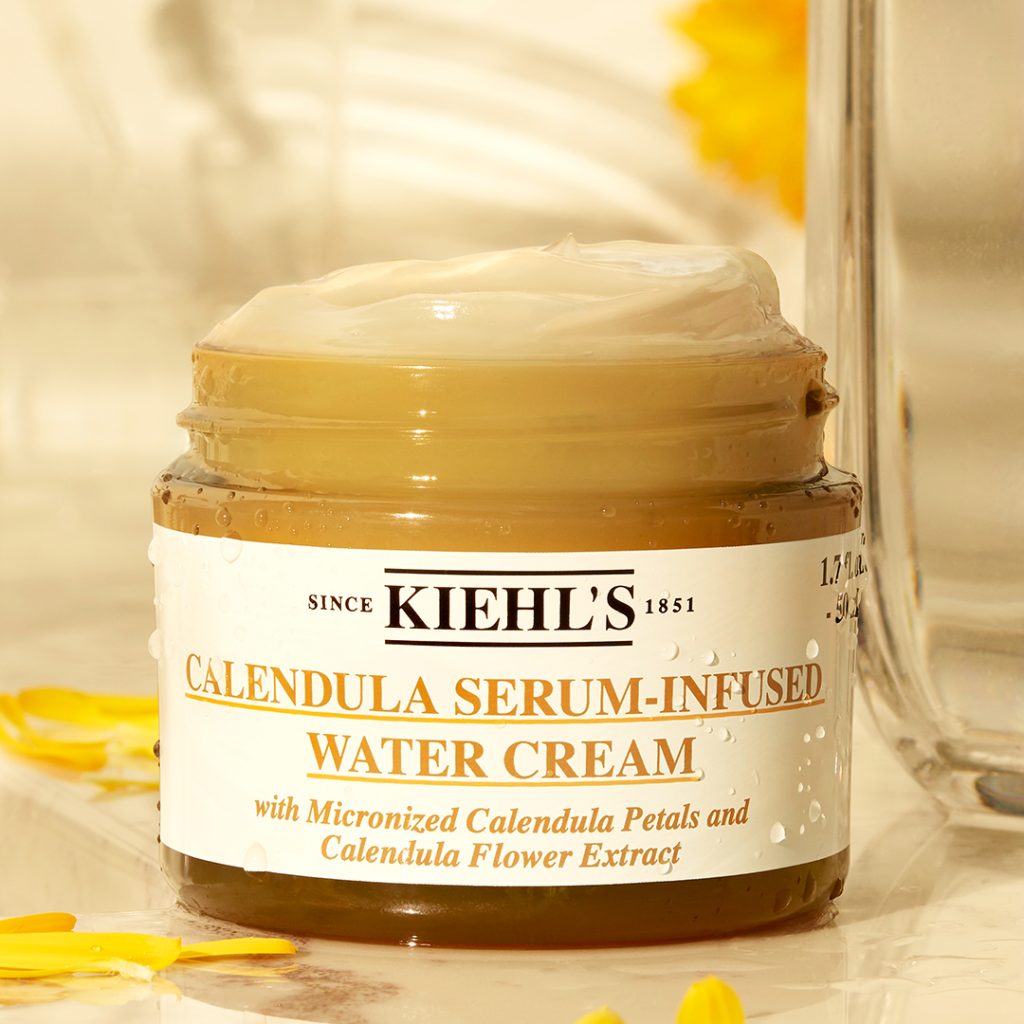 "Through our understanding of psycho dermatology, we know that certain stress management techniques, such as sensorial based therapies and self-care rituals paired with skin treatments, can help improve both the look and feel of skin even during stressful times. Kiehl's India said "Committing to a daily routine to care for your skin is the first step to ensuring your healthiest skin; and even the action of applying your favorite products can be an effective stress manager. The simple rituals of product application together with light facial massage gestures help to provide a sense of relief and relaxation. Similarly, taking the time to enjoy the sensorial aspects of your skincare routine – focusing on the aromas and textures of your products – also helps to reinforce positive emotions and to keep stress at bay. For example, every morning I look forward to using a 100% cotton round to sweep a few drops of our alcohol-free Calendula Herbal-Extract Toner around my face as the first step of my morning routine – it is so gentle, and feels cooling and soothing, and I rely on it to keep my skin feeling balanced and prepared for the day."
CALENDULA-POWERED RESULTS
Kiehl's Calendula Herbal Extract Toner is clinically tested to soothe the signs of distressed skin:
(GLOBAL ex APAC)
-63% reduction in visible redness
-68% reduction in oily feel1
(APAC ONLY)
-37% reduction in blemishes1
-63% reduction in visible redness1
-68% reduction in oily feel1
(APAC ONLY)2
94%of users agreed skin looks refreshed
94%of users agreed skin feels soothed
69%of users agreed visible redness is reduced
(CALENDULA WATER INFUSED CREAM)
Visibly evens skin tone and boosts radiance in just one week
Helps visibly reduce redness with continued use
Helps improve uneven texture, dull skin and dry fine lines
Softens skin with lasting 24-hour hydration
For all skin types
(CALENDULA DEEP CLEANSING FOAMING FACE WASH)
Washes away impurities, dust and dirt.
Oil content enhances skin radiance and cleanses the skin.
Provides an instant fresh look and feel to your skin
Acts as a deep cleanser and moisturizing agent
Provides smoother skin and induces exfoliation with the properties of Calendula and Glycerin
Calendula oil improves the quality and appearance of the skin.
Best for normal and oily skin
KIEHL'S INDIA E- COMMERCE
Kiehl's India is bridging the gap and going an extra mile for its customer by providing a wide range of products, digital consultation and contact less delivery. Find the best routine for your healthy skin on the " kiehls.in" The website was launched in June with an aim to cater to all skin-care needs of the Indian consumer with effective and tested dermatologist solutions and men's grooming ranges in addition to the iconic formulas like Calendula Range, Clearly Corrective Range etc. The new e-boutique is intuitive, user-friendly and aspires to replicate the Kiehl's experience digitally. With a sophisticated user-interface designed to make shopping online a fulfilling experience, the website is optimized for mobile phones and desktops. To make the browsing and navigation process simpler for the consumer, the e-boutique gives various into separate sections such as bestsellers, new arrivals, brightening, anti-ageing, and gifts. Healthy Routine Finder is another key feature where one can take a quiz to find skincare solutions best suited to their needs. This tool is broadly categorized into two parts which suggest simple and advanced routines respectively. Kiehl's Koncierge is a live chat feature that provides e-consultations and elevates the online customer experience through complimentary and individualized skincare consultations by providing them with tailor made skins solutions according to the concerns shared with the E-Kiehl's Customer Representatives. The Chat facility is from Monday-Friday, 10 am – 4 pm.
 ABOUT KIEHL'S INDIA
The driving force of Kiehl's vision is the 'try before you buy' initiative. Allowing clients to try products before they purchase, this 92-year old initiative has won hearts and has led to loyal patronage over the years. Kiehl's journey from humble beginnings in 1851 as an old apothecary in New York's East Village neighborhood to 250 stores around the world including 14 flagship stores in India is one which deserves attention and applause Standing true to its commitment to provide unparalleled skincare, all Kiehl's stores promise unwavering customer service. Taking a cue from the success of Kiehl's stores across the world, it's no surprise that all Kiehl's customer representatives have the technical know-how to guide clients and leave no stone unturned to provide unmatchable service and expertise. Kiehl's was founded as an old-world apothecary in New York's East Village neighborhood. Its unique, extensive background represents a blend of cosmetic, pharmaceutical, herbal, and medicinal knowledge developed and advanced through the generations. Kiehl's India is providing safe home delivery options, contactless delivery to its customers.
The stores are all sanitized and safe for Shopping purposes. Kiehl's provides gifting options for friends and family and has a great range of corporate and individual gifting options for celebrating occasions.