When it comes to fitness, Shilpa Shetty is definitely an inspiration in Bollywood. The actress is known for her perfectly toned body, at the age of forty-four. In a recent post on her social media handle, Shilpa shared a video of her circuit training session of three and a half minute, captioning it as, "Circuit training… 3-and-a-half-minute killer set made concise to #instafit. 3 sets of this and legs are jelly. Sore today, Strong tomorrow 💪 Didn't stop even when Bruno, our German Shepherd, wanted to be a party pooper😅He's adorbs! @bencolemanfitness you are killing me 🔥👏#mondaymotivation#killerworkout #circuittraining #legday#fitness #passion#swasthrahomastraho #healthfreak#breathe"
Seeing her fitness regime, Producer and Director, Farah Khan commented that she got tired by just looking at it.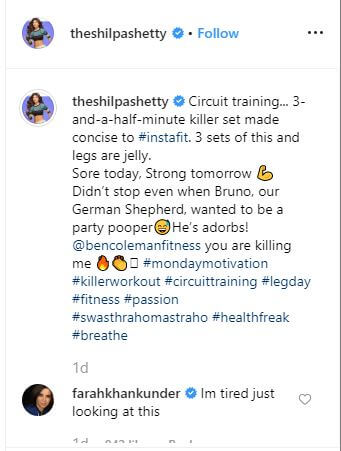 Shilpa is often seen sharing her workout videos with her husband Raj Kundra and son Viaan. Shilpa also shares yoga tips and conducts yoga sessions for her fans across the country. Using the tagline 'Swasth Raho Mast Raho', the actress gives out the recipes of healthy delicacies for a healthy living.