Extending the array of its digital banking services, Jana Bank becomes the payment gateway services provider to 'Namma Shaale Nanna Koduge', a Government of Karnataka initiative.
The Namma Shaale –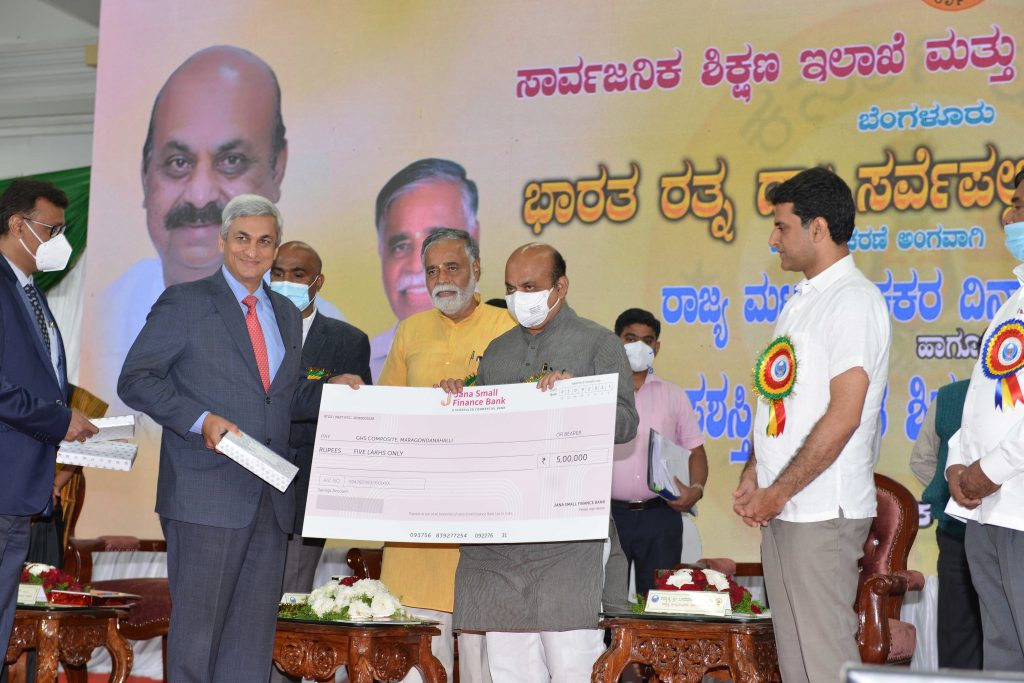 Nanna Koduge (My School, My contribution) program aims to provide accessibility to donors who wish to donate money to any government school in Karnataka. Hon. Chief Minister of Karnataka, Shri Basavaraj Bommai, formally launched this program at Vidhana Soudha on the occasion of Teacher's Day in presence of Shri B.C. Nagesh, Primary and Secondary Education Minister of Karnataka, Shri V Anbu Kumar, Commissioner for Public Instruction & Shri Ajay Kanwal, MD and CEO, Jana Small Finance Bank.
Namma Shale – Nanna Koduge program aims to develop a sense of ownership among the public, alumni and stakeholders, and strengthen the public education system. As per the process, the donation from the donor gets received in a single account of Karnataka Text Book Society – Department of Public Instruction [KSDPI] which then gets transferred to the respective school account.
With this tie-up, donors can access Jana SFB's complete payment ecosystem of RTGS, NEFT, UPI, IMPS, Debit card, NACH, etc. to make their donations. Additionally, the strong network of Jana SFB serving five lakh customers in Karnataka will enable the donors to reach out to the vast number of government schools across Karnataka. The bank has developed a 24 X 7 complaint addressing mechanism through a support desk that will take care of any technical and operational queries of donors.
Shri Ajay Kanwal presented a donation cheque to the Hon, Chief Minister for the cause of setting up an RO Water plant at GHS Composite, Maragondanahalli School, alma mater of the Hon. Chief Minister.
Speaking on this association, Shri Ajay Kanwal, MD, and CEO of Jana Small Finance Bank said, "Karnataka Government has done a terrific effort in leveraging digitization for benefit of thousands of schools and colleges in Karnataka. We are delighted that we could contribute to this effort vide our digital infrastructure and are lucky to have a very small role in helping schoolchildren across the state."
About Jana Small Finance Bank
Jana Small Finance Bank Limited (Jana Small Finance Bank) is one of the leading Small Finance Banks of India in terms of assets under management and deposit size as of March 31, 2020, as per the report titled 'Overview of Banking Sector in India' dated March 12, 2021, issued by IRR Advisory ("IRR Report"). Jana Small Finance Bank has the second most geographically diversified portfolio with a pan-India presence among all Small Finance Banks in India as of March 31, 2020 (Source: IRR Report). As at February 28, 2021, Jana Small Finance Bank had 611 Branches, including 166 Branches in Unbanked Rural Centres, and 134 ATMs located in 229 districts in 20 states and three union territories. Jana Small Finance Bank has served over 8.00 million customers since 2008, including approximately 3.05 million active customers.
Jana Small Finance Bank Limited (the "Bank") is proposing, subject to receipt of requisite approvals, market conditions, and other considerations, to make an initial public offer of its equity shares and has filed a draft red herring prospectus ("DRHP") with the Securities and Exchange Board of India. The DRHP shall be available on the website of SEBI at www.sebi.gov.in, websites of the Stock Exchanges i.e. BSE and NSE at www.bseindia.com and www.nseindia.com, respectively, and is available on the websites of the BRLMs i.e. Axis Capital Limited, ICICI Securities Limited, and SBI Capital Markets Limited at www.axiscapital.co.in, www.icicisecurities.com and www.sbicaps.com, respectively. Any potential investor should note that investment in equity shares involves a high degree of risk and for details relating to such risk, see "Risk Factors" of the RHP, when available. Potential investors should not rely on the DRHP for any investment decision.
This announcement has been prepared for publication in India and may not be released in the United States. This announcement does not constitute an offer of securities for sale in any jurisdiction, including the United States, and any securities described in this announcement may not be offered or sold in the United States absent registration under the US Securities Act of 1933, as amended, or an exemption from registration. Any public offering of securities to be made in the United States will be made by means of a prospectus that may be obtained from the Bank and that will contain detailed information about the Bank and management, as well as financial statements. However, no public offering of securities is being made in the United States