By Dr. Blossom Kochhar
We often turn to our kitchen ingredients when we want to make a DIY pack at home, but there is one ingredient which might not be everyone's favourite but has grave skin benefits. Papaya is filled with antioxidant properties which are not only good for our health but for our skin as well. It's a rich source of antioxidants, vitamins A, C and E, pantothenic acid, folate, magnesium and potassium, and can be easily found in the market without being heavy on your wallet.

First let us look at some benefits of using papaya
The best part is that it is suitable for all skin types
It is used to deep cleanse the skin; it removes all the dirt and oil that can lead to breakouts & acne.
It nourishes the skin and protects it from looking dull and dry.
Using papaya, you can counter the symptoms of aging. This can cut down on wrinkles and other signs of ageing. It will also kill dead skin cells and regulate pigmentation.
The tropical use of papaya can heal chronic skin ulcers and it protease enzymes that promote healing and soothe irritated skin
This amazing fruit will help you remove tan. Papain and vitamin A and C help to lighten the skin tone and prevent tanning.
Now, if you are looking for super effective home remedies to make your skin look young and fresh, let us look at some using papaya.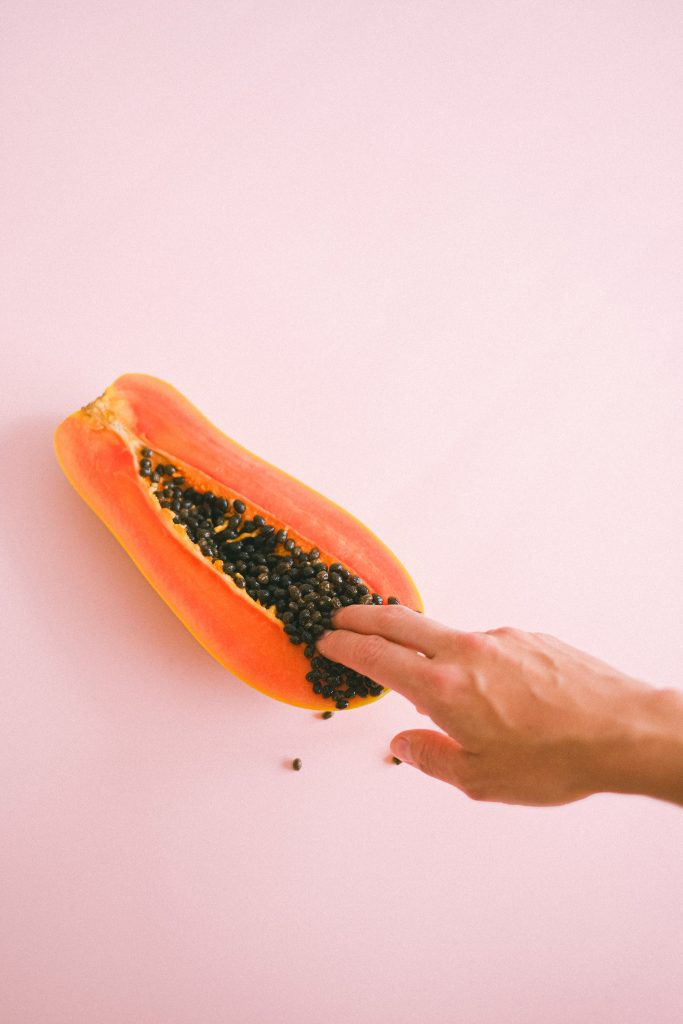 Mash about a cup of papaya and make it into a pulp, now add about 1-2 tablespoons of honey to it. Make a smooth paste and apply a thick layer on your face. Leave it for about 15-20 minutes and then rinse it with cold water. This pack will give you instant glow.
The juice of raw papaya can prevent breakouts and blemishes on your skin. Blend raw papaya to extract juice from it and then apply it on the affected area using cotton pads. Leave it for 10 minutes and then rinse with lukewarm water and pat dry your face.
Forget the painful ways of removing facial hair, it's time to use this magical fruit to lighten facial hair. You can use raw papaya directly onto your face, the enzyme in papaya weakens the hair follicles and lightens the facial hair. If you use it regularly it will also prevent re-growth. You can also blend raw papaya and mix half cup of the paste with half teaspoon of turmeric powder. Mix well and apply this paste on your face. Once the face mask dries off, scrub it off and wash your face with warm water.
If you are looking to get rid of your acne then take a pulp of ½ cup papaya, add a teaspoon of honey, lemon juice and sandalwood powder. Apply the pack evenly on your face and rinse it after 15 minutes. Use this pack every alternate day to get instant results.
Like we mentioned papaya also helps to hydrate and soothe skin, you really want to try this pack to get glowing results. Blend ¼ cup of ripe papaya with half cucumber and ¼ cup ripe banana, blend these together until you get a smooth paste. Apply this for 15 minutes and rinse it with cold water. Repeat this once a week.
Mash half cup of over ripe papaya, to this add one tablespoon and milk and honey. Apply it on your face and neck. This is an excellent pack to combat ageing as the alpha hydroxyl acids in it prevents signs of aging, such as wrinkles and fine lines. The vitamin E and C rejuvenates your skin.
Papaya works like a charm when it comes to dealing with skin tan. Add half a cup of mashed papaya with quarter cup yoghurt, one teaspoon rose water and a pinch of turmeric. Apply it generously on your skin and leave it on for 15 minutes. Wash with cold water and pat dry.
Papaya contains vitamin C, and the juice of it is believed to work as a natural astringent and reduce excess production of sebum. Chop the ripe papaya into pieces. Squeeze the juice from the orange wedges, and mix with the chopped papaya. Mix well till you get a smooth paste.
An important thing to remember is, papaya might not suit your skin so always do a patch test on your hand or on your neck before applying the pack on your face.