By Mr. Ashish Aggarwal – Co Founder of Nutriglow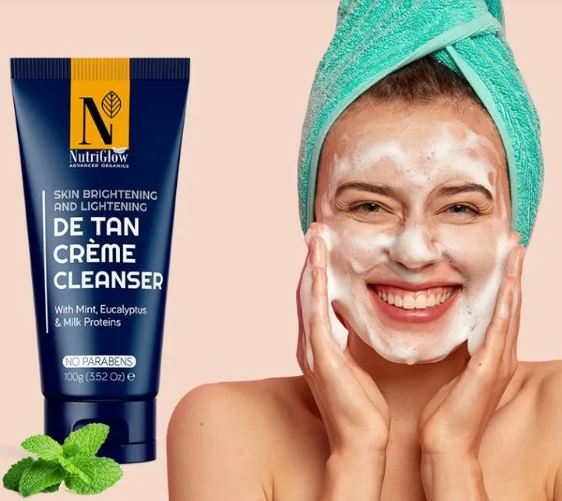 Face cleansers come in a huge variety of forms, sizes, and dozens of possible combinations, which is no secret. This product's market is already fully developed. Every cosmetic business extols the virtues of its line of face cleansers. This may make choosing the correct cleaner challenging. How do you choose the finest face wash for your skin type? It could seem like a difficult undertaking, but with careful thought and a few essential procedures, you can choose the ideal product for your requirements.
You must begin with a proper face cleanser if you want skin that is healthy and radiant. However, the variety of products on the market available today makes things difficult to understand. Knowing your skin type is the first step in selecting the best face cleanser for you. Oily, dry, combination, sensitive, normal, and mature skin are the six main categories. However, when discussing Indian skin varieties, the majority of Indians can recognize their skin as oily and dry.

How To Determine Your Skin Type?
It's crucial to take good care of your skin because it forms the basis of attractiveness. However, a lot of people don't know what type of skin they have, which makes picking the appropriate skincare products challenging.
Large pores and shine are signs of oily skin. It is more likely to develop blackheads and pimples. After washing, dry skin feels tight and flaky and may be wrinkled. Combination skin is dry on the cheeks and oily in the T-zone (forehead, nose, and chin). Thin, delicate, and easily irritated, sensitive skin frequently becomes red or inflamed.
Dry skin may feel constrictive throughout the day and may flake visibly. Genetics, environmental factors like nutrition and lifestyle, hormonal changes, and temperature are the main causes of dry skin. Drinking plenty of water and staying away from diuretics like alcohol and caffeine may have a significant impact on how your skin looks and feels. Dehydration is another common cause of dry skin.
Daily exfoliation with mild, non-abrasive chemicals encourages cell turnover without removing the skin's natural oils. If there is no additional layer of dead skin, serums and treatments will be absorbed more readily. Hyaluronic acid, which is frequently listed in components such as sodium hyaluronate, glycerine, and marine actives like algae is the best moisturizer for dry skin because of its propensity to pull water.

What Role Does Cleanser Play in My Skin?
Regardless of your skin type, using cleansers is a crucial part of any skincare regimen. Face cleansers assist in removing oil, makeup, and grime from the skin's surface, leaving it feeling clean and revitalized. Face cleansers can also aid in pore cleansing, exfoliation, and acne prevention.
There are numerous face cleansers available in the market for various skin types. Look for a face cleanser that is moisturizing and mild if you have dry skin. Look for a face wash that has salicylic acid or other compounds that assist to decrease oil production if you have oily skin. Look for a face wash that is hypoallergenic and free of abrasive substances if you have sensitive skin.
Finding a face cleanser that works well for you is crucial, regardless of your skin type. Find a formula that makes your skin feel clean, fresh, and healthy by experimenting with various ones.
Ideal Face Cleanser for Dry Skin:
Consider using a face cleanser made exclusively for dry skin if you have sensitive, dry skin. Typically gentler, these cleansers won't dry up your skin's natural oils.
Ideal Face Cleanser for Oily Skin:
Finding the best face cleanser can be difficult if you have oily skin. You need a cleansing agent that won't remove your skin's natural oils. Here are some pointers for choosing the best facial cleanser for oily skin:
Pick a face wash that is specially formulated for oily skin. These products typically contain chemicals that aid in regulating oil production and maintaining clear, clean skin.
Avoid using facial cleansers that include strong detergents or chemicals. These may deplete the skin's natural oils and increase acne risk.
Look for a face wash that includes salicylic acid or tea tree oil among its ingredients. These substances can aid in maintaining clear skin and regulating oil production.
Select a face wash that is soft and non-abrasive. Scrubbing too hard might irritate the skin and increase the breakout risk.
When cleaning your face, avoid using hot water. This may rob the skin of its natural oils, causing it to become drier and more sensitive.
Ideal Face Cleanser for Combination Skin
Finding the best face cleanser can be a difficult task. If you have combination skin, you already know that when it comes to facial cleansers, one size does not fit all. You'll need a cleanser that won't strip your skin of its natural oils.
The first step involves figuring out what type of skin you have. Combination skin means that you have oily and dry patches on your face. Typically, the T-zone (forehead, nose, and chin) is oily, whereas the cheeks are dry.
After you've determined your skin type, you can begin looking for facial cleansers. Look for products labelled "for combination skin" if you have them. These items usually have a gel or cream base. These products typically have a gel or cream base that helps to hydrate the dry areas of your face while cleansing the oily areas. NutriGlow has many options that are suitable for combination skin.
Conclusion
Experimenting is the best way to find the best face cleanser for your skin type. You should consider purchasing NutriGlow skincare products. They have a wide range of options to suit all skin types.