Oh, My eyes, MY EYES! With the same emotion, even we can't believe that our favourite sarcastic character, the master of one-liners, Matthew Perry aka Chandler Bing has made a debut on Instagram.
Entertaining the Twitteratis for several years with his charismatic personality and cryptic tweets, that always sends a sudden rush of curiosity among his followers, Matthew Perry in on Instagram now, which was brought to our notice by none other than Lisa Kudrow.
With her one of the most famous lines from the 'Friends' series, Lisa wrote, "Finally!!! Yay!! Can't believe my eyes MY EYES
Welcome to Instagram @mattyperry4 #friendsforlife", with an old picture of hers and Matthew.
Soon Lisa's post received comments from Jennifer Aniston and Courtney Cox, where Jennifer wrote, "Yay Matty! Could you TAKE any longer? 😳❤️". (Trust me! We all are reading it in the same tone).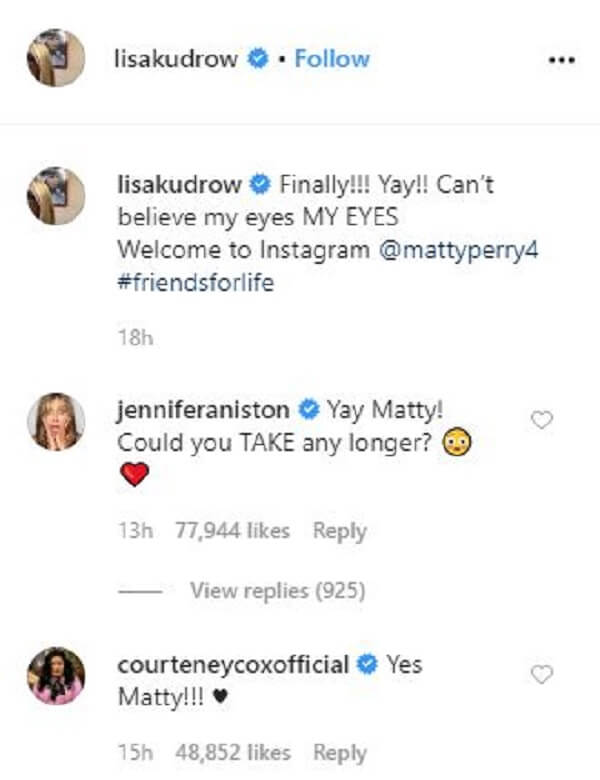 While the Instagram account of Matthew Perry has received around 1.8 million followers in just a few hours, there is no post by our Chandler on his social media handle but since we all know he is not good with long notes or advice, we are definitely keeping our hopes high for sarcastic comments!