To commemorate its 20th anniversary, Bengaluru's gallery g showcases 'Revelation & Reverences: Glimpses of Indian Art 1850 – 1950'. This three-month long exhibition which opens to the public on 9th December 2022 will have on display a collection of rare oil paintings, water colours, chromolithographs, litho stones, terracotta dolls and other rare artefacts. The exhibition charts the evolution of India's Art History from the mid-19th century to Independent India and will remain on display till 28th February 2023.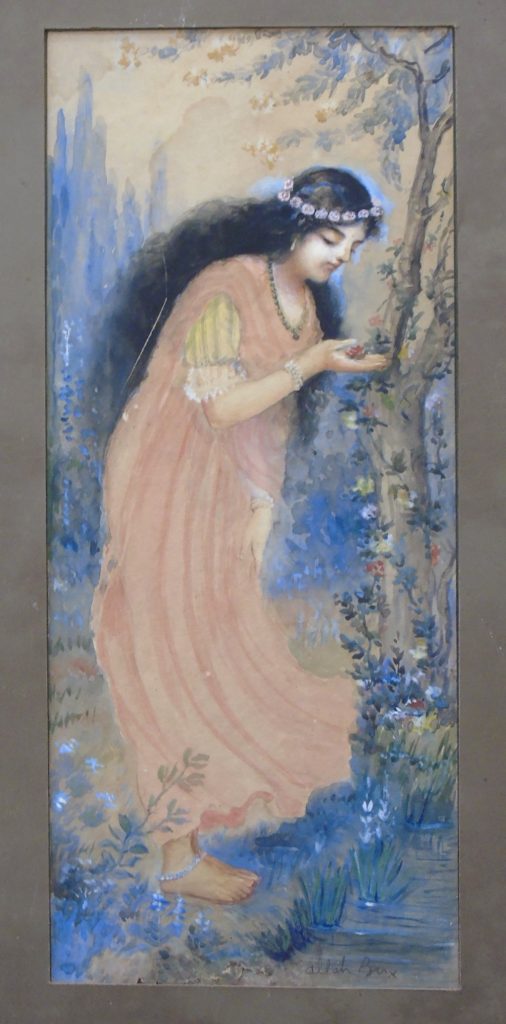 Some of the lesser known works on display are from artists like Raja Ravi Varma, his contemporary artists like Sekhara Warrier, Mukundan Thampi and his younger brother C. Rajaraja Varma. There are also rare Early and Dutch Bengal paintings and Kalighat Sketches, popular chromolithographs by M.V. Dhurandhar, as well as paintings by J.B. Dikshit and C. Kondiah Raju.
The exhibition also has an interesting new set of artworks on display from January 15th onwards. A rare work by Ustad Allah Bux, an artist from Lahore who contributed greatly to the art scene in Bombay and who had a fascination with Krishna and painted several works based on him. There is also an interesting painting of Shakuntala done by Paul Gerhardt, a German artist who worked in the Ravi Varma Press.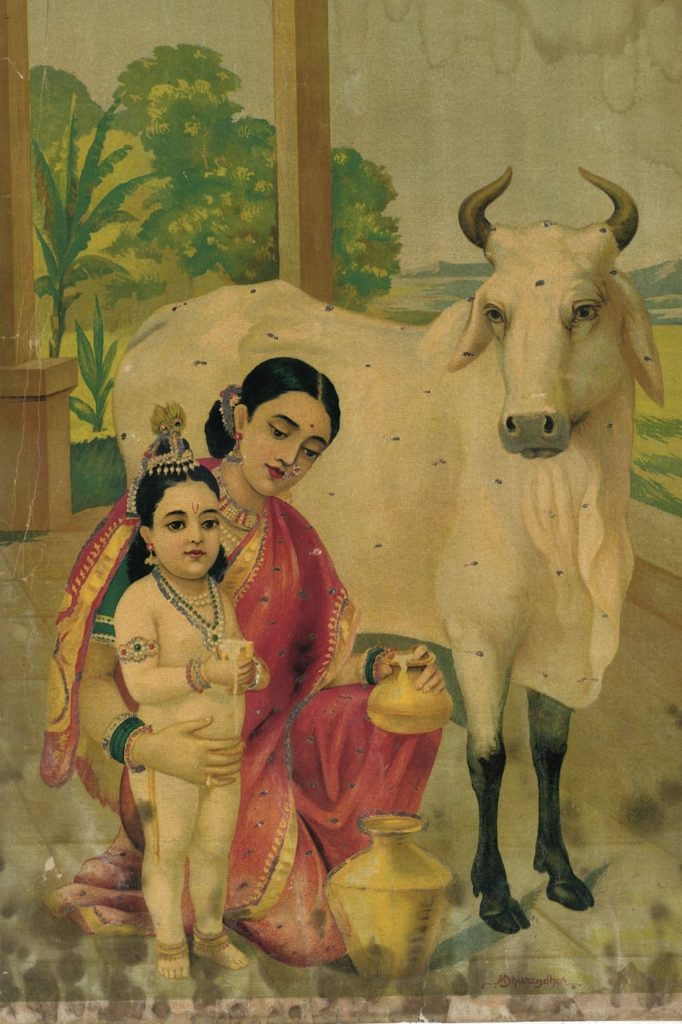 While the history of Indian art stretches back to the ancient era, the first shift towards progression in India's visual history was witnessed during the latter half of the 19th century with the introduction of Company Style paintings. This was a time when under British rule, India was witnessing a cultural hegemony of western artistic expression.
During this time the Indian princely states, wealthy patrons and native painters under their patronage came under the influence of the Western style of painting. Gradually when Indian social reformists, industrialists and royal families travelled overseas, a world of technology, industry and Western art and culture opened up new vistas for them. They started to acquaint the Indian masses with the knowledge and expertise of the British. Local artists and artisans equipped themselves for this transformation and some of them opted for the Western style, medium and technique to become successful. This was the period when oil paints as a medium started coming more and more into the mainstream.
Beginning with traditional Kalighat paintings, Early Bengal Paintings and chromolithographs from the Calcutta Art Studio, the exhibition journeys to Maharashtra where the works of important artists from the region are displayed. Similar subjects are explored by artists from different regions resulting in a unique representation of costume, jewellery and expression based on geographical boundaries, cultural milieu and social practices.
The art journey continues to the southern parts of the country with focus on Travancore, where Western Academic style art by Raja Ravi Varma, Sekhara Warrier and Cheduvaranga Naidoo gained popularity. Traditional arts from Thanjavur met the modern mechanics of printing presses and the coloured boxes of Sivakasi through the hands of artists like C.G. Ramanujam and C. Kondiah Raju. Closer to home G.V Venkatesh Rao popularised the gods with his lithographs of Rama and Krishna, while Mysore court painter K. Kesavayya immortalised people through his portraits.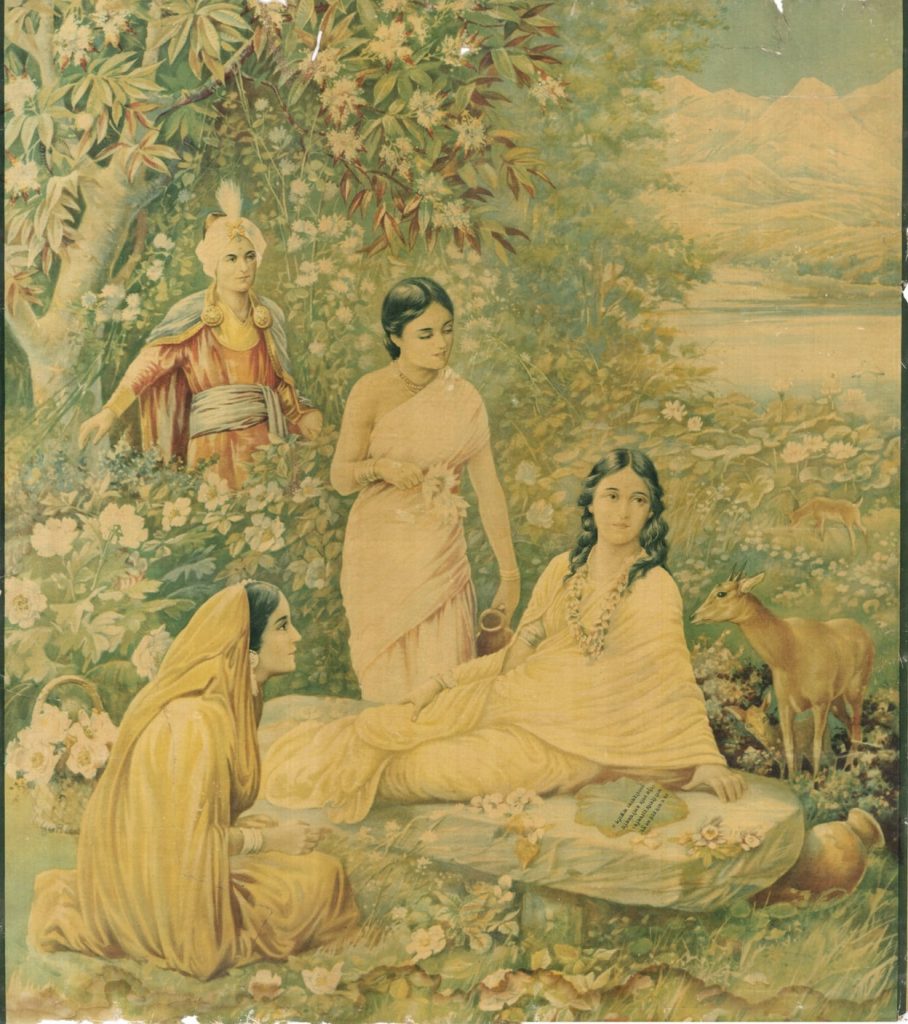 Imagery moved on and faces that were once traditional adopted decisive European features. Images of Indian gods were being touched up and printed in England, Germany and Italy. Krishna danced with Gopis amidst Italian castles and Dattatreya donned a muscled physique and had Border Collies (an English breed of dog) alongside him in the imagery.
Realism that began in the West and was introduced to India by Westerners had been mastered by Indian artists.
This electrifying and invigorating journey of the evolution of Indian art, from cave paintings done in natural colours to the world of oil paintings, portraits, prints, posters and calendars is all charted in this expansive and well documented exhibition titled 'Revelation & Reverences'.
Most of the works on display in this show belong to the collection of Sandeep & Gitanjali Maini Foundation, while some works are on loan from important private collectors and collections from across India.
About gallery g
Started in 2003 it;s a space where artists can innovate, find more inclusiveness and get more prolific with their work. gallery g attempts to showcase art that appeals to everyone, and even challenges those who don't have an eye for it.
In the twenty years since inception, gallery g has grown from showcasing and stocking work of well-known artists, to building a platform for up and coming artists to display their works, mentoring promising talent, besides curating art for worthy spaces.
With an extensive collection of diverse art works from Modern and Contemporary Indian artists, gallery g is committed to making high-quality art an accessible and affordable lifestyle choice for everyone. Our experiences with interior designers and property developers have enabled us to provide a service package with comprehensive selections that cater to commercial and residential units. For those with specific requirements, gallery g is happy to commission suitable works based on our expertise to complement a client's space and match the given budget.
Artists Initiative Program
Since its inception the 'Artists' Initiative Program' (AIP) is our way to identify and promote talent – a gallery g initiative. One of the key areas of our mission is to identify and promote new and upcoming talent and showcase them in Bangalore where they have never been seen before, and, who might otherwise find Academic & Viewer attention difficult to access.
In that sense, we not only become a launch pad for new artists but also a platform for fairly established artists so as to steadily keep their stock rising in the market. A promising new artist who meets gallery g criteria can avail of a weeklong exhibition facility. The choice of the AIP artist is made by a jury of academicians, curators, art historians and gallery g's own advisory panel.
Art of Investment
gallery g, has formidable experience in the industry, as well as a keen and clear understanding of how the Indian art market works. We provide detailed analysis into the present scenario of Art of Investment and also advise on how to invest, and who to invest in. We take counsel from reputed curators before personalising every art portfolio we undertake.
Curating Art
At gallery g, we have the skills specific to art curation, including the ability to examine, authenticate besides preservation and promotion of works. Importantly, the key knowledge to assess the value, both culturally and monetarily is the USP of gallery g.
As curators, we are constantly on the lookout for the changing dynamics of the art world in today's fast-paced life. Curation is the driving force behind every exhibition and the ability to pull in exhibits from existing collections or through purchase of additional works, and through various sources to create a critically acclaimed theme has been the driving force for gallery g.
About Sandeep & Gitanjali Maini Foundation
Established alongside gallery g to support its non-commercial activities, and to carry out and build on the Maini Group's various art and culture projects, Sandeep & Gitanjali Maini Foundation embraced a much wider scope in recent years.
Gitanjali Maini's initiatives at gallery g extensively promoted art, and artists, at various levels – be it individually or at Biennales – and it's a commitment that Sandeep Maini shares, as reflected in the Maini Group's art, culture and welfare programmes.
The four free-form shapes in the monogram, each in its own colour, symbolise what the Foundation stands for — yellow for clarity of purpose, red for initiative, green for renewal and blue for idealism. Together, their vividness reminds us of the joy that art and culture give us, of why we must work to sustain them.
Image Captions:
1. Portrait of Puttamma:
This is a portrait of Puttamma, the wife of Diwan Bahadur K Ramaswamy, a close associate of HH Maharaja Krishnaraja Wadiyar IV, painted by Mysore court artist K. Kesavayya in 1950.
2. Shri Radha Rukmini Krishna:
This chromolithograph by C.G Ramanujam (1925) has been inspired by Tanjore paintings and has been created in similar style.
3. An Untitled Dutch Bengal Painting:
This oil painting on canvas, done by an unidentified artist, is an Early Bengal Work or Dutch Bengal Work (circa 1850, as they were referred to). It is probably one of the earliest oil paintings done in India by an European artist who hired an Indian art assistant to help him with the painting.
4. Kothanda Rama by G.V. Venkatesh Rao:
A relatively unknown artist from the South, this is one of the most popular and identifiable images of Kothanda Rama (Lord Rama with his bow), along with Sita, Lakshmana and Hanuman, found in puja rooms. Please add Vishnulola Too.
5. Meeting of Father & Son:
A popular subject that was explored by artist B.P. Banerjee, this is a scene where Ganga introduces her son Devavrata to his father Shantanu for the first time. This chromolithographic print was first painted by an Indian artist and then printed in Germany. Also add Shantanu Ganga
6. Narasimha:
Painted by Raja Ravi Varma, this was made as an exemplar for a chromolithograph of the same subject. This painting shows Vishnu in the Narasimha avatar, killing King Hiranyakashyap.
7. Lakshmi Saraswati Shakti:
This trio of goddess has been painted by Jivaji Bhikaji Dikshit, an artist from Sangli, Maharashtra. His style is reminiscent of master artist Raja Ravi Varma and his contemporary S.M. Pandit from Kalburgi, Karnataka.
8. Ramrajabhishek:
A famous chromolithograph by Mahadev Vishwanath Dhurandhar, one of the most prolific and popular artists from Maharashtra.
9. An Untitled Painting of a Lady:
Ustad Allah Bux was an artist from Lahore, before the division of India. A leading proponent of the Western Academic style of painting he was proficient in both watercolour and oil paintings.
10. Godohana:
A popular chromolithograph of Yashoda with baby Krishna and a cow, was made by Raja Ravi Varma and M.V Dhurandhar. While there are no records to show which of the two artists actually painted the subject, chromolithographs bearing both their signatures exist. This chromolithograph bears the signature of M V Dhurandhar.
11. Shakuntala in the Forest:
An anglicised take on Kalidasa's Shakuntala, explored by German artist and master printmaker Paul Gerhardt. The artist was appreciated by Ravi Varma and his brother C Rajaraja Varma for his technique and artistic skill. Gerhardt went on to paint several subjects in Ravi Varma's style as he worked as a print technique in the Ravi Varma Press and was in constant contact with the master artist and his work.