Dente91 She is the first ever toothpaste in India specially crafted to address oral issues that women face due to hormonal changes throughout their lifespan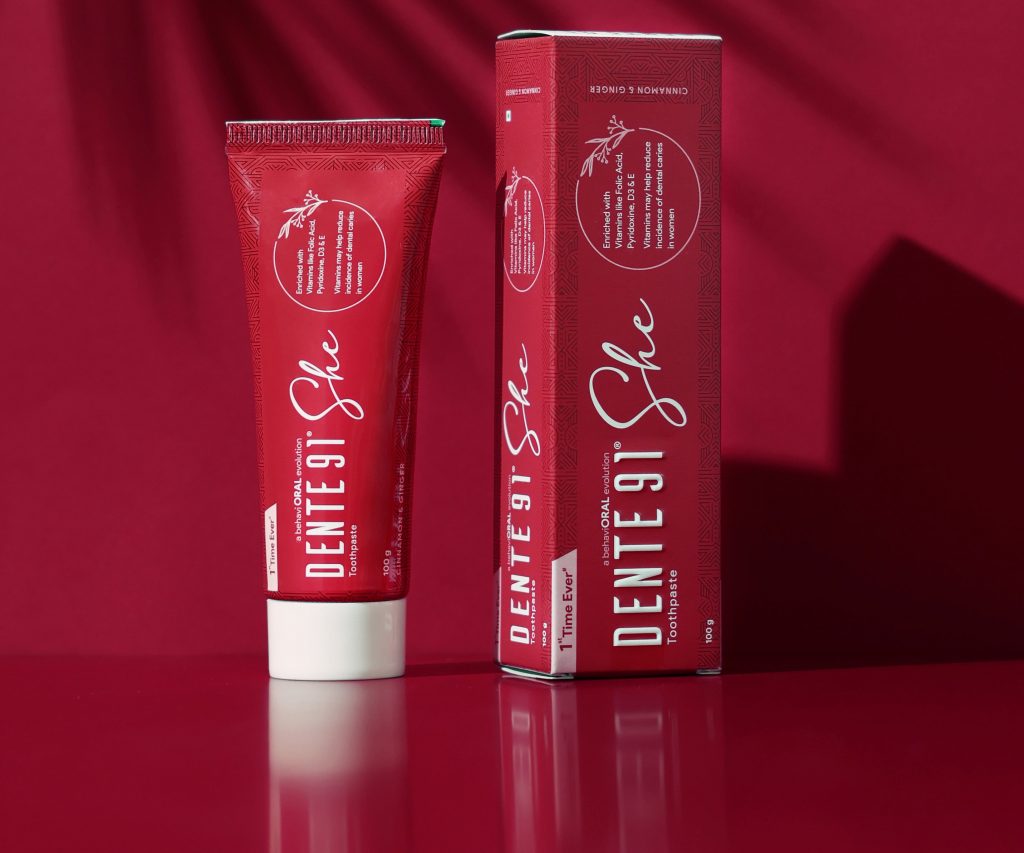 Frimline Private Limited, a health and consumer goods company, announced today the launch of Dente91 She, the first ever toothpaste in India specially crafted to support and augment oral health exclusively for women.
Throughout their lifespan, from puberty to menopause, women go through hormonal changes making them susceptible to oral issues such as gingivitis, caries, and hypersensitivity. Keeping this in mind, Frimline (manufacturers of Dente91 Oral Care) has formulated a toothpaste specially designed to address oral issues of women.
Speaking on the occasion, Mr. Yash Singh, Founder & CEO, Frimline, said "We are excited to announce the launch of Dente91 She toothpaste. It is a first ever toothpaste in India designed to address the unmet oral care needs of women. The correlation between various hormonal changes women go through all their life, and its impact on women's oral health is not widely known. This prompted the inception of Dente91 She. It is another milestone in our endeavour to bring an awareness about oral care and launch innovative self-care products to address the unmet needs of consumers."
Dente91 She toothpaste uses a unique formula to offer a trusted defence for women against multiple oral issues. The toothpaste is powered with Folic acid (Vitamin B9), and Pyridoxine. Folic acid helps in reducing gingivitis (mild gum disease) Pyridoxine (Vitamin B6) helps to fight dental caries. The toothpaste also contains Vitamin E and Vitamin D3 which help to support women's oral health across their lifespan. Lactoferrin in the toothpaste is a multifunctional protein with antimicrobial properties. Nano Hydroxyapatite in Dente91 She toothpaste helps to remineralize teeth, prevent hypersensitivity and reduce plaque. It is also free from harmful ingredients such as paraben, SLS, Gluten, Peroxide, Triclosan and Fluoride making it ideal for long term use. The toothpaste comes in a refreshing Cinnamon and Ginger flavour.
Dente91 She is a simple switch for women across India to prevent multiple oral issues throughout their lifespan. The toothpaste is made available to order nationwide December onwards on Frimline's own direct to customer website (buy91.com), as well as on Amazon, and Flipkart.
Dente91 She is available in pack size of 100g with an MRP of ₹219 and will be available for sale online.
About Dente91:
Dente 91 is the Oral Care Range of Frimline. Increasingly drawn into finding the right ways to support body's natural way of fighting infections and enhancing its immunity Frimline has created oral care products to have a positive effect on oral hygiene practices.
About FrimLine:
Frimline Private Limited is a health and consumer goods organization created with a purpose to instil innovation in the field of Nutraceuticals and FMCG through high quality products. This new-gen organization also works towards managing chronic diseases as a forward integration of one of the fastest growing pharmaceutical companies in India, La Renon Healthcare Private Limited. Currently, Frimline has two FMCG and sixteen Nutraceutical brands functioning under it. Brand DENTE91® aspires to bring in a behaviORAL evolution by creating awareness and access to oral care products that make taking care of oral health a safe and delightful experience. Brand WHEY91™ focuses on fulfilling protein requirements of individuals while also keeping taste at the forefront through its protein bars. Frimline also has 148 patents across the globe for revolutionary inventive products that benefit human kind.
For more information and purchase of products, visit: https://buy91.com/