As Christmas is round the corner, Dyson India and Crocs India, Popxo Beauty and Manish Malhotra Luxury Beauty by MyGlamm has come up with gifting options. Sharing below the same for your kind perusal. Would be great if you can kindly feature the same in your gifting story.
The Dyson Supersonic™ hair dryer limited Christmas edition Vinca Blue & Rosé colourway.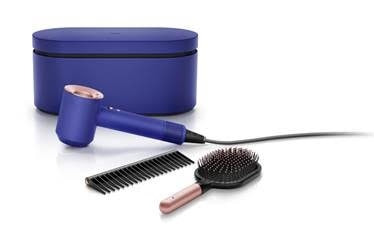 As the Dyson colour pallet evolves, Hair Care continues to provide an experimental canvas for engineers. The new Dyson Supersonic™ hair dryer in Vinca Blue and Rosé colour is the outcome of our latest exploration of unique finishes. The new porcelain-like texture is the result of precision-applied satin paint topcoats. Dry to the touch, the end result was achieved through many rounds of experimentation – designed to evoke the silky-smooth finish of unglazed ceramic.
The Dyson Supersonic™ hair dryer limited Christmas edition Vinca Blue & Rosé colourway will be available at Dyson Demo Stores and Dyson.in. The Supersonic is included as part of a gift set paired with a selection of accessories, including a matching presentation case and Dyson-designed brush and comb. The Detangling Comb is engineered with wide, polished teeth to glide easily through wet and dry hair, detangling with minimal friction, while the large Paddle Brush features air-cushion suspension for scalp comfort and is designed for smoothing hair when blow-drying.
Price: ₹34,900
Product link – Dyson Supersonic
All that glitter is (gold) Crocs! An elevated take on glitter combined with iconic Crocs comfort brings to life the Classic Glitter Clog. These fun colorways feature holographic glitter that create an iridescent effect when viewed from different angles. An upgraded take on glitter combines with iconic Crocs comfort in the Classic Glitter Clog (INR 3,495 onwards). Features holographic glitter that gives off a rainbow-shine effect when viewed from different angles. It's the dynamic, stylish clog that you're sure to fall deeper in love with day after day. Shine on!
The Classic Cozzzy Sandal (INR 3495 ) features a soft, fuzzy liner, style-forward heightened outsoles and two upper straps that offer enhanced foot security. Seven holes on each sandal allow for maximum personalization with Jibbitz™charms, while Croslite™ foam construction keeps them light and easy to wear.
Manish Malhotra Luxury Makeup by MyGlamm – Luminous Moisturising Primer

An oil-free, illuminating cream primer with soft-focus effect, it helps create a flawless base for your makeup. It is a moisturising glow primer that acts like an instant optical filler, imparting diffused radiance for a charming look. Lightweight and moisturising, this primer minimizes the appearance of pores and evens out skin tone. The result is a non-greasy, luminous base that lasts all day! Easily blend able for desired coverage, it comes with hyper-luminescent micro-pearls for a radiant finish. Available at INR 700/-
Manish Malhotra Luxury Makeup by MyGlamm – Concealer

A 2-in-1 liquid concealer and corrector with Hydra-fit Technology, the Manish Malhotra Concealer is great for high coverage. It effectively hides blemishes, spots, dark circles, and uneven skin tone. Perfect for Indian skin tones, it comes in six different shades. Its unique cushiony and ultra-creamy texture blends effortlessly into your skin, leaving a luxe luminous-matte finish. Its lightweight formula stays soft and crease-free, so you can go from AM to PM without breaking a sweat. It is available for INR 850/-
Manish Malhotra Luxury Makeup by MyGlamm – Foundation

This medium-to-high coverage skin energizing foundation is what you need to perfect an even-toned, smooth, and luminous base. It comes with a dermatologically tested non-irritating, soft-focus, 10 hours long-wear formula. It also protects the skin from free radical damage and premature ageing with Vitamin C enriched with 40% Italian Red Orange Extracts (100% organic) which improves skin's resistance. Available in 15 shades that flatter Indian skin tones, it also has glow-igniting gold for instant radiance. It is priced at INR 999/-
Manish Malhotra Luxury Makeup by MyGlamm – Compact Powder

An anti-shine matte formula with SPF 30, this compact powder works wonders for a natural-looking finish that goes with every attire and occasion. The Smart Skin Recharge formula helps boost the antioxidants and protects the skin from free radical damage, and a broad-spectrum SPF 30 protects your skin from sun damage. The compact powder also has a 3-layer screen technology that delivers protection from pollutants, UV rays and promotes ongoing This is the medium-coverage compact powder you need to #AceYourBase. It is available for INR 999/-
Manish Malhotra Luxury Makeup by MyGlamm – Powder Matte' Lipstick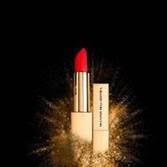 It's always a good time to be yourself and be whatever you want to be—bold, loud, soft, fierce, brave, and other things. A good lipstick comes in handy and adds to your personality like nothing else. The new 'Powder Matte' Lipstick from Manish Malhotra Beauty by MyGlamm—which comes in 12 glorious shades—does that and more. An ultra-luxurious, moisture-matte lipstick that gives you a powder kiss finish and helps you put your best face forward. Created with a powder-like formula that magically melts onto your lips, it is a long-lasting lipstick with the goodness of antioxidant-rich Maracuja Oil to give you showstopping, luscious lips all day long. It comes in 12 statement-making shades from Nude Nuance to Wild Violet to #ShowYourBold in every look you carry and every moment of every day. Available for INR 799/-.
Available at the Manish Malhotra Flagship Stores – Mumbai, Delhi, and Hyderabad.
MyGlamm App and Website (www.myglamm.com)
POPxo Makeup by MyGlamm – Eye Gotchu – The everyday must-haves!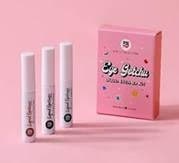 Eye Gotchu is a liquid eyeliner trio that'll add a #CoolGirl flair to your everyday look. Featuring 3 essential shades – black, brown, and green – to take your everyday makeup look, POP! The shades in this liquid eyeliner kit, much like your 3 AM friend, will always have your back. Versatile enough to take you from day to night and everything in between, these are the only eyeliner shades you need to ace your everyday makeup look. Toss them into your purse because you won't want to leave the house without them!
MRP 449/-