Gifting Options:
Christmas just got merrier! Bringing you the true taste of the season with our customisable Christmas Goodies hamper. From traditional cookies to cakes and more, indulge in these delightful treats.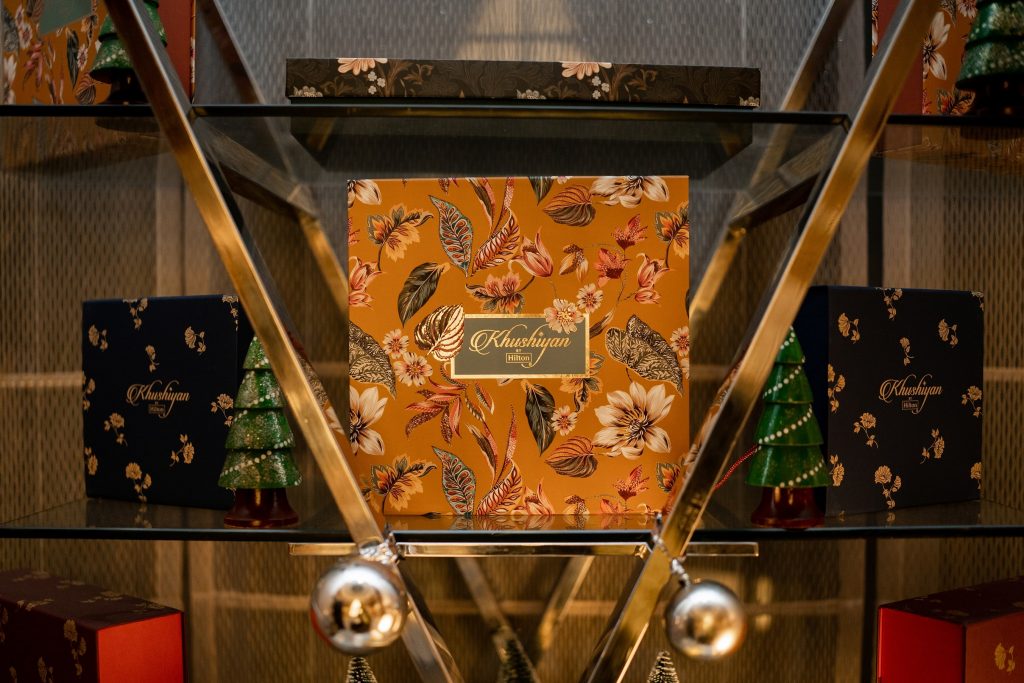 Product description: Curate your own hampers with our traditional Christmas goodies or surprise your loved ones with bespoke hampers from 'Khushiyan by Hilton, Conrad Bengaluru'
Price & availability: Mini Treasure box – INR 4000, Treasure Trunk of Joy at INR 6500, (Until 31st December, 2022) Also attached is the detailed booklet on Christmas gifting for your kind reference
Image: Refer to the first picture attached
Tree Lighting:
Tree of Knowledge adorned with books as decor, the tree stands tall for knowledge and wisdom. Designed and curated in resonance with the brand's tagline – travel with purpose, the tree seeks to inspire overall growth and development. The guests can pick a book of their choice from the Christmas Tree at minimal charges, contributing to a social cause. The total proceeds generated and raised from the sale of the books will further be matched by the hotel and would be donated to the Biswa Gouri Charitable Trust, an institution formed in 2009 with a vision of 'an inclusive society built on trust, respect and equality for individuals with Autism and other intellectual disabilities'.

Christmas and New Year Offerings:
It's time to dive into the Christmas extravaganza with scrumptious delicacies, live band performances and the best of beverages at Conrad Bengaluru. The New Year's Eve night also has in store special offerings for you, your family, friends and little ones, with exciting themed packages. Bringing in the magic and fun, Caraway Kitchen, Indian Durbar, TIAMO and Mikusu offers a wide selection of international cuisines for the gala night, with a chance to win complimentary couple stay at Hilton hotels across India.
Christmas Offers
· On 24th Dec, Christmas Eve Dinner Buffet at Caraway Kitchen & TIAMO
INR 3000 ++ non-alcoholic package. | INR 4500 ++ alcoholic package.
· Enjoy an exquisite 4-course menu with two glasses of sparkling wine at a starting price of INR 4500++ at TIAMO.
· On 25th Dec, Christmas Brunch at Caraway kitchen with prices starting from INR 3000+.
· Christmas Dinner with 4-course menu, two glasses of sparkling wine at a starting price of INR 4500++ at TIAMO.
New Year Offers
With a unique theme of Seven Sins or the Glitter Garden, enjoy your way through the New Year's Eve with Conrad Bengaluru, bringing to you the perfect amalgamation of luxurious staycation, exciting food & beverages and a musical night to suit every palate.
"Seven Sins" Packages starting from INR 7777+.
Caraway Kitchen, Indian Durbar and Mikusu brings a gala buffet dinner featuring delectable dishes, elaborate dessert spreads and premium pouring brands. With brilliant music setting the mood, live performances by Four Play and DJ-Nivea.
"Glitter Garden" Packages starting from INR 9999+.
Usher in the new beginning on a celebratory note with an international spread with multiple interactive stations only at TIAMO! With a theme of glitz and glamour, the night brings in music by Chord-9 and DJ-Rush along the breezy poolside under the star light skies.
Stay a little longer and wake up to gorgeous views amidst luxury, comfort and a lavish buffet breakfast, starting at INR 28,000 plus taxes.
Dance away to great tunes, good food and great company only at Conrad Bengaluru!