Sustainable travel has been gaining a lot of popularity in recent times and is touted to be the future of travel. While celebrating World Environment Day, let us look at ways you can do your part to leave a lesser footprint when visiting Mammoth Lakes.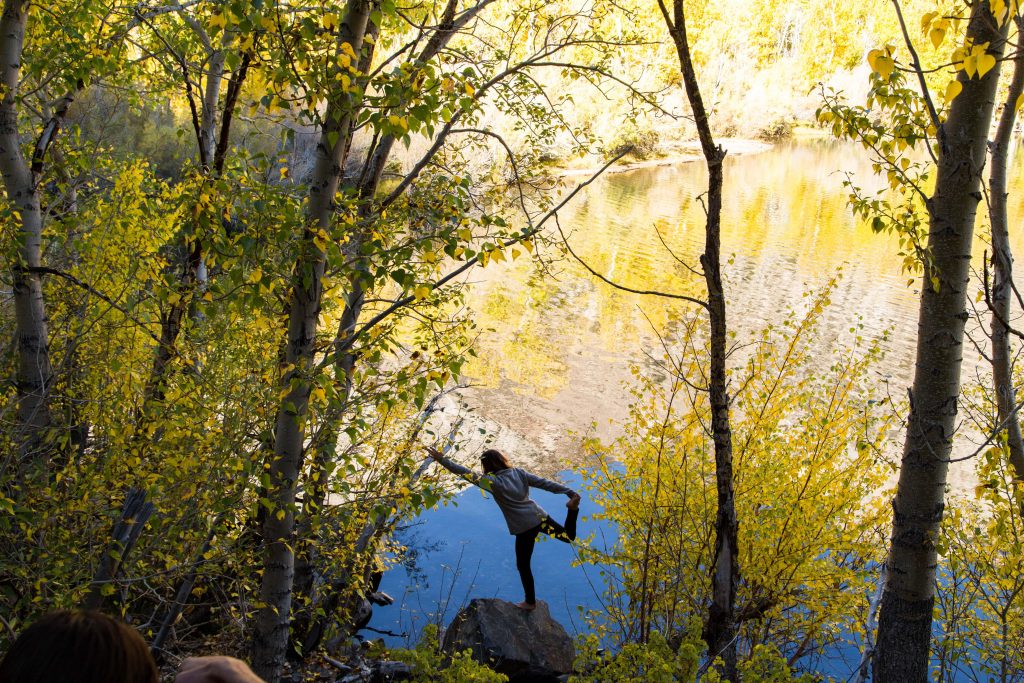 Mammoth Lakes is perched in the Eastern Sierra, a half-day's walk from some of California's most spectacular high country. It boasts breathtaking mountain scenery surrounded by extensive national forests and picturesque lakes. When visiting Mammoth Lakes, following responsible and sustainable practices is encouraged, promoting the "leave no trace" principle wherever you choose to find your adventure.
During COVID-19, leaving no trace also includes your germs, so a few extra rules apply. When out and about in town, be sure to wear a face-covering in public areas – including the outdoors, maintain at least 6 feet of distance from non-family members, and keep those hands super clean, as there are more surfaces to touch than out in the wild.
Get familiar with the rest of the rules below to ensure you're recreating responsibly in every part of the Sierra.
WALK, BIKE, RIDE
One of the best ways to reduce your impact is to keep your car parked. Mammoth Lakes offers tons of other ways to easily to get around our small four-square-mile town, from miles of paved paths and sidewalks to mountain bike or electric bike rentals to free transit on the town trolley and bus system, including up to the Lakes Basin. You can even get to Yosemite National Park by purchasing a ticket for the YARTS bus, which includes your park entrance fee.
REDUCE SINGLE-USE PLASTICS
There's no need to pay for those pricey single-use plastic water bottles when you can find several free water-refilling stations around town, including inside some local businesses. Invest in a reusable water bottle or wash and reuse a previously purchased drink bottle that can be thrown in your bag while out for the day. You can also refill it before you leave your table at a restaurant if dining out.
PICK UP AFTER YOUR PET
If Fido is lucky enough to join you on your town outing, he's going to have to "go" at some point. Be sure to pick up after him and dispose of his waste in a trash can. If you forgot your doggy bags, a few bag dispensers can be found around town. Pet waste is not only unpleasant to come across on or near the sidewalk, but it can also contaminate the local water source, and be eaten by wild critters and disrupt their natural diet.
Also, familiarize yourself with the local leash laws and remember that your pup must be restrained at all times when walking around town. Some pets are also welcome on a few town transit routes, but a muzzle is required.
RESPECT OUR WILDLIFE
Keep the wildlife wild by removing any opportunity for them to get their paws on human food or trash. Our town trash cans and dumpsters are specifically designed to keep bears and other animals out, so please make sure the trash can or dumpster door is closed and latched tightly after each use. Hand-feeding or putting food out to attract creatures doesn't only teach them bad habits by relying on humans for food, it's also putting yourself in a dangerous situation. Stay safe by keeping at least 50 feet away from wildlife.
RECYCLE & DON'T LITTER
Look for the large, square, brown public trash cans, there are many located all throughout town. Most are partnered with a recycling receptacle, making it easy to dispose of everything you need to. You can toss in most recyclables (view detailed recycling guide), including:
Glass
Aluminum
Tin
Plastic (#1 and #2 only)
Cardboard
Paper
If you have a large amount of recycling, you can take it to Mammoth Disposal located in the industrial park just off Meridian Blvd. at the east end of town.
Your first step toward more sustainable recreation can be as simple as reading and signing the Mammoth Lakes Promise to commit to keeping Mammoth Lakes beautiful.