"To play sports is very important because it sees no gender. In sports, everyone is equal.", Gurpreet Singh Sandhu.
When Gurpreet Singh Sandhu, made a world-class save while going against Qatar in the Joint Qualifier match of FIFA World Cup 2022 and AFC Asian Cup 2023, he grabbed the eyeballs of the audience and since then have just unwrapped more and more surprise on the field.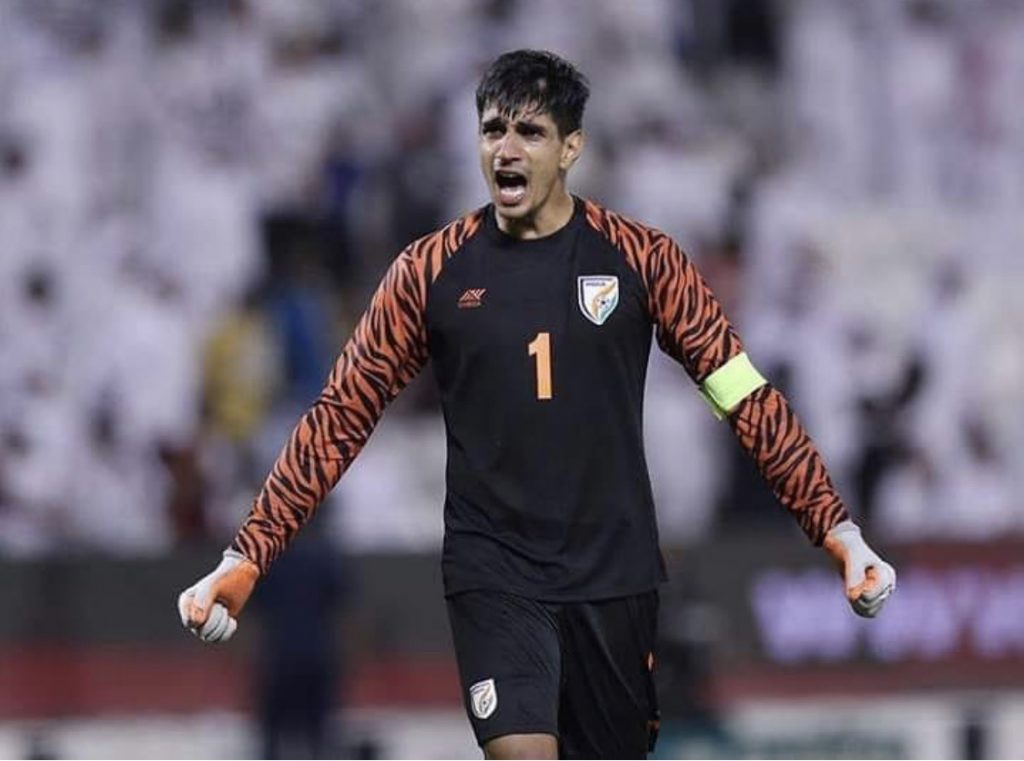 In his ten years' career span, he practiced hard every day to stay on the top and carved a name for himself in the history of Indian Football by becoming the first Indian to play in the UEFA Europa League.
Considering mistakes to be a part of life which always takes you up on a learner's graph, Gurpreet Singh finds himself fortunate for still putting on the National team jersey and wants the sports system to introduce more platforms for the women and girls to bring equality.
In an exclusive interview with us, Gurpreet Singh Sandhu opens up about his life and sends an important message to the fresh talents:
1.Getting into the Indian National Team of Football. Give us an insight into your journey.
It has been a long and a fruitful journey with the National team, I joined the team ten years ago as an 18-year-old and to be able to still put on that jersey and go out, makes me feel fortunate.
2.Who has been the most inspiring figure in your life?
My parents, their dedication and hard work in their jobs is very inspiring to me and makes me want to be like them.
3.Being a goalkeeper is all about focus and quick tactical movements and your saves are regarded as world-class. What does your daily routine look like during the quarantine days?
The time is very difficult for all of us and very challenging. Being a goalkeeper there's nothing better than training every single day on the pitch and being able to save shots. But nowadays, I have tried to follow a workout plan that I can use without or with minimal equipment to stay in shape. Also, here in Sydney, Australia the restrictions have eased and have allowed me to go out on the pitch and workout.
4.What is the thing that keeps the entire team united on a football ground? And how do you stay motivated and keep the team encouraged even when the game takes a negative turn for your team?
I think training with the same bunch of players makes everyone comfortable with each other and builds trust and relationship. So, once we step in the field we know what everyone is capable of and if something goes wrong we always extend our support and try to move on from it because mistakes are something that always makes one learn.
5.In the qualifier match of FIFA World Cup, though India couldn't breakthrough but the performance, especially against Qatar, won everyone's heart and you received a lot of appreciation worldwide. How do you feel about it?
I think we as a team did really well that night against Qatar. Those kinds of games show us that as players, we can do well even if the opposition is ten times better on paper. That makes us strive to do better every time we go on the pitch.
6.You're the first Indian to play for a UEFA Europa League. What difference did you see in the practice session of India and abroad?
The atmosphere, weather, infrastructure and professionalism is what is different from abroad and here, slowly we are catching up to speed with all those things.
7.In the past few years, the popularity of Indian Football team has increased. Does that affect the game-play of the team and how?
It only strives us to do better. We are hungry for that attention and to show the people of the country that even football is as good to watch and support as other sports.
8.What do you think should be inculcated in the sports system to give equal opportunity to all the games?
I think more and more introduction of platforms for women and girls. To play sports is very important because sports sees no gender. In sports, everyone is equal.
9.What message would you like to send out to the young talent?
Love what you do and do what you love. Good Food and good sleep hold paramount importance in a human's life and I hope the young ones learn it earlier rather than later in their life.