Launches new collection with Digital video series
Aurelia, one of the fastest growing ethnic wear brands by TCNS Clothing Co Ltd, has launched its first ever digital campaign 'Be Compliment Ready', featuring Bollywood superstar and Youth Icon Alia Bhatt. The campaign has a series of engaging digital films with subtle quirks emphasizing the beauty of effortless styling. Highlighting Alia's favorites from the Spring-summer collection, the campaign inspires you to feel compliment-ready in any situation.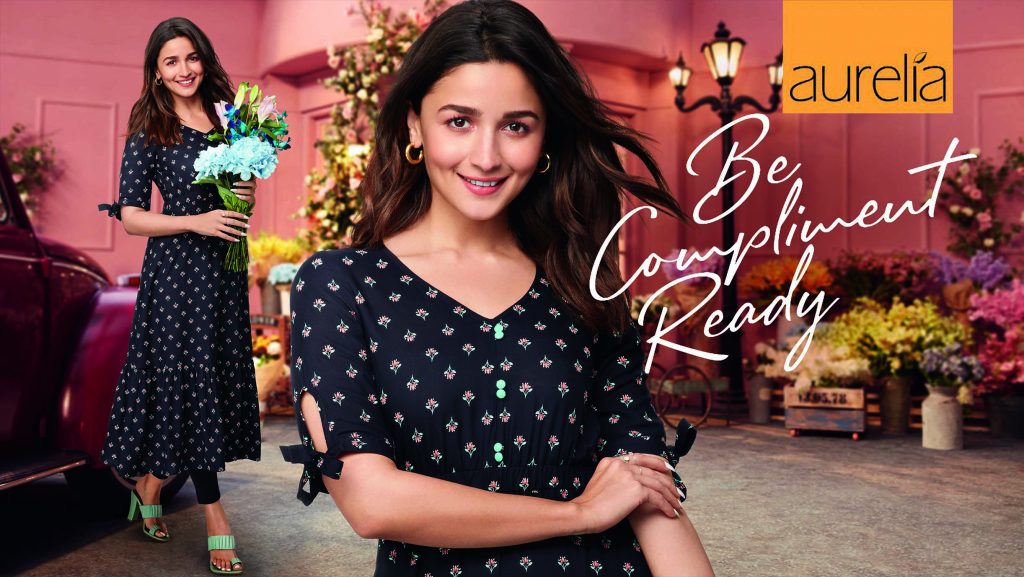 The campaign is an amalgamation of the vivacious personality of Alia and the elegance of brand Aurelia. Each film has a short story that's conveyed beautifully only through Alia's expressions and leaves the viewer with a sweet feeling that makes it endearing to watch. The flurry of compliments in unexpected situations is a unique way of letting the wearer know that with Aurelia you are bound to get compliments.
Talking about the campaign, Anant Daga, Managing Director – TCNS Clothing Co. Ltd. said,
"Be compliment ready aims to inspire women to be effortlessly themselves. It is about feeling confident and beautiful in your skin at all times. The campaign brings about this emotion seamlessly. Alia's contagious personality and Aurelia's elegance rolled into one gives the viewer a sense of vibrancy, fun and delight."
Applauding the concept of the campaign, the award-winning actress, Alia Bhatt said,
"I love the simplicity with which Aurelia shows that one doesn't have to try hard to look beautiful. With Aurelia, you feel confident that you are looking good, and this campaign shows that in a very endearing way. 'Be compliment ready' is Aurelia's way of asking girls to be confident and I am proud to be associated with the same."
Aurelia's Spring Summer '22 brings specially curated collections across casual, occasion wear and work wear, such as the Monday-to-Friday Dress. The unique dress can be worn in 5 different ways and is made from breathable fabric keeping the summer in mind. It has Nano Geometric Motifs, combining them with Kantha stitches to create a holistic composition. Just like this, the entire collection is a perfect combination of comfort and elegance that brings sharpness to the overall look in a contemporary style.
Aurelia has been catering to the needs of modern Indian woman for over a decade and recently roped in Alia Bhatt as its Brand Ambassador. The brand is available both online and offline through its 220+ exclusive brand outlets and presence in 1,000+ large format stores across 150 cities in India, Sri Lanka, Nepal, and Mauritius.
To watch the campaign video, visit – https://www.youtube.com/watch?v=XU0cuvUmVf8