House of Fett introduces its SS/21 Collection Vanilla Spring
You know that feeling when an outfit you pick adds excitement to your day and celebrates you in every way? Well, that's what House of Fett is all about, spreading happiness one outfit at a time. With creativity as its core element, House of Fett crafts silhouettes with an individualistic outlook that adds excitement and statement to runway designs. A simple idea that transformed into a space led by creativity and innovation, House of Fett is an amalgamation of modern, unique, and contemporary styles.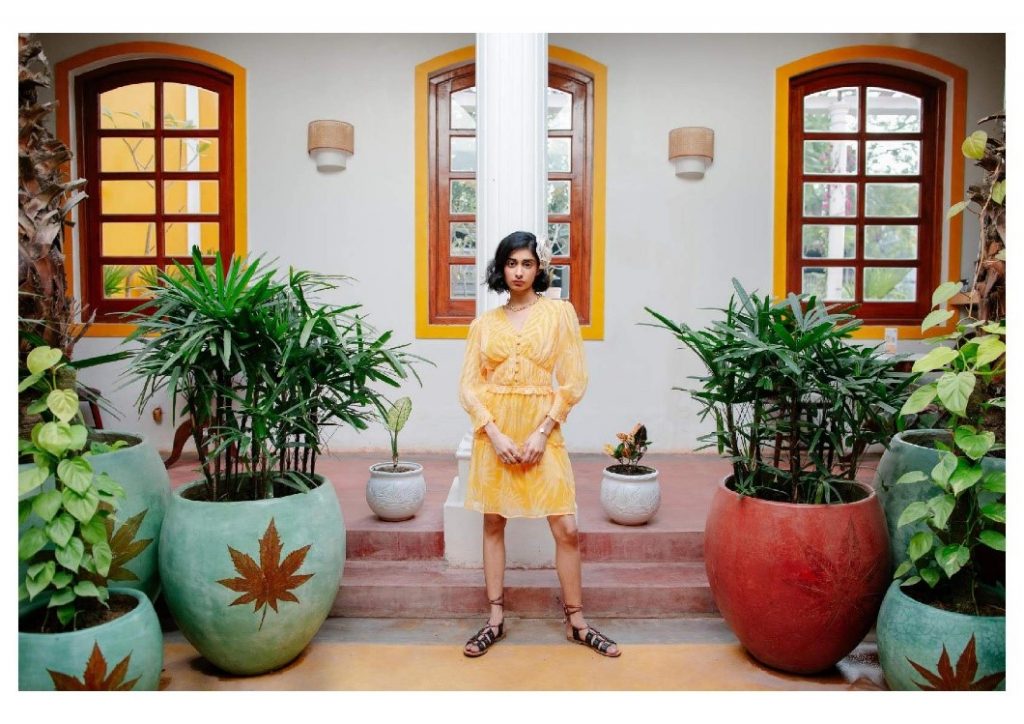 As fashion-conscious consumers gear up for the spring season, House of Fett is taking centre stage with its SS/21 collection Vanilla Spring. A palette celebrating nature at its best and silhouettes embracing maximalism with a hint of drama, Vanilla Spring by House of Fett puts the fun back into fashion.
LET'S GET CREATIVE @ HOUSE OF FETT
Dressing up just got a lot more fun this spring, with House of Fett embracing the essence of design through an array of creations. Have a look…
MERSIN COWL CO-ORD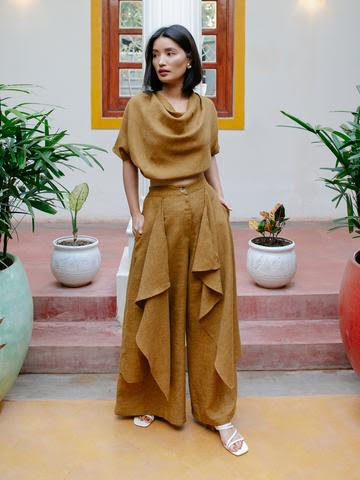 https://houseoffett.com/collections/ss21/products/mersin-linen-blend-top
This is a perfect example for fun with layers. The Mersin Cowl layered pants and top crafted in fine wrinkle free linen blended fabric is a fun ensemble to don on a summer outing. Available in mustard yellow sorbet, the colour plays the perfect backdrop to accentuate the layering.
BONGA BAY PLEATED JUMPSUIT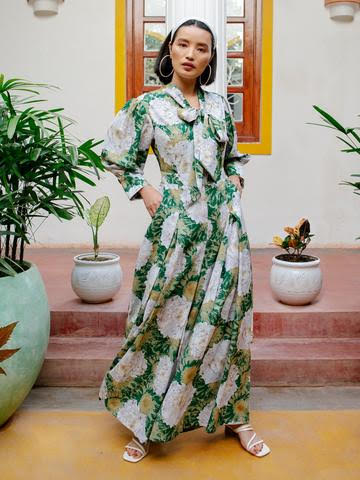 https://houseoffett.com/collections/all-products/products/bonga-bay-pleated-jumpsuit
Floral prints get a maximalist makeover in this Bonga Bay jumpsuit. A drop crotch comfort fit, the jumpsuit is crafted in luxe crepe fabric and flaunts a tie up neck with an attached zip at the back. Explore nature at its best in this easy breezy and chic jumpsuit.
FROU FROU LAYERED CAPE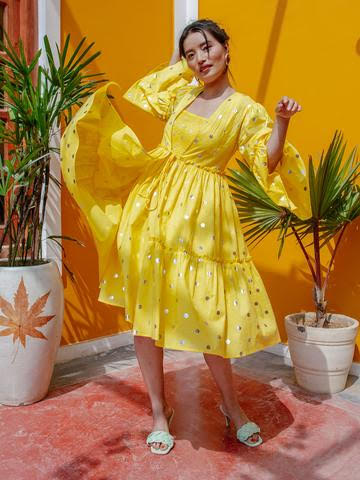 https://houseoffett.com/collections/all-products/products/frou-frou-layered-cape
Be Miss Sunshine in this Frou Frou Cape made from 100% cotton fabric. The silver metallic polka dots and exaggerated sleeves calls for some summer drama. Team it up with the Frou Frou Strappy Dress to complete your look.
BORACAY KAFTAN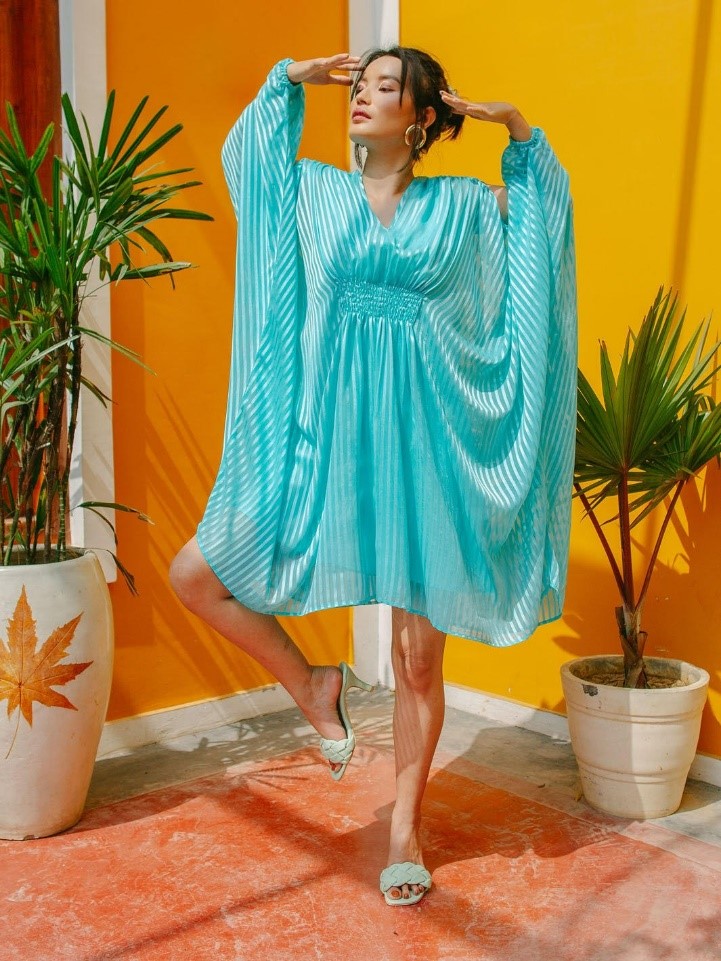 https://houseoffett.com/collections/all-products/products/boracay-kaftan
Feel free in this Boracay Kaftan made in chiffon fabric with cut-out sleeves. The free-flowing silhouette of this kaftan dress doubles up as a perfect attire to wear over your swimsuit on your next tropical getaway.
BODRUM LACED TOP & COMFORT PANTS
https://houseoffett.com/collections/all-products/products/bodrum-comfort-pants
Comfort is key to happiness. So, chill, relax and enjoy life in this Bodrum Co-ord set featuring comfortable pants teamed with a laced top. Crafted in linen blend fabric, the top is elasticated at the waist and is a perfect summer day look.
KEKOVA FRINGE TUNIC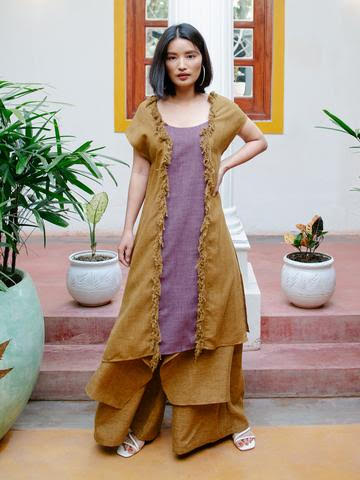 https://houseoffett.com/collections/ss21/products/kekova-fringe-tunic
The Kekova Fringe tunic is here to keep you company this summer. The fringe adds texture to the tunic and the silhouette is cool and comfortable. You can match the tunic with Mersin pants, or you can layer it with the Kekova fringe kaftan.
ABOUT HOUSE OF FETT
Embracing the art of making clothes, House of Fett is a space where creativity dwells. The brand's name is derived from the German word Fett, which means bold and confident, and resonates with what House of Fett stands for. Backed by two leading giants in the garment manufacturing industry namely RA APPARELS and SRIGAN EXPORTS, the brand concentrates on developing products that are distinctly bold while hinting a touch of minimalism. House of Fett stays true to its origin by manufacturing products that are an amalgamation of western and Indian trends.
Under the able guidance of Esha Bhambri (Fashion Director, House of Fett) and Abhinav Gupta (Co-founder and Creative Director, House of Fett), the fast fashion brand focuses on designs suited for the modern Indian woman.
An ideal shopping destination where global fashion meets Indian aesthetics, House of Fett is your one stop shop for all this modern, unique, and contemporary.