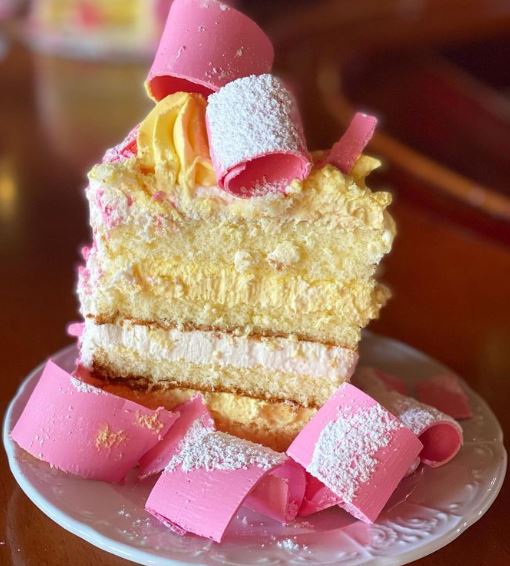 As Barbiecore takes the world by storm, pink-themed travel soars in popularity on catwalks, red carpets, and interior décor. Whether traveling solo, with friends, or with family, California promises to be the playground of dreams, where you can truly live out your Barbie fantasy in style and splendor. Unleash your imagination as you indulge in luxurious shopping sprees, embark on thrilling escapades, and immerse yourself in the vibrant Californian culture. Explore your perfect Barbie summer at these five breathtaking California destinations.
Greater Palm Springs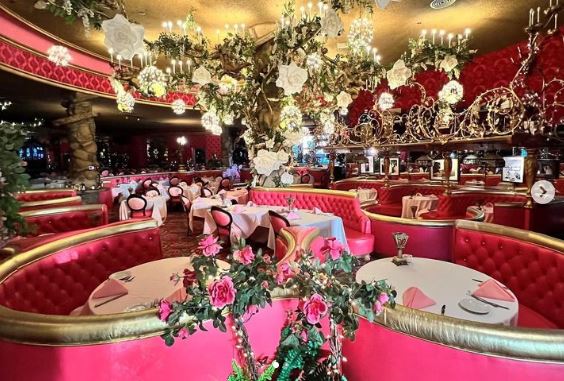 Step into a vibrant, pink paradise as you venture into California's resort oasis, where Barbie-inspired experiences abound! Immerse yourself in a world of rosy hues and whimsical displays, making your stay an unforgettable Barbie dream come true. For those looking for an ultra-pink place to stay, Les Cactus and Sands Hotel & Spa offer beautiful pink exteriors for a Barbie-inspired stay. While at Sands, dine at the Pink Cabana, designed by Martyn Lawrence Bullard. Opt for the Trixie Motel, a recently renovated gem curated by the legendary drag queen Trixie Mattel. Don't miss the iconic Saguaro Hotel, renowned for its colorful façade and Barbie display in the lobby. Beyond accommodations, the desert landscape embraces all things pink, from Pink Modernism architectural marvels like Pink Palace and The Valentine Palm Springs to the blush-colored magic of Mount San Jacinto at sunrise and the legendary Bella da Ball's fabulous pink hair.
San Diego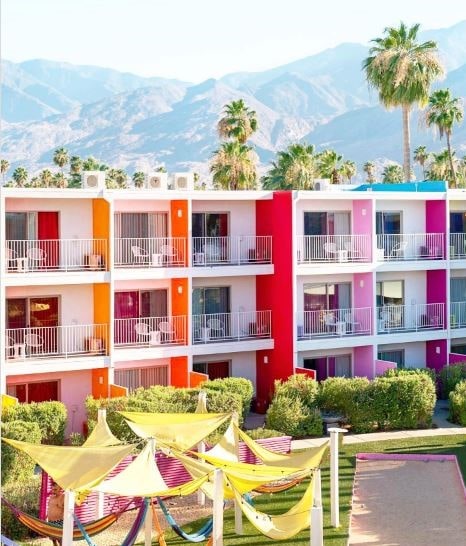 Southern California's vibrant waterfront city of San Diego provides a blushing oasis for Barbie lovers. Picture-perfect Barbie backdrops await you, like the monochromatic pink wall at Pigment or the delightful pastel pink and floral mural outside Native Poppy, beckoning you for a Barbie-inspired photo session. The luxurious La Valencia Hotel offers breathtaking ocean views for the Barbie lover looking to relax and unwind, adorned with a vintage pink exterior and enchanting courtyards, pays homage to the timeless elegance of the 1920s. Request a visit from the Cocktail Butler, serving La Valencia's signature "Pink Lady" drink, adding a touch of glamor to your stay. The Pink Rose Cafe, a dreamy destination, serves rose-colored coffees, teas, and lemonades amidst a sea of pink chairs, flowers, and even Barbie prints adorning the bathroom. Visit the Holy Matcha for a pink and green latte or Cloak + Petal for sushi.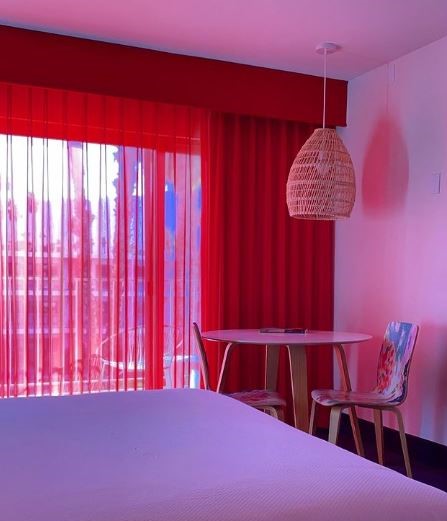 Los Angeles County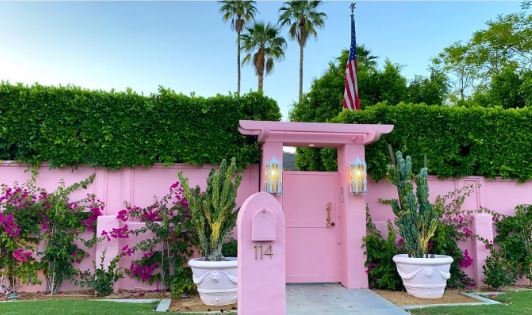 There are plenty of Barbie experiences in and around the city of Angels. For perfectly pink accommodations, try The Beverly Hills Hotel in Beverly Hills or The Langham in Pasadena, both legendary and luxurious properties offering iconic pink macarons and a pink taxi for fabulous photo opportunities. Satisfy your culinary cravings at various restaurants throughout the city, from the iconic Pink's Hot Dogs in Hollywood to the charming Pink & Boujee Tacos in Downtown LA, as well as the adorable and pink-themed Cobi's in Santa Monica, The Hideaway in Beverly Hills, and Rose & Blanc Tea Room in Koreatown. Don't forget Trejo's Coffee & Donuts or Milk Bar Cake Shop to satisfy a sweet tooth. While in LA, wander through the summer rose gardens at The Huntington, snap a photo at the Pink Wall at the Paul Smith flagship store on Melrose Ave., and roller skate like Barbie and Ken in Venice with rentals from Perry's Cafe & Beach Rentals. And for the ultimate Barbie experience, visit the World of Barbie, with ticket dates now extended until Sept. 4th!
Santa Barbara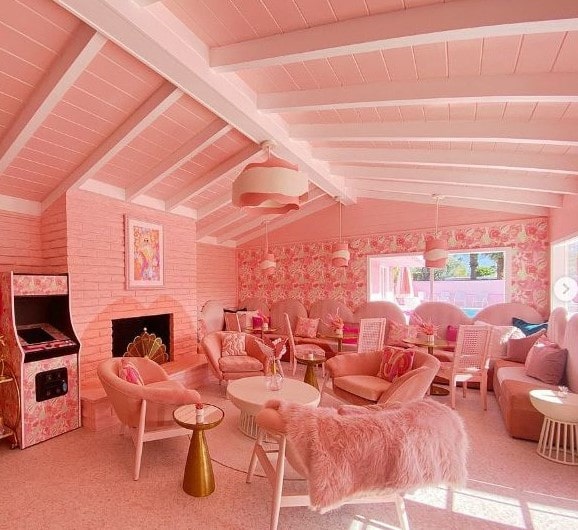 The American Riviera is the perfect place for a Barbie fanatic. Bask in the sun-drenched beaches or indulge in some retail therapy along the famous State Street. Make your way to the world-renowned Lotusland, a botanical paradise boasting over 3,000 plants from around the globe, set against the backdrop of the stunning pink Mediterranean estate, Cuesta Linda. When hunger strikes, treat yourself at the renowned Andersen's Bakery. This beloved family-owned establishment has graced Santa Barbara for over four decades and features pink interior walls with black and white checkered floors, perfect for a girls' brunch or tea. For the ultimate Barbie-style accommodation, head to the Harbor View Inn, a beachfront hotel with a dreamy pool setting. And for other colorful, Instagrammable moments, check out the Santa Barbara Chromatic Gate, the County Courthouse, and the Lobero building.
San Luis Obispo County
Nestled amidst the picturesque hills of San Luis Obispo, the Madonna Inn beckons with its exuberant charm and a captivating array of 110 elaborate themed rooms. A true Barbie fanatic can embrace the Fashion Fairytale moments in the fairytale-like Old Mill Room, while "Show 'n Ride Equestrian" Barbies can climb aboard a carousel steed in the Pony Room. While all the themed rooms present photo opportunities, it is room 218 that is peak Barbiecore. Dubbed the "Carin" room as a Swiss Expression for "endearment," this enchanting room is adorned with wall-to-wall bright pink hues, two private balconies, and lovebirds nesting on the tiles in the shower. The enchantment doesn't end there; indulge your taste buds at The Bakery at Madonna Inn, savoring the world-famous pink champagne cake. As the sun sets, embrace your inner athlete on the pristine Barbie and Ken tennis court, embodying Barbie's iconic style and sporty grace.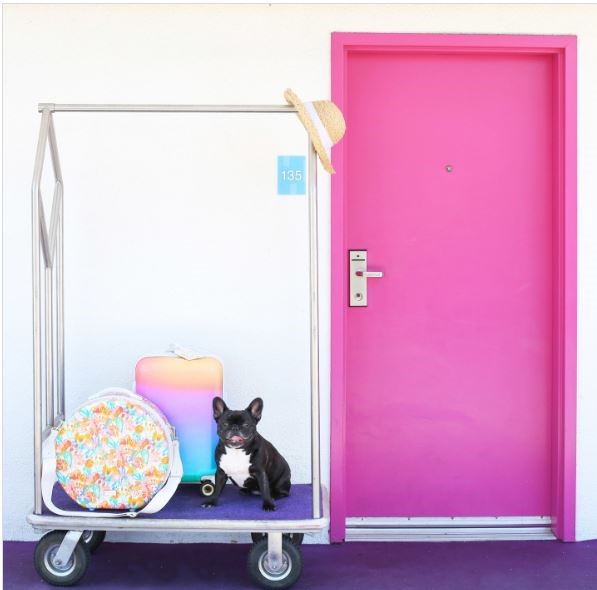 ABOUT VISIT CALIFORNIA
Visit California is a nonprofit organization with a mission to develop and maintain marketing programs – in partnership with the state's travel industry – that keep California top-of-mind as a premier travel destination. For more information about Visit California and for a free California Official State Visitor's Guide, go to visitcalifornia.com. For story ideas, media information, downloadable images, video and more, go to media.visitcalifornia.com.