India's first-ever gold medal winner in Freestyle Wrestling at Commonwealth Games 2010, Geeta Phogat is expecting her first child with her husband Pawan Kumar. Writing a long post, giving an insight to the overwhelming feelings attached with motherhood, Geeta wrote, "A mother's joy begins when new life is stirring inside… when a tiny heartbeat is heard for the very first time, and a playful kick reminds that liitle one is never alone." You never understand life until it grows inside of you 🤰❤️
#pregnancy #babybump#motherhoodrising".
Soon the heart touching post in which Geeta is seen flaunting her baby bump received congratulatory messages from the Sports fraternity. Four-time Wrestling World Champion, Adeline Gray wrote, "Congrats!!! 🤗🤗🤗" to the player.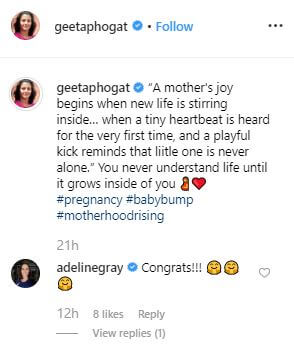 Along with the sportsperson, Bollywood celebrities Shibani Dandekar and Lopamudra Raut also shared their excitement on the good news. Calling it to be incredible news, Shibani wrote, "ahhhhh this is incredible!! congrats ❤️".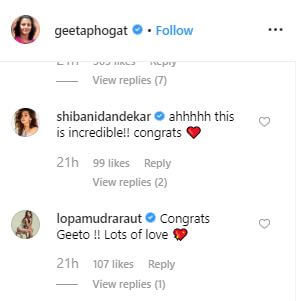 TV actresses, Hina khan and Nia Sharma with whom Geeta has shared the screen in 'Khatron Ke Khiladi' game show also congratulated the mommy-to-be on her pregnancy.
Meanwhile, Wrestler Pawan Kumar with whom Geeta tied the knot in the year 2016 also wrote a lovely message calling her as, "my girl 🤰😘🙏".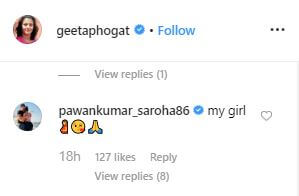 While one couple is rejoicing over the pregnancy news, another B'Town couple welcomed their baby girl by making a heartwarming note. 'Subha Hone Na De' star from the movie 'Desi Boyz', Bruna Abdulla, shared a picture of her baby girl 'Isabella' who was born on 31 August at Mumbai. Along with the picture she wrote, "I am so proud and excited to introduce the newest member of our family, Isabella 💕She was born on the 31st of August in Mumbai!
We are doing great! I can't stop drooling over her 🥴
@alfromscotland ❤️".
https://www.instagram.com/p/B132J02j9Bt/?utm_source=ig_web_copy_link
Congratulations Mommies!