Visit these cities and towns with thriving wine scenes far from the state's famous vineyards.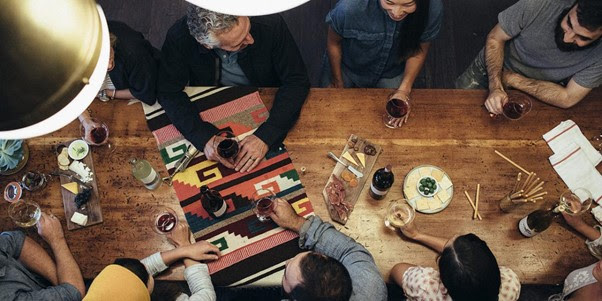 As more wineries set up shop in cities and towns around the state, California is redefining the wine tasting experience. While there's still nothing quite like driving wine country backroads to discover varietals at the source, the concentration of vintners in cities and along urban wine trails is a convenient way to discover the diversity of Golden State wines without having to travel far afield. In many cases, you can stroll between tasting rooms without a car while you discover boutique wineries. Here's an introduction to California's urban wine hubs, listed south to north.
Santa Barbara Urban Wine Trail
With more than 30 wineries in downtown Santa Barbara, the city's happening Funk Zone, and in such nearby communities as Summerland and Montecito, the Santa Barbara Urban Wine Trail is a great introduction to the diversity of county winemaking. You'll find everything from the acclaimed Pinot Noirs and Chardonnays of celebrated winemaker Jim Clendenden's Au Bon Climat to Cabernet Francs and Malbecs, varietals known for thriving in hot weather, at The Valley Project.
Carmel-by-the-Sea
Along with its storybook cottages and pristine white-sand beaches, Carmel has emerged as a walkable destination for oenophiles seeking the wines of Monterey County. Many of its tasting rooms are clustered within a few blocks of one another, along or near downtown's 7th Avenue, and all have outdoor seating; a map of them is available at the Carmel Visitor Center.
San Francisco
Even though you won't find acres of rolling vineyards in the city, San Francisco is definitely wine country, thanks to the numerous winemakers who operate here. Taking advantage of the outstanding grapes available from the nearby Napa, Sonoma, and Russian River valleys, the city's vintners have revived a winemaking tradition that thrived in the city before the great earthquake and fire of 1906. There are even several wineries on Treasure Island in San Francisco Bay, including The Winery SF, where you can taste on a waterfront deck and patio.
Downtown Napa
Everyone knows that Napa Valley produces some of the world's finest wine. But even people familiar with the valley may not realize that there's a flourishing wine scene in the region's biggest community, the city of Napa. With a revitalized downtown and riverfront, Napa is home to the Vintner's Collective, where you'll find a changing selection of wines from 25 boutique producers in an 1875 stone building once used as a brothel and saloon.
Next to the Oxbow Public Market, a great place for local artisanal foods and to browse for area wines at the Oxbow Cheese and Wine Merchant, the relaxed, contemporary tasting room for Mark Herold Wines pours a selection of the winemaker's celebrated Cabernet Sauvignons.
Sonoma
Ideal for a day of car-free winetasting, the town of Sonoma combines a long winemaking heritage with an expanding selection of tasting rooms in and around its historic plaza. Check out Vine Alley on the south side of the plaza, where you'll find cool climate Sonoma County wines in the rustic contemporary tasting room at the Chappellet Grower Collection. In a beautifully restored building on the square with exposed stone walls and hand-sawed beams, the architecture at Pangloss Cellars pairs perfectly with winemaker Erich Bradley's melding of Old World and minimalist approaches to his small-batch wines.

Downtown Los Angeles
In 1833, Frenchman Jean-Louis Vignes established El Aliso winery in Los Angeles, and by 1870, the city had emerged as the center for both California and American winemaking. Since 1917, the Riboli family has operated the winery on Lamar Street, where it produces wines with grapes grown on estate vineyards in Napa, Monterey County, and Paso Robles. In 2019, San Antonio Winery was joined downtown by the Angeleno Wine Company, which sources grapes from local, family-owned vineyards where organic and sustainable viticulture is practiced.
San Diego
Sprawling San Diego County has numerous wine destinations that, aside from the very fine vintages produced and sold, also distinguish themselves as being sustainability-minded. Ramona Ranch Vineyard and Winery was the county's first to be designated Certified California Sustainable Winegrowing thanks in part to its wind-and solar-powered systems, and the entirely self-sustainable Hungry Hawk Vineyards and Winery practices minimalist and sustainable farming on its 10-acre property. For a more urban San Diego tasting-room experience, drop by Quigley Fine Wines, a few blocks north of downtown San Diego, for offerings from winemakers who use biodynamic and organic methods of producing wine.