The Nature Conservancy: Planet Conscious Dynamo Brands The Switch Fix and Goodmylk join hands to create a one-of-its-kind Vegan Plant Mylk based Shampoo Bar
The two eco-friendly brands have collaborated with the sole purpose of contributing to protection of the Planet that is lactose intolerant and reels under the negative impacts of the dairy industry's by-products.
Marking the beginning of a long-drawn, fruitful association, The Switch Fix has formulated a Vegan Plant Mylk based Shampoo Bar by Goodmylk to create an awareness that Plant Mylk is far superior to Diary while at the same time it is also extremely eco-friendly.
The Switch Fix – a clean and conscious personal-care brand and Goodmylk – a vegan food brand, have come together to realize their collaborative vision of protecting the Earth from the ill-effects of the dairy industry.
The dairy industry, with its methane burping cattle, adds an average of 250-500 litres of methane each every day, a pollutant 23 times more heat trapping than CO2. India is the world's largest dairy producer. Dairying goes on to pollute our land and waterways through cow manure, pesticides, fertilizers. Further, in a water-scarce country like ours, it takes about 900 litres of water to produce just 1 litre of milk. The process also has unforgiving consequences like overgrazing, deforestation for pasture land or growing feed; all leading to infertile land.
So when nutrient-rich Goodmylk's Oat and Cashew Mylk caught The Switch Fix's eye due to its protein, vitamin and antioxidant composition, an idea was born. The two environment-loving brands collaborated and took the first step towards realizing their shared objective by creating a one-of-its-kind shampoo bar – The Switch Fix Mylky Way Shampoo Bar.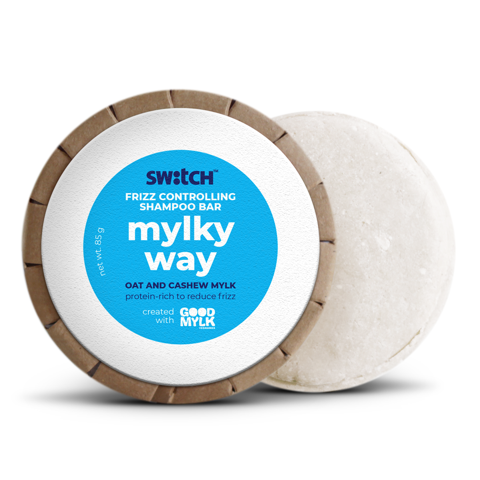 Goodmylk aspires to promote a plant-based and sustainable lifestyle amongst its audience who adore them for making a tastier and healthier alternative for dairy. And The Switch Fix, with their love for taming the wild with science, turned to Goodmylk's plant mylk for their personal care products.
Talking about the launch, Rhea Shukla – Co-Founder, The Switch Fix said, "As our country faces soaring heat and rising pollution, we need more effective as well as sustainable ways to cope. We love how Goodmylk is making plant mylk more accessible and easy to adopt in a dairy loving country. We couldn't help but incorporate it, with all its protein-richness to help our collective tribe ace that plant-based lifestyle."
Goodmylk and The Switch Fix shared values and Vision, and thus came together to offer young urbans the care they want and deserve: plant-milk based products. And they're making it as easy as a switch.
"We are excited to work with The Switch Fix to make exciting plant-based products for all, and particularly take delight in the new benchmarks in sustainability and personal care that this collaboration will manifest.'' comments, Abhay Rangan, Co-founder, Goodmylk while referring to the new The Switch Fix Mylky Way Shampoo Bar.
The Switch Fix's plant-based, water-saving and zero waste shampoo bars are known to be effective against new-age stressors like pollution, heat and stress. With climate change, temperature is rising and so is humidity. This makes hair porous and prone to further damage, leaving it frizzy. The Switch Fix Mylky Way Shampoo Bar created with Goodmylk helps tame the frizz. It's especially suited for those with damaged hair or those living in humid areas like Bangalore and Mumbai. It's creamy and rich lather literally makes one feel like they're bathing with mylk.
The Switch Fix caters to the young urban of the nation and the individuals who are a part of The Switch Fix tribe are mindful of their lifestyle and surroundings. They strive to live a sustainable life without compromising on quality. Ever since its inception in 2019, The Switch Fix firmly believes that one shouldn't have to choose between self-care and planet-care. Whether one wants to further their sustainable journey through their diet or personal-care, plant milk should be accessible at ease.
As The Switch Fix decided to spill 'mylk' into their range, these shampoo bars mark the starting point of a long-term collaboration of the two planet conscious brands. For the love of a lactose intolerant planet, spill 'mylk' into your personal-care.
Shop here: https://theswitchfix.co/