Date – 15th to 30th September, Monday to Saturday.
Time – 10am to 7pm
Venue – The Atrium, Gallery G 38 Maini Sadan, 7th Cross Lavelle Road,Bengaluru, Karnataka – 560001
Website – https://www.galleryg.com/
Description –
Bengaluru's Gallery G is hosting Floral Symphony: A Celebration of Nature's Canvas by Shan Re and Romicon Revola. This art exhibition features over 50 captivating works that pay homage to the beauty of nature and promote environmental sustainability ongoing until 30th September.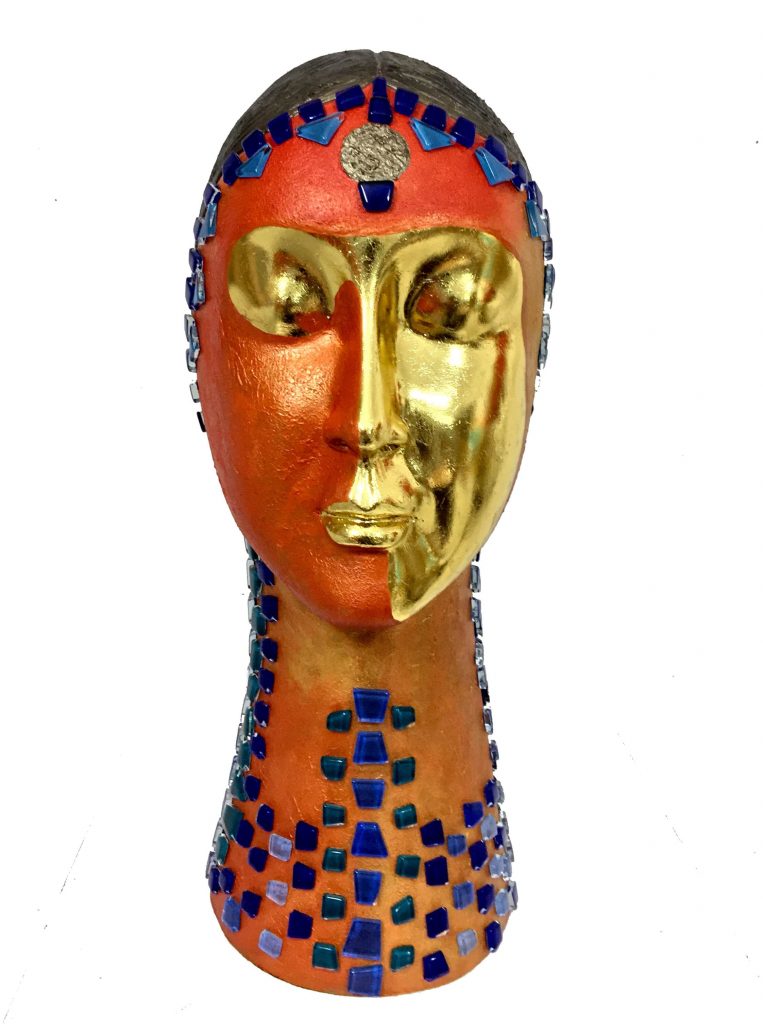 In a harmonious fusion of artistry and environmental consciousness, "Floral Symphony" emerges as a breathtaking tribute to the splendor of nature and the imperative of environmental sustainability. This artistic endeavor, brought to life by contemporary Indian artist Shan Re, invites viewers to delve into the intricacies of flowers while igniting a fervor for preserving our planet's delicate ecosystem.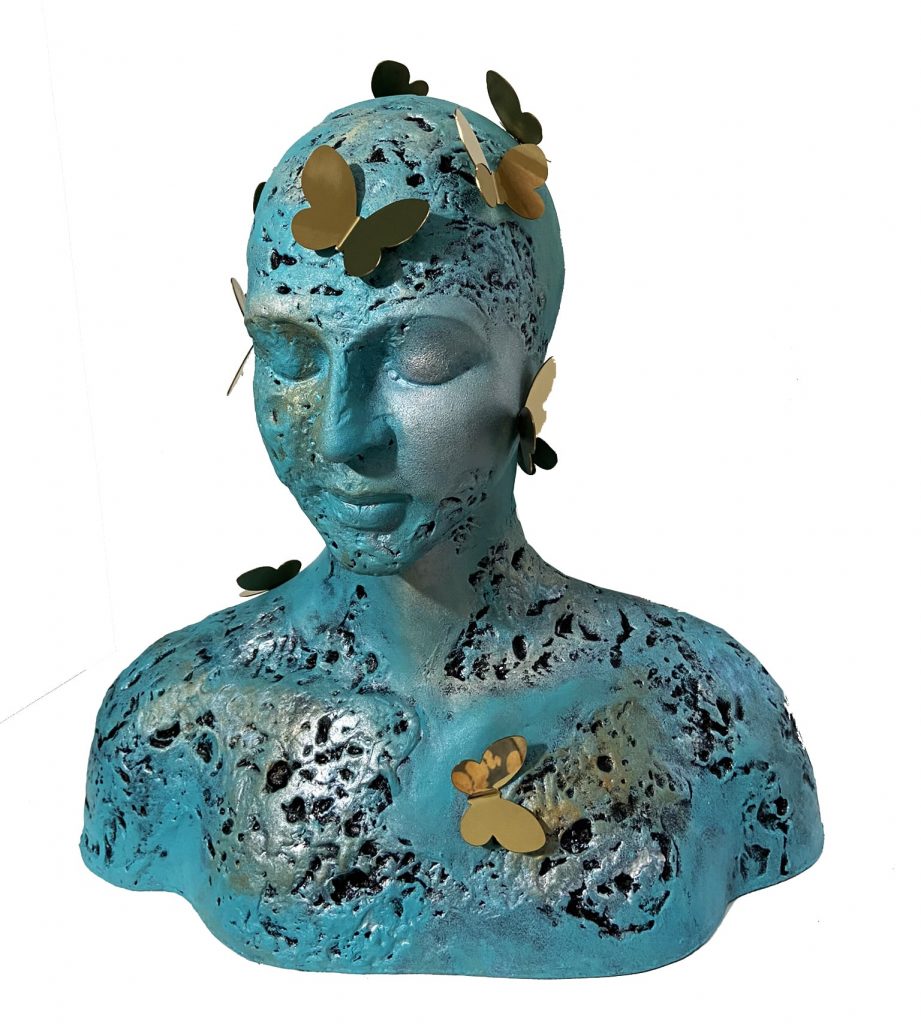 The canvas becomes a mesmerizing realm where vibrant colors and intricate petal patterns converge, beckoning observers to explore the nuances of the natural world. Shan Re's intention is to immortalize the fleeting beauty of flowers, preserving their essence for generations yet to come.
Going beyond visual aesthetics, "Floral Symphony" serves as a poignant reminder of our shared responsibility to safeguard the environment and lead lives that nurture sustainability. These flowers, far from mere garden adornments, serve as crucial pillars of our ecosystem, sustaining pollinators and providing sustenance and shelter to countless other organisms.
Shan Re's artistic technique is nothing short of remarkable. In her quest to encapsulate her subconscious visions, she abandons traditional tools and, instead, employs her fingers as instruments of creation. The result is a liberating experience where color flows freely, unencumbered by brushes or knives. The canvas becomes a stage for an artistic dance where the mind guides the hand, forging a connection with nature's wonder.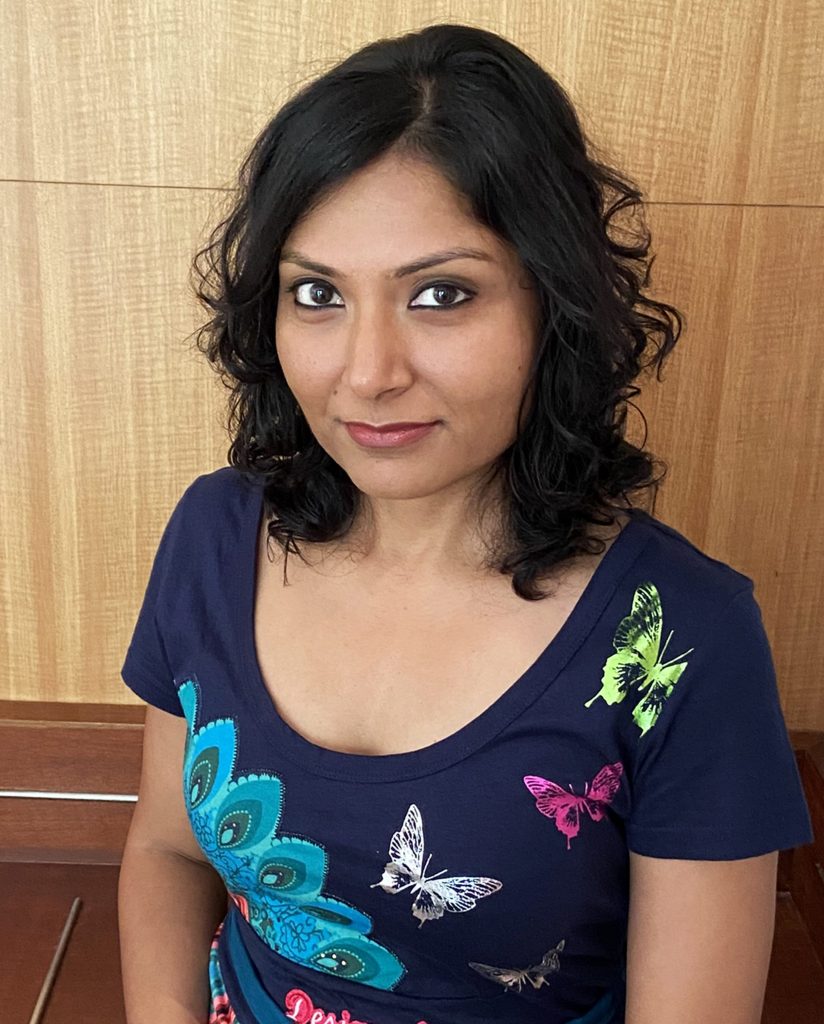 "I place the canvas flat on the table and work, sometimes if the canvas is too large, I put it on the floor and walk around and paint. I work long hours and try to finish at a stretch, to maintain the rhythmic flow," says Shan Re.
Colour is the life force of her art, serving as a symbolic language that weaves narratives beyond the visual realm. It stimulates a psychic vibration within her, unlocking the gates of creativity. Each hue in her paintings holds stories and communicates on a profound level, engaging viewers in a dialogue with their inner selves.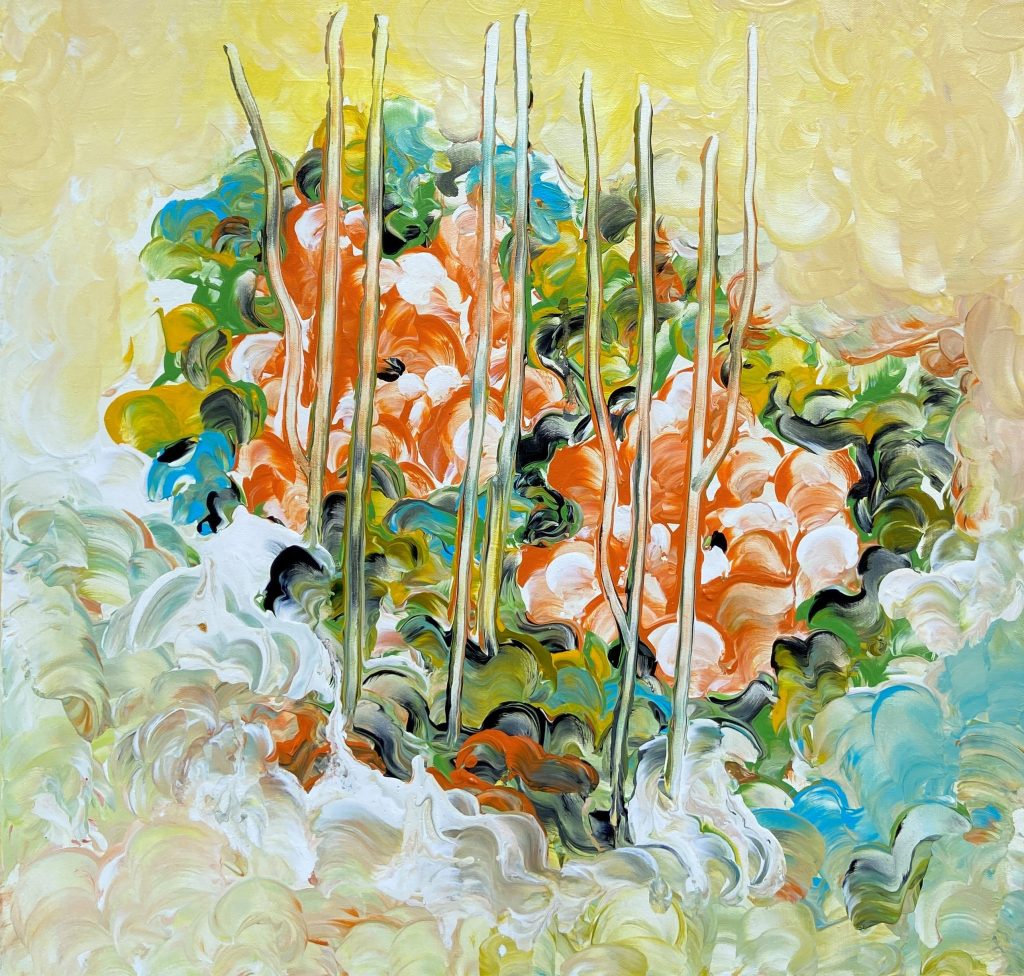 Also on display during this exhibition are the works of Shan Re's daughter Romicon Revola, known in the art world as Romi. A prominent contemporary visual artist hailing from Bengaluru, her multifaceted artistic endeavors encompass monumental public sculpture, installation art, video, and digital art, garnering acclaim both nationally and internationally.
Four sculptures by Romi from her series on 'Trilokini and Maya' will be on display during the show. Trilokini and Maya are symbolic female characters envisioned to represent a new world vision that celebrates the unity of humanity and nature. Their presence serves as a powerful reminder of our interconnectedness with the environment, urging us to explore the profound connection that exists between us and the natural world.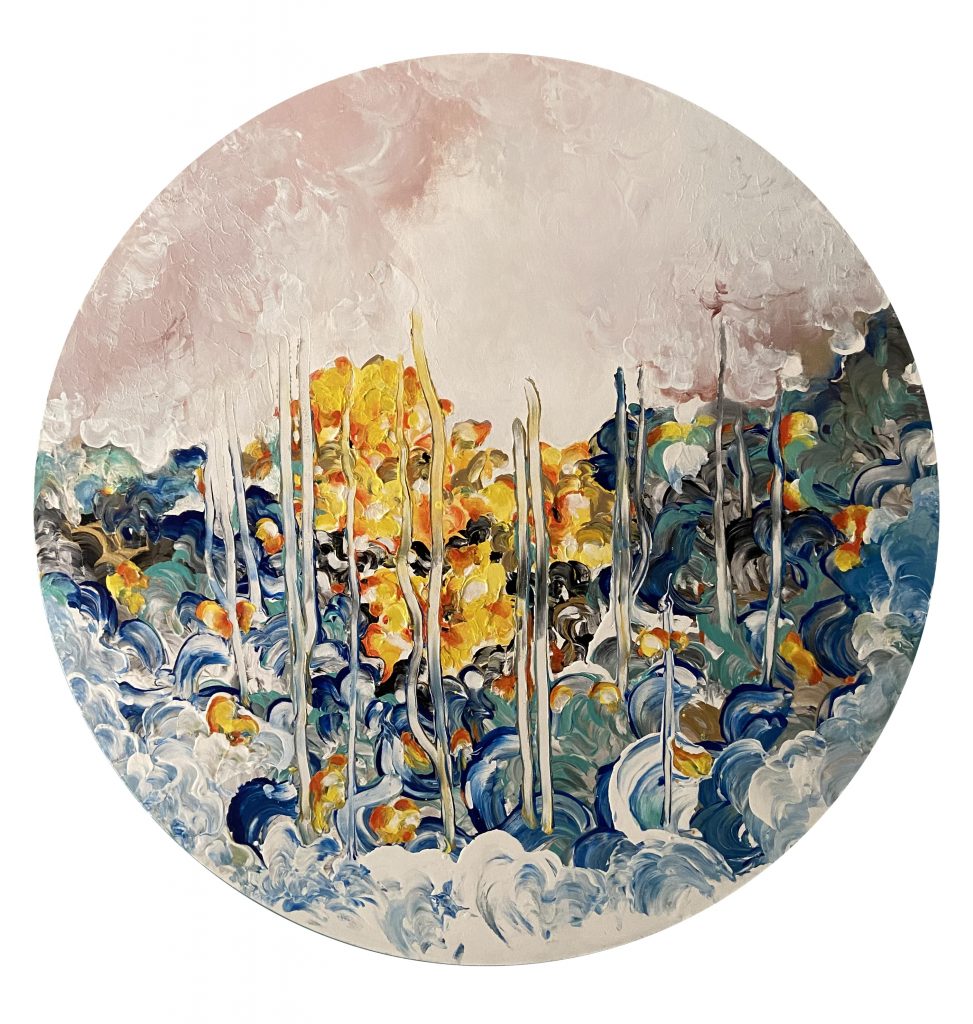 "My work often explores that mysterious, elusive space that lies between the utopian and the dystopian. While suggesting both an intimacy and a monumentality, my approach reflects the paradigm "the personal is the global". I believe that each one of us is a microcosm of the universe," says the artist.
Her artistic legacy also includes a series of large-scale public sculptures that adorn various tech parks and campuses. These sculptures are not only visual marvels but also embody Romi's commitment to bringing art into the public sphere.
"Nocturnal Bloom" is more than art; it is an invitation to celebrate the marvel of nature, a poignant call to protect our environment, and a testament to the boundless creativity of Shan Re and Romicon Revola. Join us in this journey of wonder and reflection.
About the artists: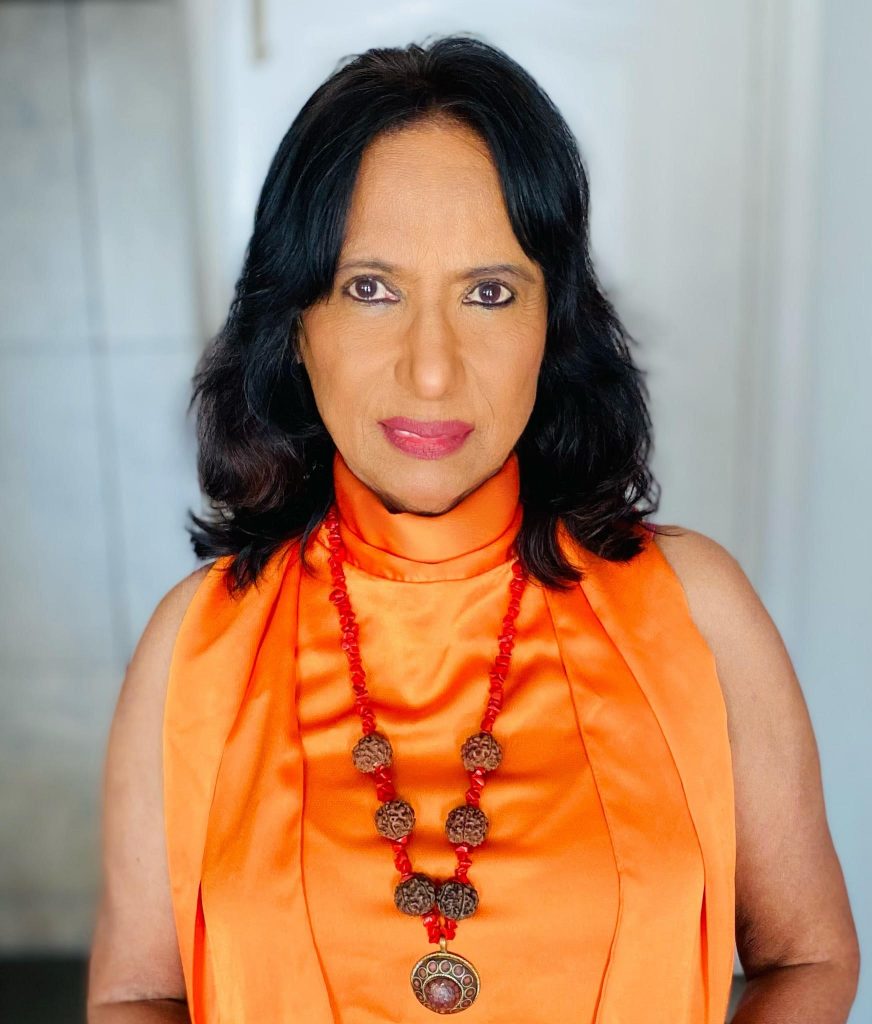 Shan Re is a contemporary Indian artist who regards the creative process as a deeply spiritual journey. Her lyrical paintings effortlessly merge art and meditation, leaving an indelible impact on observers and inspiring introspection. Shan's artistic repertoire spans painting, sculpture, installation, and poetry, reflecting her diverse talents and unwavering commitment to her craft.
With more than 22 solo exhibitions and over 60 group shows to her name, Shan Re's artistic influence knows no bounds. Her work has graced galleries in India, Singapore, Dubai, and Los Angeles, capturing the hearts of art connoisseurs worldwide, from London to Tokyo and everywhere in between.
Romicon Revola a.k.a Romi is a contemporary visual artist based in Bengaluru, India. Her art practice encompasses monumental public sculpture, installation, video and digital art.
Romi is the recipient of the 2019 CIMA Infosys Special Award as well as the 2019 KWAA (Karnataka Women Acheiver's Award) award for Excellence in Art & Culture.
Recently, her immersive digital art project "#Who R U?" was part of "The Future is Here", a major art and technology show curated by Dr. Arshiya Lokahndwala for the Bajaj Foundation, Mumbai.
Her video artwork "Ocean within a drop" was screened at the Birmingham Art Summit at MAC in the UK on World Water Day in 2018.
Her large-scale public sculptures are installed across various tech parks and other campuses including the historic Cubbon Park, Hilton Hotel, BOSCH Learning center, Shell R&D Center, Manyata Tech Park in Bengaluru as well as Kochi World Trade Center and the Business Jet Lounge at Cochin International Airport.
About gallery g
Started in 2003 it;s a space where artists can innovate, find more inclusiveness and get more prolific with their work. gallery g attempts to showcase art that appeals to everyone, and even challenges those who don't have an eye for it.
In the twenty years since inception, gallery g has grown from showcasing and stocking work of well-known artists, to building a platform for up and coming artists to display their works, mentoring promising talent, besides curating art for worthy spaces.
With an extensive collection of diverse art works from Modern and Contemporary Indian artists, gallery g is committed to making high-quality art an accessible and affordable lifestyle choice for everyone. Our experiences with interior designers and property developers have enabled us to provide a service package with comprehensive selections that cater to commercial and residential units. For those with specific requirements, gallery g is happy to commission suitable works based on our expertise to complement a client's space and match the given budget.