Shaadi by Marriott is a concept by Marriott which provides one-stop solution for destination weddings in India with exotic venues and meticulous planning.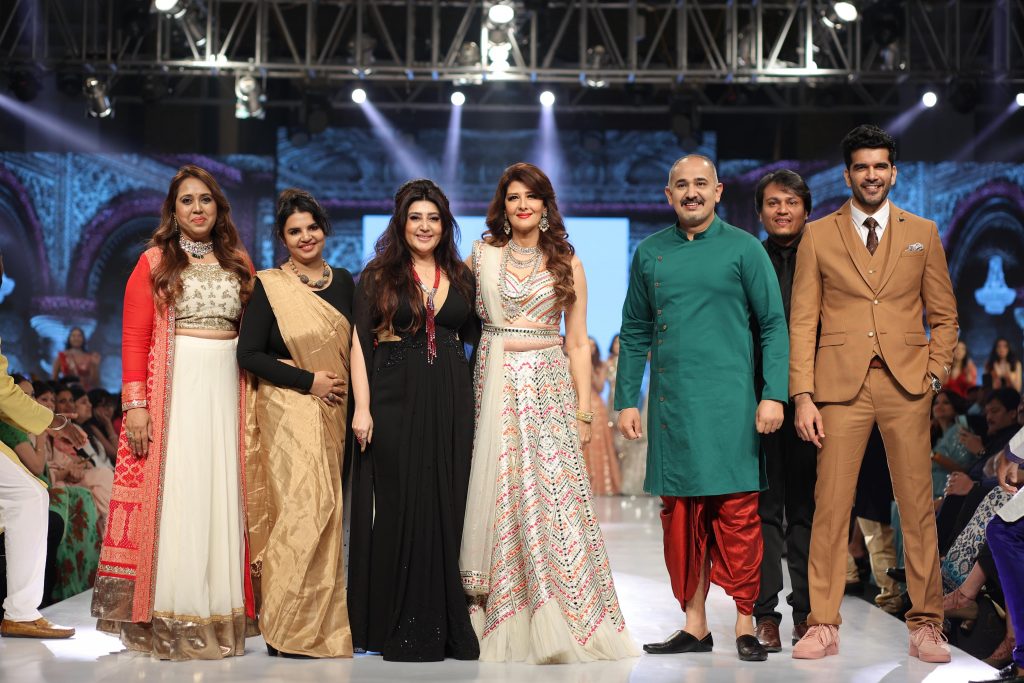 Sheraton Grand being a beautiful property, is the best place for weddings. The concept of Shaadi by Marriott is all about grandeur that also defines what Sheraton Grand Palace Indore is all about.
The INIFD Indore Times Fashion Week was held in the property where models from Mumbai walked the ramp adorning designs from Archana Kochhar's collection. Sukriti and Prakriti Kakar opened the show with their melodious songs.
The show stoppers – Sangeeta Bijlani and Taher Shabbir walked the ramp in a stunning bridal costume along with Archana Kochhar and Mr. Rohit Bajpai, General Manager, Sheraton Grand Palace Indore. A lounge was also set up in the lawn area where people could experience the grandeur of Shaadi by Marriott concept.
Mr. Rohit Bajpai, General Manager, Sheraton Grand Palace Indore was ecstatic and shared that, "Exclusivity is something we provide in every wedding that is planned and conducted at our property. The Marriott Group has a countrywide concept called "Shaadi by Marriott"- a wedding crafted to perfection and successfully managed by our skilled planners. Our prime objective of introducing this concept is to create a wedding experience that is superlative in its offerings; be it great food, fabulous venue settings, and above all, highest service levels. The goal is to give our guests the wedding of their dreams."
About Sheraton Grand Palace Indore:
Located across a lush expanse of 8.62 acres with striking gardens, Sheraton Grand Palace Indore houses 115 rooms & suites and is near both the airport and railway station and city's business and commercial centers. Experience the touch of royalty in this palatial hotel which is well-equipped with state-of-the-art conference and meeting venues that span over 1,25,000 square feet.
Additionally, the hotel features 65,000 square feet of outdoor lawn space and makes it perfect for large weddings and social functions. Food and beverage offerings include the 'S Café' – all-day dining offering an extensive menu and an array of international cuisines; 'Araana' – a signature Indian Specialty restaurant; 'Malt' – an upbeat and stylish bar and 'Infuse' – offering freshly baked delicacies and handcrafted cakes.
About Sheraton Hotels and Resorts:
Sheraton Hotels & Resorts, part of Marriott International, Inc., makes it easy for guests to explore, relax and enjoy the possibilities of travel at nearly 450 hotels in over 70 countries and territories around the world. Sheraton continues to enhance the brand through innovative guest experience, differentiating design, multi-channel marketing and a sharp focus on service. Sheraton is proud to participate in the industry's award-winning loyalty program, Starwood Preferred Guest®. Members can now link accounts with Marriott Rewards®, which includes The Ritz-Carlton Rewards® at members.marriott.com for instant elite status matching and unlimited points transfer.
Marriott International, Inc. (NASDAQ: MAR) is based in Bethesda, Maryland, USA, and encompasses a portfolio of more than 7,200 properties under 30 leading brands spanning 134 countries and territories. Marriott operates and franchises hotels and licenses vacation ownership resorts all around the world. The company now offers one travel program, Marriott Bonvoy™, replacing Marriott Rewards®, The Ritz-Carlton Rewards®, and Starwood Preferred Guest®(SPG).