Jewellery is like the perfect spice; it always complements what's already there – Diane von Fürstenberg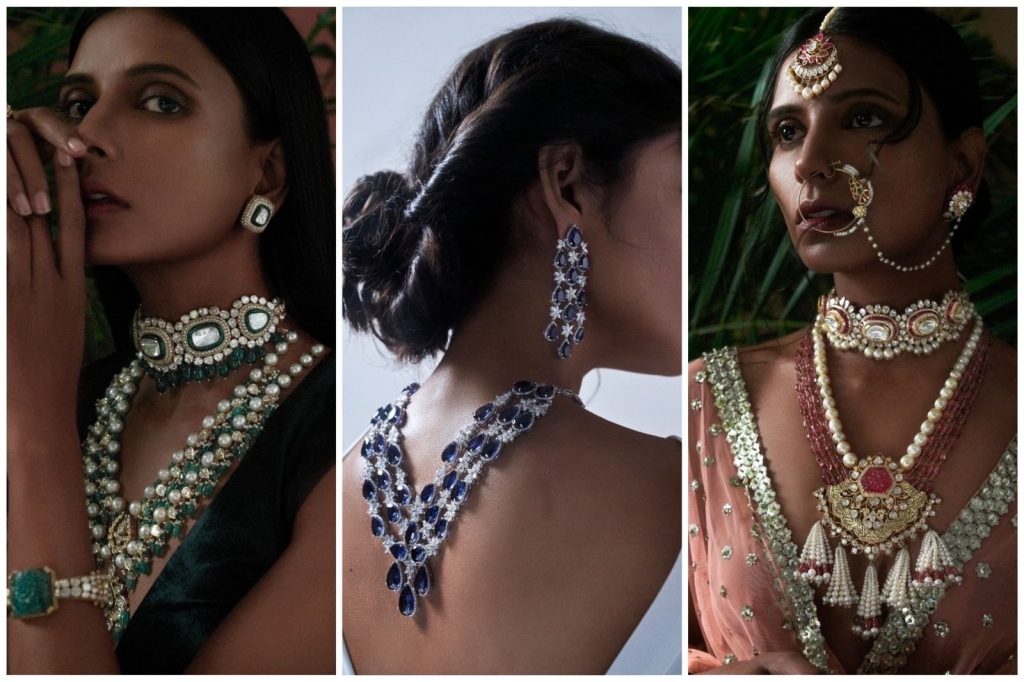 And all set to add that perfect spice to your Indian fineries, AMARIS by Prerna Rajpal brings to you its finest hand-crafted jewellery pieces from its 2021 festive collection. With an array of precious-coloured stones such as emeralds, rubies, and sapphires to diamonds and polkis set in intricate designs, this Diwali brings home joy, warmth, and endless celebrations with AMARIS.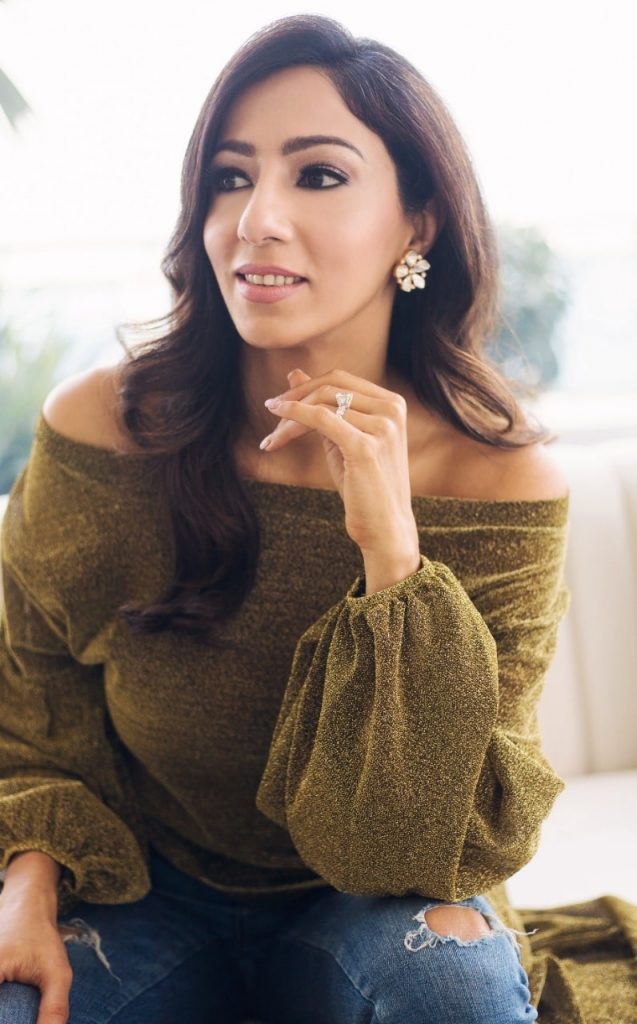 "The Indian festive season brings with it joy, warmth and endless celebrations. Diwali is an auspicious time to invest in jewellery. Buying jewels for the women of the family is not only considered auspicious but is supposed to attract more wealth and prosperity."
Prerna Rajpal, founder, AMARIS
As a trusted fine jewellery brand, AMARIS only uses hallmarked gold and certified diamonds and carefully sources each precious stone. Each piece of jewellery is manufactured by its in-house artisans and every design is backed by a lifelong buyback and exchange system. So, this Diwali invest in AMARIS' handcrafted exquisite jewellery pieces and add that extra sparkle to every joyous moment you shall cherish forever!
Dancing Peacock Earrings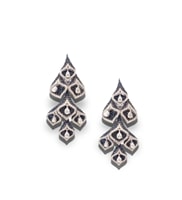 Light up your festive wear with the dancing peacock earrings. Adorned with emeralds and uncut diamonds, the design created using the uttrai technique beautifully creates an illusion of a peacock hidden among flowers. Set in a contemporary yet traditional style, the earring is a design extraordinaire and a perfect jewellery piece to flaunt this festive season.
No Rules Bracelet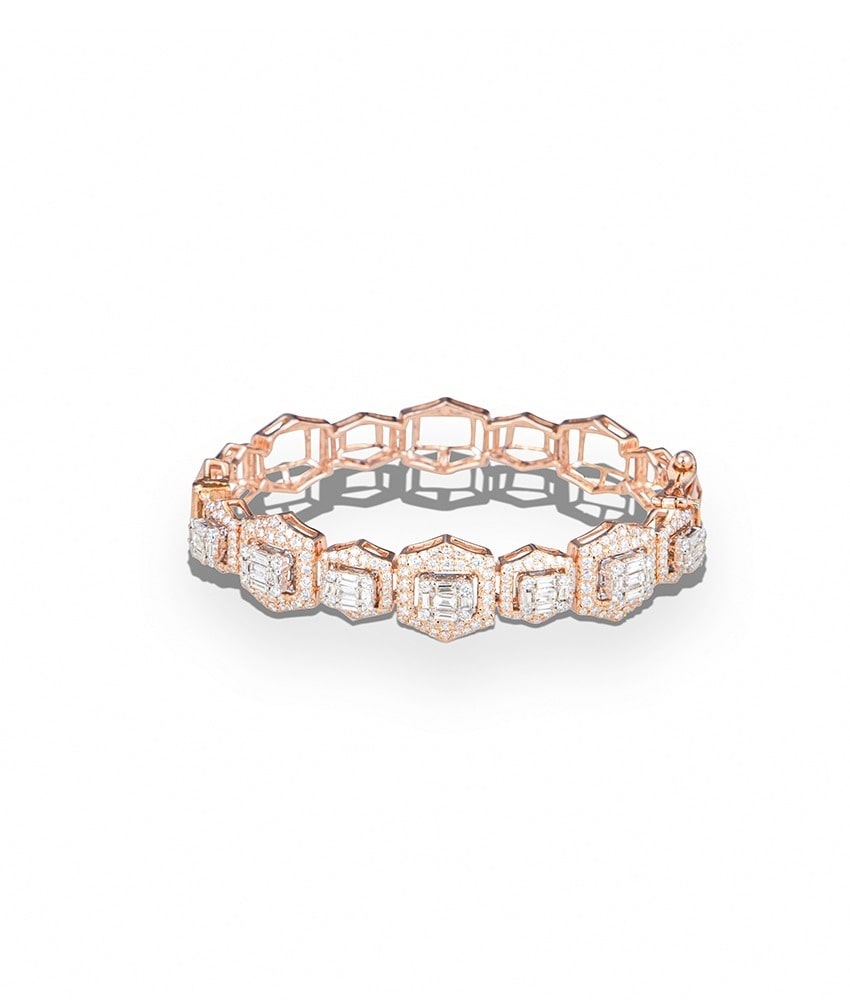 Every girl needs a go-to bracelet that complements every outfit and occasion. AMARIS' No Rules Bracelet is all about having fun this festive season. Defined by a structural yet organic design, the bracelet holds the finest illusion setting of emerald-cut diamonds, making them look larger than life. Set creatively in a frame of round diamonds, the bracelet is a one of a kind piece to invest in this festive season.
Ruby Blossom Studs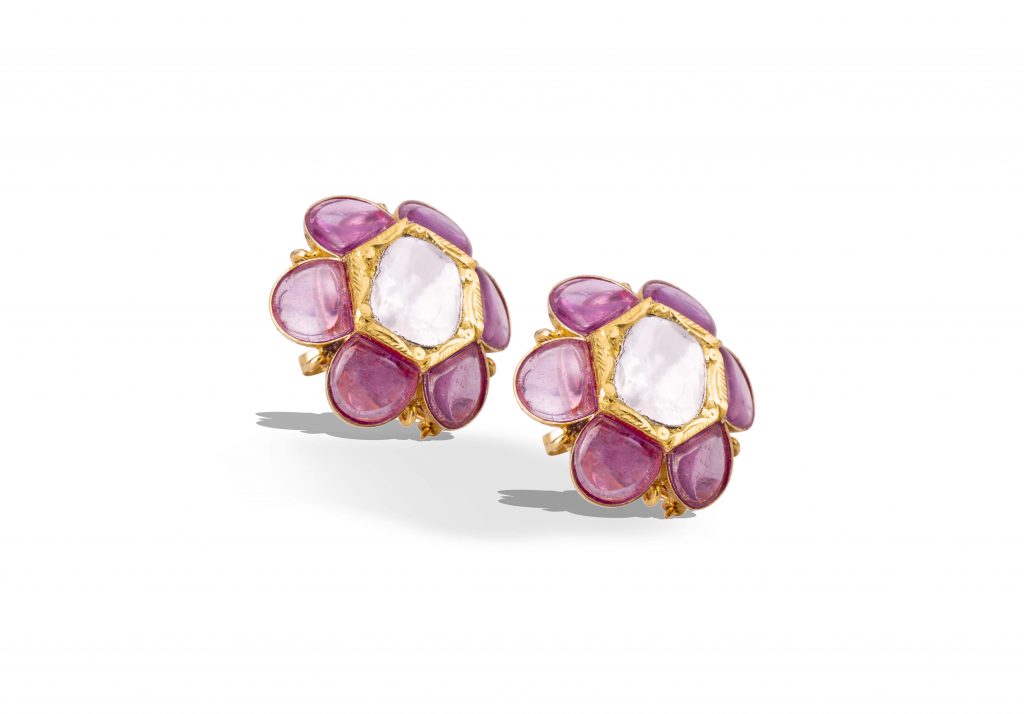 If simple yet statement jewellery is your thing, then AMARIS' Ruby Blossom earrings are a must-have. Blooming in the finest of rubies and adorned in gleaming uncut diamonds handcrafted in 18k gold, the earrings are delicate and light on the ears. The studs will be the perfect muse for all things festive.
Classic Navrattan Necklace

Royalty and grace come alive in AMARIS' Classic Navrattan Choker. A perfect blend of traditional and modern, the beautifully carved hexagonal navrattan stones, set in a frame of gleaming round diamonds accentuates the geometrics shapes in the piece. To add a sparkling touch to the set, the choker also features polkis. You could wear the choker as is or pair it with matching earrings to ring in the celebrations.
Summer Muse earrings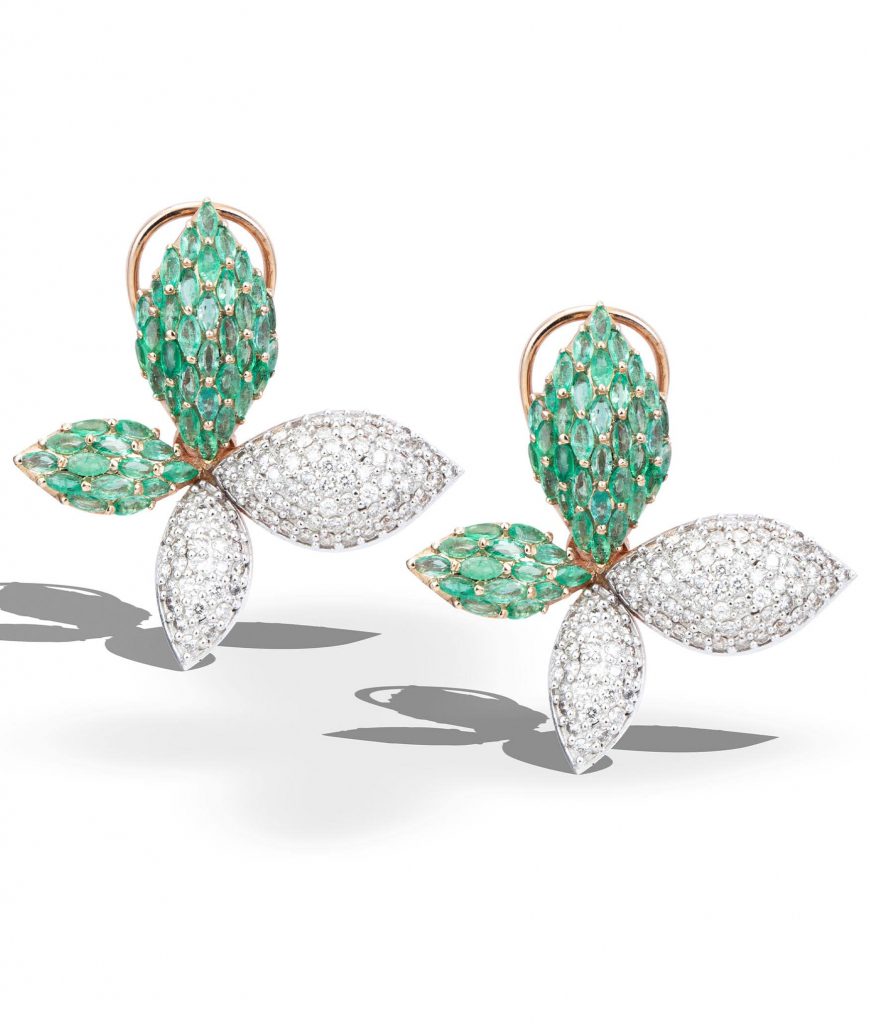 Feminine and contemporary, the Summer Muse Earrings are inspired by the delicate butterflies and cheerful colours of summer. While one half of the earring is adorned in marquise -shaped Zambian Emeralds the other is set in gleaming diamonds. These gorgeous beauties are timeless and will make heads turn anywhere you go!
Tanzanite Vision studs
The Tanzanite vision studs is an out-of-the box pair consisting of a gorgeous composition of Tanzanites along with uncut diamonds. What makes this a great investment is it's craft and the simple yet elegant setting that will never go out of style.
Classic Navrattan Bangle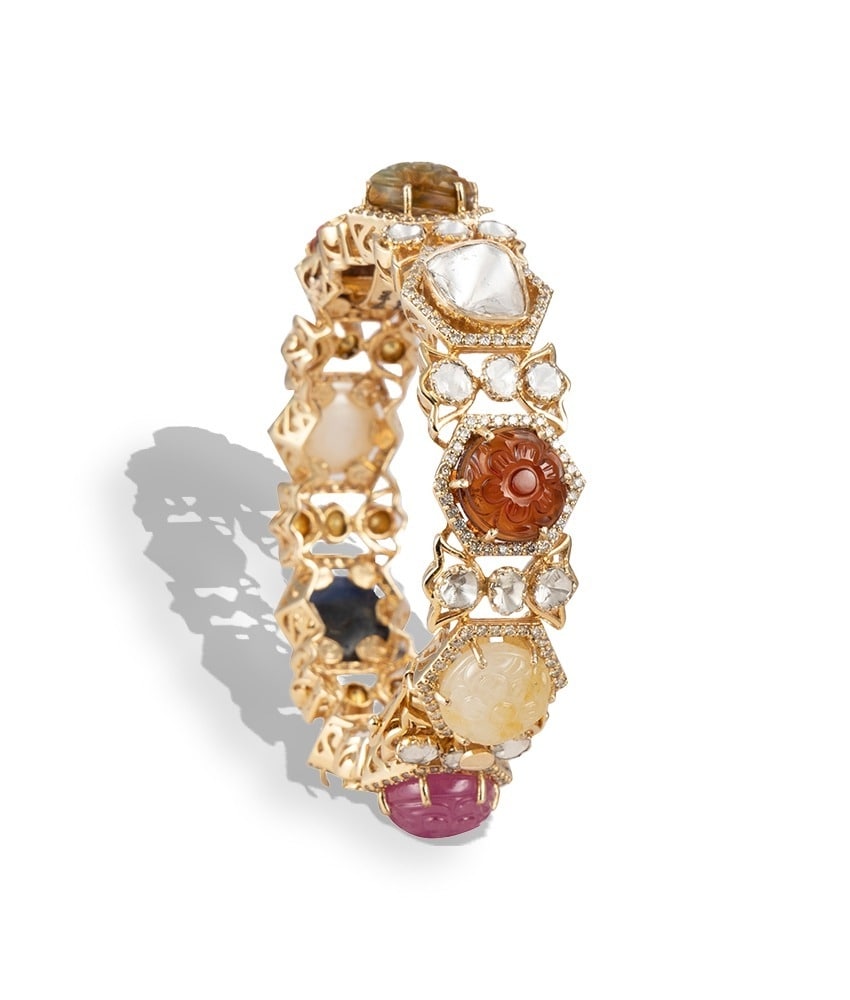 AMARIS understands the assignment when you say festive! The classic Navrattan bangle is every woman's dream come true. Adorned in a geometric round diamond border, which holds the most gorgeous hand-crafted navrattan stones and uncut diamonds, this bangle is the accessory that celebrates you.
Mughal Trio Earrings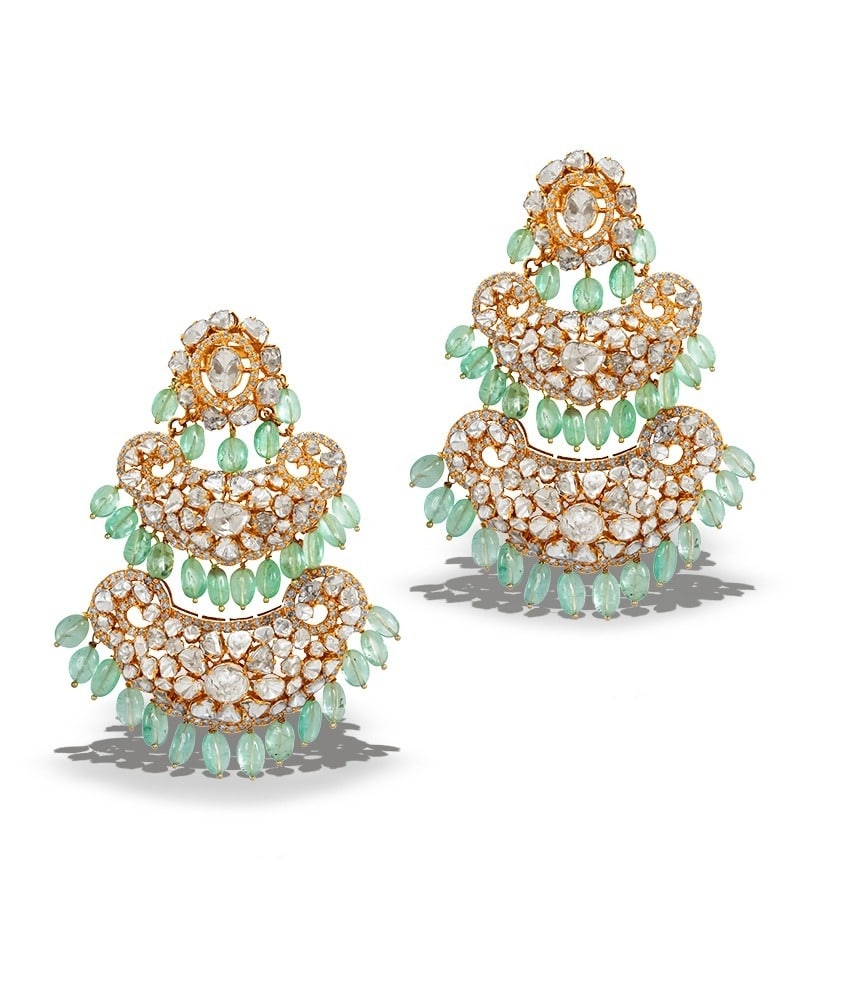 Triple the fun this festive season with the Mughal Trio Earrings. Inspired by the motifs and shapes from the Queen's era, these 3-tier earrings feature vibrant shades of Colombian emeralds and diamonds. While the earrings are extremely light weight, the design alone will add pizzazz to your overall look.