Mumbai – Black Cube, an alternative art gallery based in New Delhi, is excited to announce its art fair debut at Art Mumbai 2023, a highly anticipated art event set to take place from November 16th to 19th. This prestigious showcase, known as the "art fair of the future," will be held at the iconic Mahalaxmi Racecourse, seamlessly blending the charm of old Mumbai with a carefully curated selection of modern and contemporary art from around the world.
Founded by the visionary Sanya Malik, an independent art dealer, curator, and writer, Black Cube has consistently represented numerous established and emerging Indian artists since its inception. The gallery's participation in Art Mumbai 2023 marks a significant milestone in its journey of promoting eminent Indian modern and contemporary artists. Black Cube will occupy a prominent booth in the modern art section of the fair and contribute to the Sculpture Garden within the outdoor grounds of the event.The booth will showcase the works of renowned artists such as Himmat Shah, Jogen Chowdhury, Krishen Khanna, Thota Vaikuntam, Manu Parekh, Madhvi Parekh, Arunkumar HG, Phaneendra Nath Chaturvedi, Valay Shende, and Yashika Sugandh. Meanwhile, the Sculpture Garden will exhibit pieces by Phaneendra Nath Chaturvedi, Dhananjay Singh, and Valay Shende, all of which are captivating sculptures. These artworks encompass a range of materials, from bronze with patina to stainless steel.
Jogen Chowdhury, Krishen Khanna, Thota Vaikuntam, Manu Parekh, and Madhvi Parekh have each made their mark in the art world through their unique artistic styles. However, this exhibition showcases a shift in the medium of self-expression for these artists, representing a transition from "paint to patina".
In addition to these esteemed modernists, Black Cube will also feature contemporary Indian artists who push the boundaries of tradition and share a profound interest in the harmonious connection between nature and the mysterious animal world. Phaneendra Nath Chaturvedi, a master of stainless steel, breathes life into intricate butterflies, which cast delicate shadows that dance within the medium. Valay Shende employs hundreds of stainless steel discs in his works, symbolizing the enduring link between humanity and the animal kingdom. Yashika Sugandh orchestrates the passage of time itself, as her kinetic clocks, adorned with meticulously painted animals, choreograph a nature-inspired ballet with every tick and tock. Arunkumar HG conjures captivating animal sculptures that encourage us to explore the deep connection between art and life, a theme shared by all these visionary artists.
About the participating artists
Himmat Shah – Born in 1933, is a versatile Indian sculptor known for his unpredictable style. His work spans bronzes, showcasing innovation and artistic evolution. Trained as a drawing teacher, he studied art in Baroda and Paris, and was part of Group 1890. Shah's art includes drawings, sculptures, and murals, exhibited globally, earning him accolades like the Kalidasa Samman.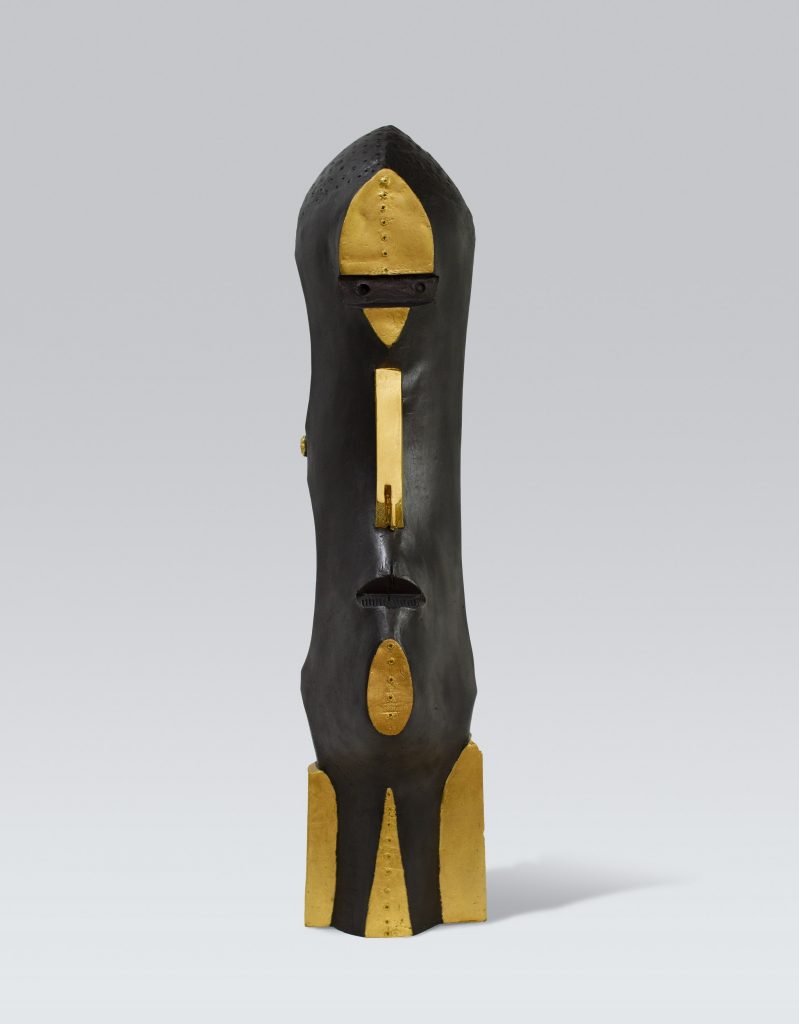 Jogen Chowdhury – Born in 1939 in Bengal, is known for blending traditional and contemporary elements in his art. His work reflects the influence of his troubled upbringing in Calcutta, with themes related to political movements and social issues. He studied in Kolkata and Paris and has exhibited internationally. Awards include Prix le France de la Jeune Peinture and the Kalidas Sanman.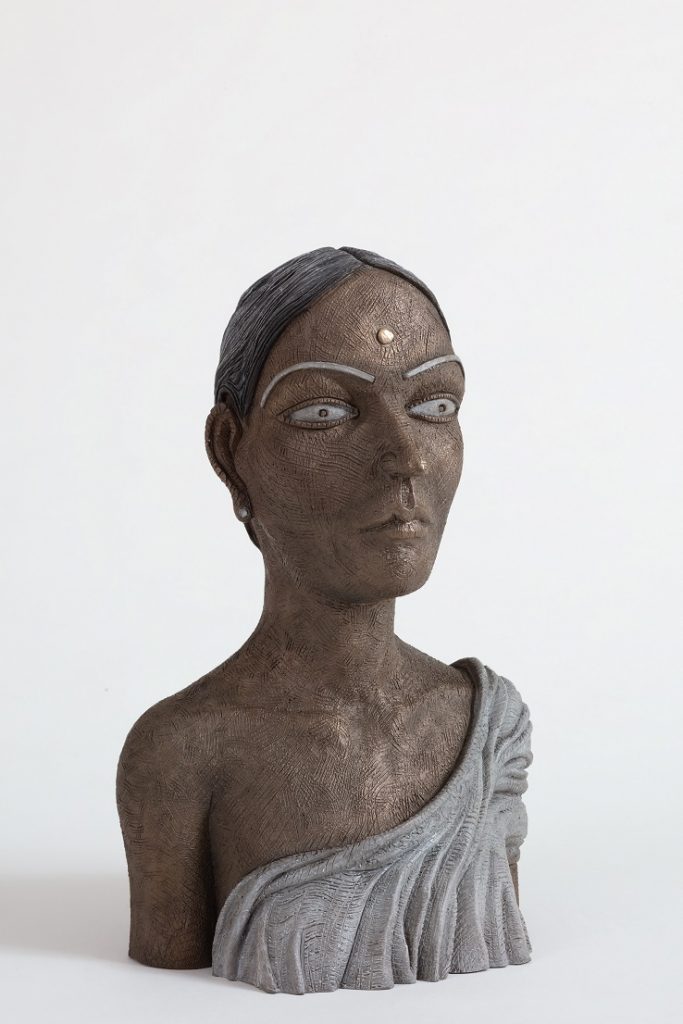 Krishen Khanna – Born in 1925 in what is now Pakistan, grew up in Lahore and later moved to India due to the Partition in 1947. His figurative artwork captures historical moments with spontaneity and vibrant color. He was part of the Progressive Artists' Group and exhibited widely in India and abroad. Khanna's honors include the Padma Shri and Lalit Kala Ratna. He currently resides in New Delhi.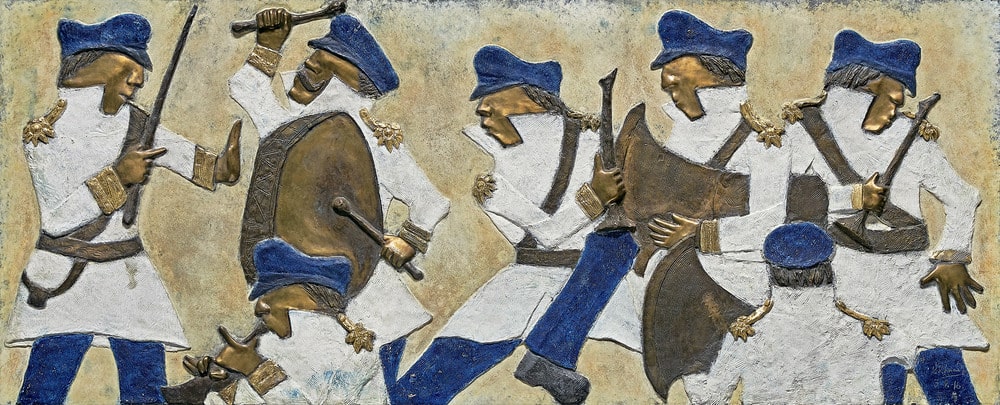 Thota Vaikuntam – from Andhra Pradesh, South India, is known for his vibrant paintings inspired by rural life. His work often features men and women from his village, with a particular focus on Telangana women. His art is characterized by strong lines, fine strokes, and the use of primary colors. Vaikuntam was born in 1942, studied painting in Hyderabad and Baroda, and has exhibited his work in various galleries across India and internationally. He has received awards, including the National Award for Painting in 1993, and continues to create art in Hyderabad.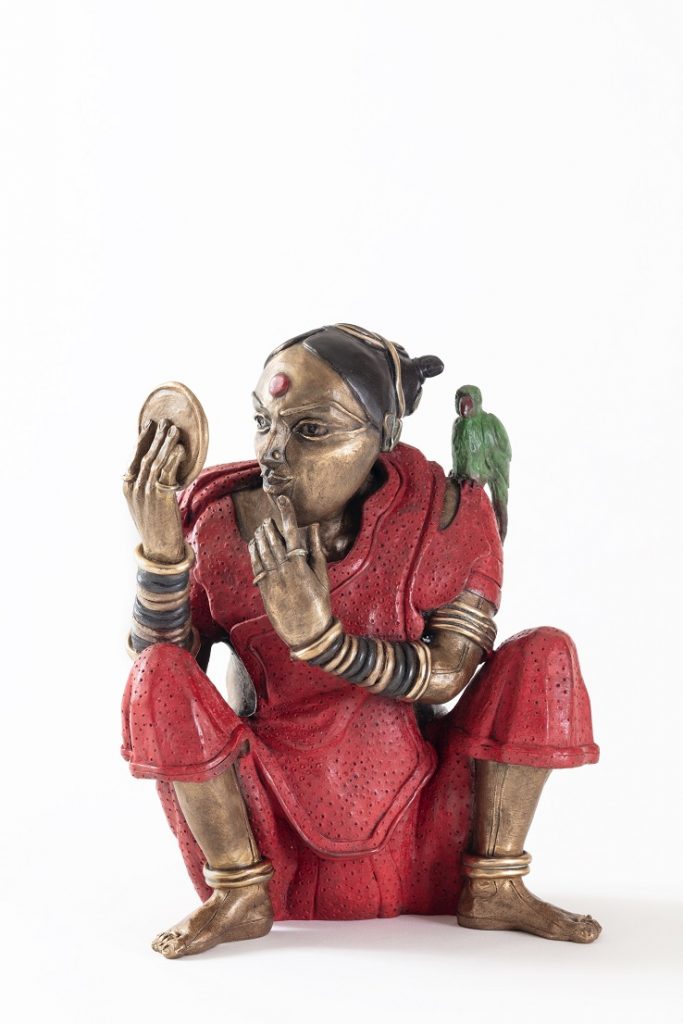 Manu Parekh – Born in 1939 in Gujarat, Manu Parekh, a graduate of the Sir J.J. School of Art, Mumbai, has dedicated his art to exploring the relationship between man and nature. His works exude vibrant colors and bold lines that embody the energy he seeks to capture. Parekh's art is a dynamic interplay of contradictions, evoking emotion and anguish in the viewer. Parekh's career began in 1968 with a solo exhibition in Ahmedabad, and he has since held numerous exhibitions worldwide. He has received several prestigious awards, including the Padma Shree from the Government of India in 1992. Currently residing and working in New Delhi, Manu Parekh continues to captivate audiences with his captivating and energetic art.
Madhvi Parekh – Madhvi Parekh, hailing from the rural village of Sanjaya in Gujarat, draws from her rural roots to create stylized folk art. Madhvi's paintings weave fantasy and early experiences into a dreamlike narrative. Her art is marked by fresh spontaneity and flexible compositions, offering a surreal quality. Her work often conveys a sense of emancipation, freeing humanity from the constraints of mechanical time. Madhvi has an extensive exhibition history dating back to 1972, with nearly a hundred solo and group shows worldwide.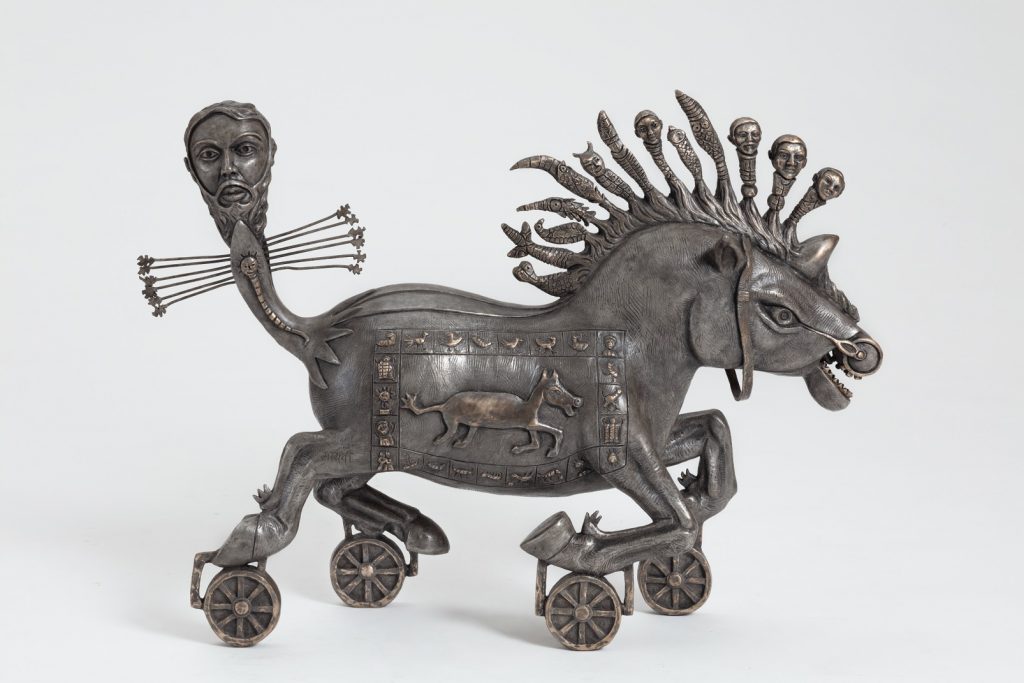 Phaneendra Nath Chaturvedi – Phaneendra Nath Chaturvedi, born in Varanasi in 1981, unapologetically unveils the grotesque, robotic nature he perceives in the individuals he portrays in his large-format works. His art dissects the artificiality of appearances and the corruption present in contemporary human existence. With a BFA and MFA in painting from the University of Lucknow's Faculty of Fine Arts, Chaturvedi's stark and provocative creations have earned him recognition, including the Vishisth Pratibha Samman and awards from the Ministry of Culture. He continues to challenge viewers' perceptions of humanity.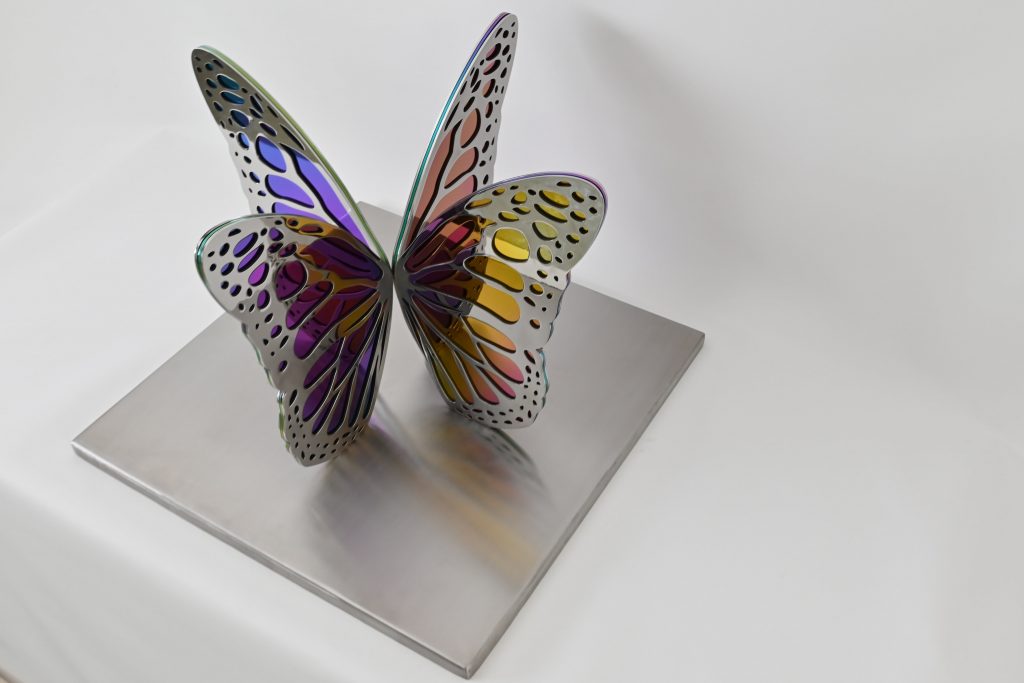 Valay Shende – Valay Shende, born in 1980 in Nagpur, is a video artist and sculptor capturing contemporary urban issues. Trained at the Sir J.J. School of Art, Mumbai, his work bridges the gap between modern industrial views and traditional religious ones in India. Shende's sculptures, built from minute metal discs and non-traditional materials, challenge conventional ideas of sculpture. He exhibits internationally and combines video art with sculptural installations to provide fresh perspectives on everyday life. His work has been featured in solo and group exhibitions worldwide, including Zurich, Mumbai, and various international locations, reflecting his keen observations and societal concerns.
Yashika Sugandh – Yashika Sugandh is a distinguished visual artist hailing from Delhi – NCR, holding a Master of Fine Arts Degree achieved in 2017. Her professional journey as an artist commenced in the same year, and she has since made an indelible mark on the art scene. Yashika has showcased her work in numerous prestigious exhibitions, including India Art Fair, Birla Academy of Art and Culture, Jehangir Art Gallery, ICCR (Indian Council for Cultural Relations), Lalit Kala Akademi, IGNCA (Indira Gandhi National Centre For The Arts), HT City Imagine Fest, Artbuzz Studios, and Emergent Art Space.
Yashika Sugandh's exceptional talent has garnered recognition, earning her the City Award for Delhi in Kalanand Art by Prafulla Dahanukar Art Foundation in 2017, and the All-India Merit Grant for lockdown Art by the same foundation in 2021. Her educational journey is equally impressive, with an MFA in Painting from Amity University, Noida, and a BFA in Painting from the same institution. Yashika's artistry is a testament to her dedication and passion, and her participation in various exhibitions reflects her commitment to the world of visual arts. Her work continues to captivate and inspire art enthusiasts nationwide.
Arunkumar HG – Born in Karnataka, Arunkumar H.G completed his Bachelors and Masters degrees in Fine Art from M.S. University, Baroda. Arunkumar's sustained artistic investigation into a diversity of ecological concerns brings forth disharmonies, which are created by rampant consumerist culture. This spread is in inverse proportion to the great decline of natural resources and habitats. With each work, Arunkumar brings in his own local, historical and cultural milieu. The work becomes a generative rather than a conclusive commentary of his concerns regarding the environment at large.
Dhananjay Singh – Dhananjay Singh, born in 1977 in Bihar, is a sculptor whose unique works blend bronze and copper wire, intricately entwined to create near-human scale sculptures and drawings. He has received numerous accolades, including the Commonwealth Arts and Crafts Award and the National Lalit Kala Akademi Award. Inspired during a residency in Melbourne, Singh's art is an exploration of complex networks and human figures. His art has been featured in solo and group exhibitions, demonstrating his innovative approach to sculpture.
Black Cube profile:
Black Cube is an alternative gallery based in New Delhi, that represents a number of established and emerging Indian artists. Since 2018, Black Cube has played an important role in promoting eminent Indian modern and contemporary artists. Black Cube is invested in the growth of artists careers and work toward bringing visibility to their work on prestigious platforms. Black Cube was founded by Sanya Malik, with the aim of making art more accessible to audiences. Black Cube only deals in the primary art market, all our artworks are procured directly from the artists that we represent or work closely with.
https://www.blackcube.in
Sanya Malik' profile: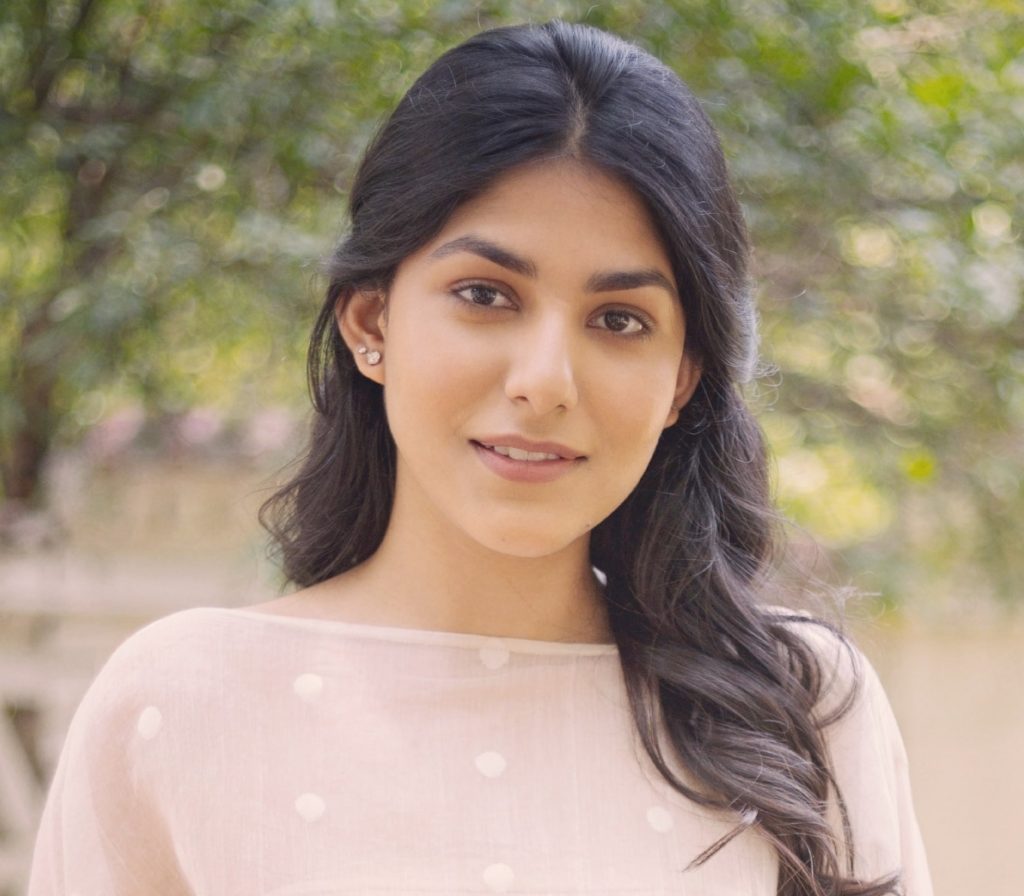 Sanya Malik is an independent art dealer, curator and writer based in New Delhi. She has over 8 years of experience in the primary Indian art market. Alongside her independent dealership, she has held various positions working in the commercial and non-commercial sectors of the art world such as India Art Fair and The Gujral Foundation. Sanya attained her Masters degree at Royal College of Art, London in 2022 and her BA degree from Central Saint Martins, University of the Arts London in 2015. She is the founder and director of Black Cube. Passionate about working with artists and learning deeply about their practices, Sanya has developed close relationships with Indian artists over the last decade working in the industry. With Black Cube, Sanya aims to promote their practices and showcase them on prestigious platforms.
LinkedIn: https://www.linkedin.com/in/sanya-malik-a111787a/
Event Details –
Date – 16th to19th November
Time – 11am Onwards
Address – Mahalakshmi Race Course, Mumbai
Tickets to be booked at – https://insider.in/art-mumbai-2023-nov17-2023/event?fbclid=PAAaZtyuEe3XnNF_s4dcfnxVCSQvygY0iqBeHLeHmNtzlEsyfSEYio5n6uXNQ