Duchess of Sussex unveiled the September issue of British Vogue cover on Sunday. She is also the Guest Editor of the magazine and worked along with the Editor in Chief, Edward Enniful for seven months. Entitled as 'Forces of Change', the magazine will be featuring fifteen women across the world who are working to reshape society in a radical and positive way.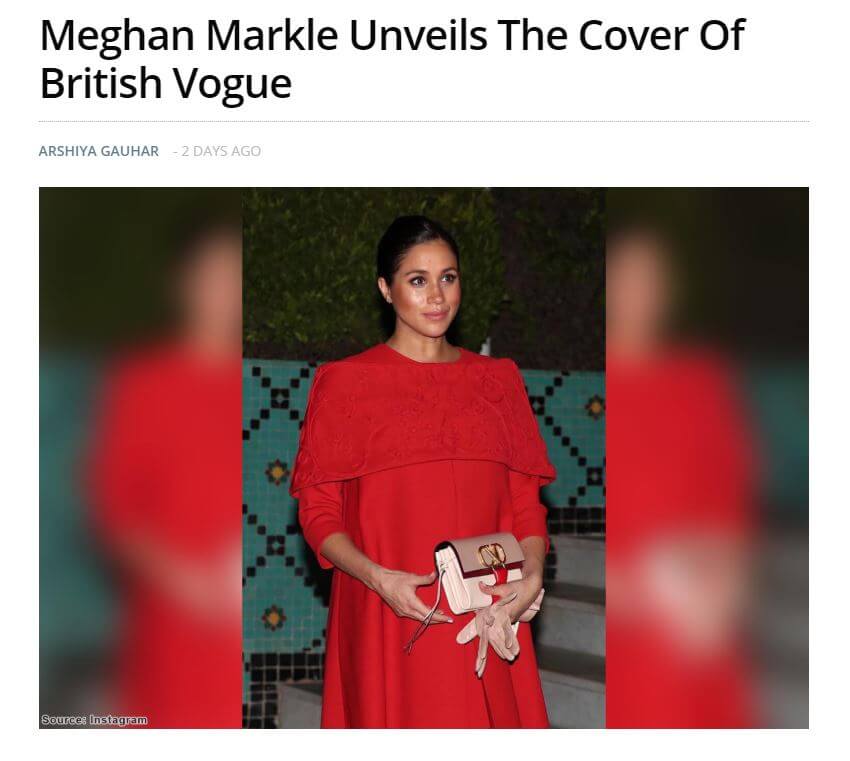 While Meghan did her job in a great manner by shifting the focus of a fashion magazine towards a deeper issue, her act has been criticized by many for not including the Royal Highness, Queen Elizabeth, who is regarded as the ultimate inspiration for many. Twitteratis took it to their social media, bashing the Duchess that she is promoting her own name rather than supporting the meaningful social impact of the influencers.
Megan Markle picks 15 women she admires and doesn't pick the Queen. This is not going well. #MeghanMarkle

— Johnnybowe (@Johnnybowe_) July 29, 2019
Netizens also criticized her for including mostly A-listers rather than paying tribute to all the women who are working to bring the change in everyday life, without making it to the news.
#MeghanMarkle could have paid tribute to our wonderful teachers, nurses, doctors, carers, charity volunteers, women working with refugees, working mothers, young working class women who study and hold down jobs. But these people are not famous or "woke" enough for her #megxit

— True Blue Islander (@geniuswriter1) July 29, 2019
As the hate tweets for Meghan poured in, Journalist Piers Morgan called Markle's effort as a 'hypocritical super-woke Vogue stunt'. He also criticized her for wiping out the whole male population from the Vogue September issue.
*NEW COLUMN*
Me-Me-Meghan's shamelessly hypocritical super-woke Vogue stunt proves she cares more about promoting herself than the Royal Family or Britain.https://t.co/DVLagijADu pic.twitter.com/W7CGoL5qHk

— Piers Morgan (@piersmorgan) July 29, 2019
Other than this Piers also has an ill feeling about the whole September issue of the British Vogue especially with Jameela Jamil who is among the fifteen women, making an appearance on the cover.
*NEW: One of Meghan's 'kind & inspiring' female-empowering Vogue 'heroines' is @jameelajamil – who called @Beyonce a 'stripper', said @MileyCyrus was a 'vagina with no platform' & told @Rihanna to 'put your m*nge away.' https://t.co/u5A652tz7y pic.twitter.com/kj8U9Rn5YC

— Piers Morgan (@piersmorgan) July 29, 2019
His criticism attracted an open feud with 'The Good Place' actor Jameela who called him an old, problematic slut-shaming, misogynist, smeared across the country.
My PINNED tweet is all of the mistakes I made, owning up to being problematic when I was young. I have nothing to hide. You are old, and still a problematic slut-shaming, fat-shaming, misogynist, irrelevant shit stain, smeared across our country. https://t.co/4SGdb8Tb2h

— Jameela Jamil 🌈 (@jameelajamil) July 30, 2019
Along with it, Meghan curated Vogue cover has a similarity with the Samantha Brett's and Steph Adam's book 'The Game Changers' where the 'Suits' actress had written an essay describing herself as 'self-sufficient and a go-getter'.
Coming up on #TheLatest with @michaelusher on @Channel7 – my thoughts on the #meghanMarkle Vogue similarities to "The Game Changers" book, flattered! pic.twitter.com/uXwrs641UR

— Samantha Brett (@samanthabrett) July 29, 2019