As Versace turns 40 this year, with 20 years of Donatella Versace as Artistic Director of the brand, the fashion house is all set to make a splash in the realty sector in India with Versace Home and its interior design service in collaboration with the Unity Group, leaders in the real estate sector. Together, they will be bringing Versace's iconic styles into Indian homes. Versace was the first fashion house to launch a home collection in late 1994: it was Gianni's idea and vision to pioneer beyond the clothing business.
Since the very beginning, the idea has been not just to offer a Versace way of dressing, but a truly Versace way of living. And now, Versace Home and Interior Design readies to offer homes, the ultimate expressions of a Versace lifestyle, with each new home collection taking inspiration from the fashion line, bringing true Versace style to the homes we live in.
For the luxury residential projects, Donatella Versace has created the Interior Design Studio: a team of interior designers and architects working closely with her, to translate Versace's design aesthetics, and to tailor Versace furniture and furnishings to individual spaces so that every project becomes one-of-a-kind.
Currently, Abil Mansion in South Mumbai and Amaryllis in central Delhi are its two projects in India. The 'Amaryllis' by the Unity group and Versace is the first fashion-branded tower in Central Delhi, and the first phase is expected to be completed by 2019.
According to the Versace spokesperson, the design concept of the exclusive apartments, as well as the design, mood and feel of the common areas and amenities such as the lobby, the sky-garden, lounge-bar and swimming pool rooftop will be truly Versace, where comfort, luxury, exclusivity will become the everyday essence of fine living. Developed under the artistic direction of Donatella Versace, the apartments will feature bespoke interiors created with the best Italian craftsmanship and a modern look that is unmistakably Versace.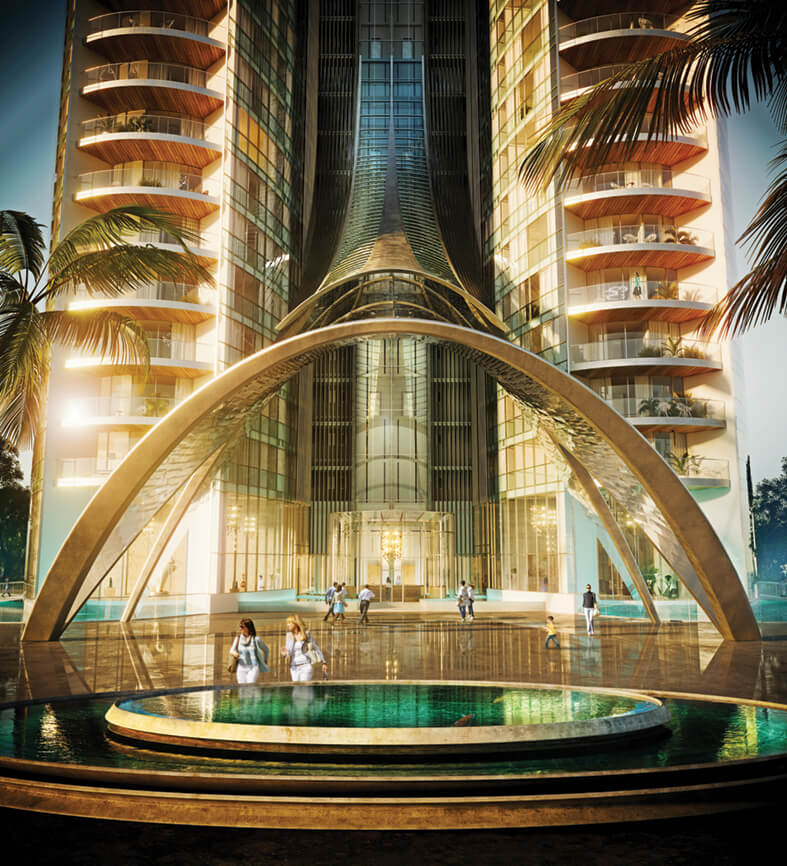 India has seen several luxury developments coming to life in the last couple of years, particularly in the New Delhi region (i.e. Trump Towers in Gurgaon). However, the unique central position, the architecture itself and the high quality standards, together with the extreme luxury feel of Amaryllis, is what will set it apart, says Harsh Vardhan Bansal, Director, Unity Group. This is the second interior design project by Versace Home  launched in India. 'Abil Mansion' in 2015, a very exclusive residential project, located in South Mumbai, was the first.
Versace's strategic policy for the interior projects has always been to select partners that share the same values, and the same vision and standards. The company's spokesperson explains, "We believed in the vision of Unity Group to develop a unique project, one of the biggest private projects currently under development in Delhi. Versace Home represents approximately 10 per cent of the total company business."
The demand for Luxury Residential is increasing at a very fast pace in India, says Unity Director Bansal, adding that there is a great demand and a huge vacuum as far as the supply  is concerned. He says, "We have always been Delhi-based developers, and Delhi definitely had a lack of organised luxury residential options available. People in Delhi haven't got a lot of choice as far as residential projects by private developers are concerned. After Mumbai, we feel that Delhi would be the fastest emerging market for luxury-branded residential options, and that is the reason we chose to go for luxury housing in Delhi."
Currently, the market for luxury homes in India is still in a nascent stage, and the demand for branded residentials is even lesser. However, Bansal says this segment is growing at a very fast pace as is the market for branded residences. As people travel globally, they want to have the same standards of living wherever they stay. This is especially true for Delhiites, he says.
At around `15 Crores an apartment, Amaryllis will boast of world class amenities, including an infinity pool, spacious lobbies, a world class clubhouse, and a view overlooking the entire central Delhi like Connaught Place, Red Fort, Rashtrapati Bhawan and the Delhi Ridge.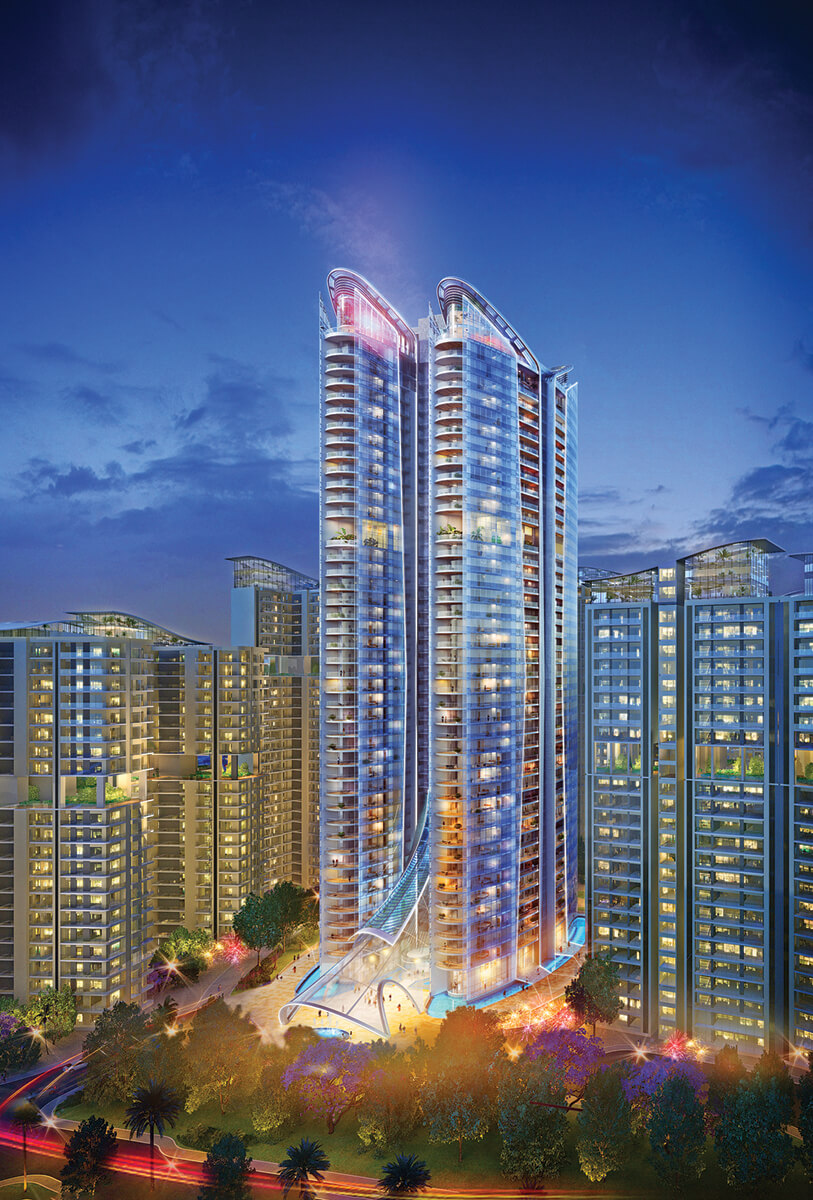 Why Versace? Bansal opines, "They are the world pioneers in fashion and one of the very few designers who have ventured into Home division making some extraordinary designs, and are known for their quality and designs. We believe that the who's who of Delhi, and Indians living across the globe want to have a part of Delhi, and this iconic tower located in central Delhi would be there ideal choice. For now, we are only concentrating on Delhi. As long-time Delhi-centric developers, we know this market well. We would want to first go public in Delhi, then take our project pan India, and of course, to the global Indian diaspora as well.
Despite the lull in the realty sector, Bansal is optimistic. "We have always believed that if you are true to your work and are transparent in your dealings, the markets are never too tough for you. We stand by three values, including Transparency, Vision and Commitment. We have been transparent in all our dealings from the beginning, and people who have known us have always believed in us. Also, we feel that after the introduction of RERA in the real estate sector, people's belief in real estate has increased, and real estate is on a rise at the moment. We feel that the time is opportune for us to announce the project, as Delhi has always been a much more stable market compared to all the other regions in NCR, and will continue to be stable and give investors, as well as end users, considerable growth in their real estate investments."
Unity Group is a diversified group with interests in various domains including commercial developments, residential projects, educational institutions, hotels, automobile dealerships, marble and healthcare. The Group is a zero litigation company and has been building successes and shaping Delhi's skyline since 1996, delivering more than 10 million sq ft of commercial, retail, hospitality and institutional spaces till date. Unity Group has more than 100 real estate developments across Delhi, and is currently working on more than 20 million sq ft of development in Delhi, including Amaryllis, an iconic mixed-use commercial development in Dwarka, and a 1000+ bedded healthcare project in Pitampura. They also recently delivered two multi-level car parking with retail projects in collaboration with DMRC .
Bansal concludes, "We are developing our project in phases. The first phase of the project will be handed over by 2019, and the iconic tower designed by Versace Homes will be delivered consequently in 2021 and 2022."