The 10th edition of Musicathon, the much talked about two-day musical festival slated to be held this April will be graced by the talented pool of nine reputed Independent Artists. The stellar line-up for this landmark edition will witness soulful performances amidst a stunning backdrop of the Dhauladhar ranges in the majestic mountain city of Bir. Musicathon is not just a festival, but a forefront in curating a platform that aims at glorifying the love of music with travel aficionados and melophiles from across the country.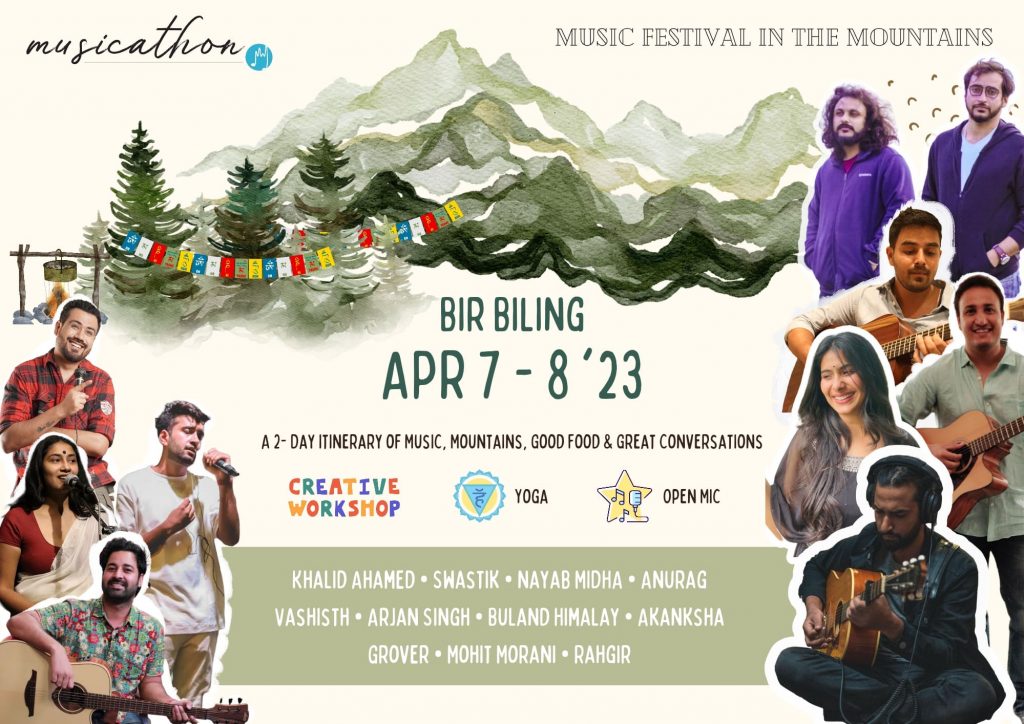 The latest edition will be headlined by the acclaimed artistic singer Khalid Ahamed aka front man of the eminent contemporary music band 'Parvaaz'. The man who doesn't need any introduction is going to be performing all his chartbusters along with his latest release "Khairiyat Se" from Hansal Mehta's film Faraaz. The music fanatics will be in treat to witness crowd's favorite Swastik The Band, a Chandigarh-based Rock Band known for their distinct music that takes influences from Indian Classical and alternative Rock music.
The latest edition line-up also consists of singer, songwriter, and music composer, Rahgir who became social media sensation with his hit song 'Aadmi Chutiya Hai'. Popular singer Anurag Vashisht, widely known as the king of sad romantic songs and singer songwriter Arjan Singh will sway the audience with their soulful performance. Another highlight will be the enchanting performance by the Hindustani Classical vocalist, Akanksha Grover Live who will surely captivate the hearts through her melodious singing. Nayab Midha, a renowned spoken word artist who will mesmerize the audience with her powerful poetry. Last but definitely not the least, Buland Himalay a.k.a. Jatin Sharma known for his energetic performances will ensure every attendee is swooning to his tunes.
This time, Musicathon has added a rather interesting stand-up comedy act to tickle all the funny bones of the attendees. The stage will be honored by none other than Mohit Morani who is known to deliver string punches.
"We are thrilled to share the exciting lineup that we have planned for the 10th Edition this April. From the man himself Khalid Ahamed to Swastik The Band, from rock to Hindustani classic music, we have curated a unique set of names that will pique interest from music lovers across genres. With the 10th edition being a landmark for us, this time we want to thank our loyal attendees with the best of Independent artists out there." said Gaurav Kushwaha, Creator of Musicathon.
The early bird tickets for the 10th edition slated on April 7 and 8 are already sold out. The normal tickets are now available starting from INR 2,200 for a music pass, and INR 3,850 for a Music Pass + Stay.
So, what are you waiting for? Book your tickets at the earliest. For more details and tickets, check out the link- https://musicathon.in/.
About Musicathon
Musicathon is a music festival that provides a platform for emerging independent artists who perform for travelers from across nationalities, in one of the most soothing locations. Began in the serene landscape of Bir, Himachal Pradesh in 2019 with a stunning backdrop of the Dhauladhar range. It is an eco-friendly affair that comes together with the efforts of the local community, talented independent musicians, and a bunch of people driven by a mutual passion for music, poetry, and love for the Earth and travel.