Luxury tableware brand Kaunteya has unveiled charming Christmas settings with its tableware collection – Jyamiti – that extol the artistry and symmetry of geometric lines to evoke elegance and fun.
Kaunteya collections are a grand, and nuanced celebration of Indian heritage, culture and mythology. Jyamiti, the Hindi name for geometry, showcases a simple, yet mesmerizing play of geometric lines, inspired from the carvings on huge domes, inlays on the walls or the architectural structures of Indian monuments.
The green and gold details against a pristine white backdrop result in stunning a tableware collection that oozes class, and enhance the magic of Christmas. The Christmas settings combine Jyamiti tableware with elegant candle stands in gold finish and botanicals and berries to evoke cheer and brightness.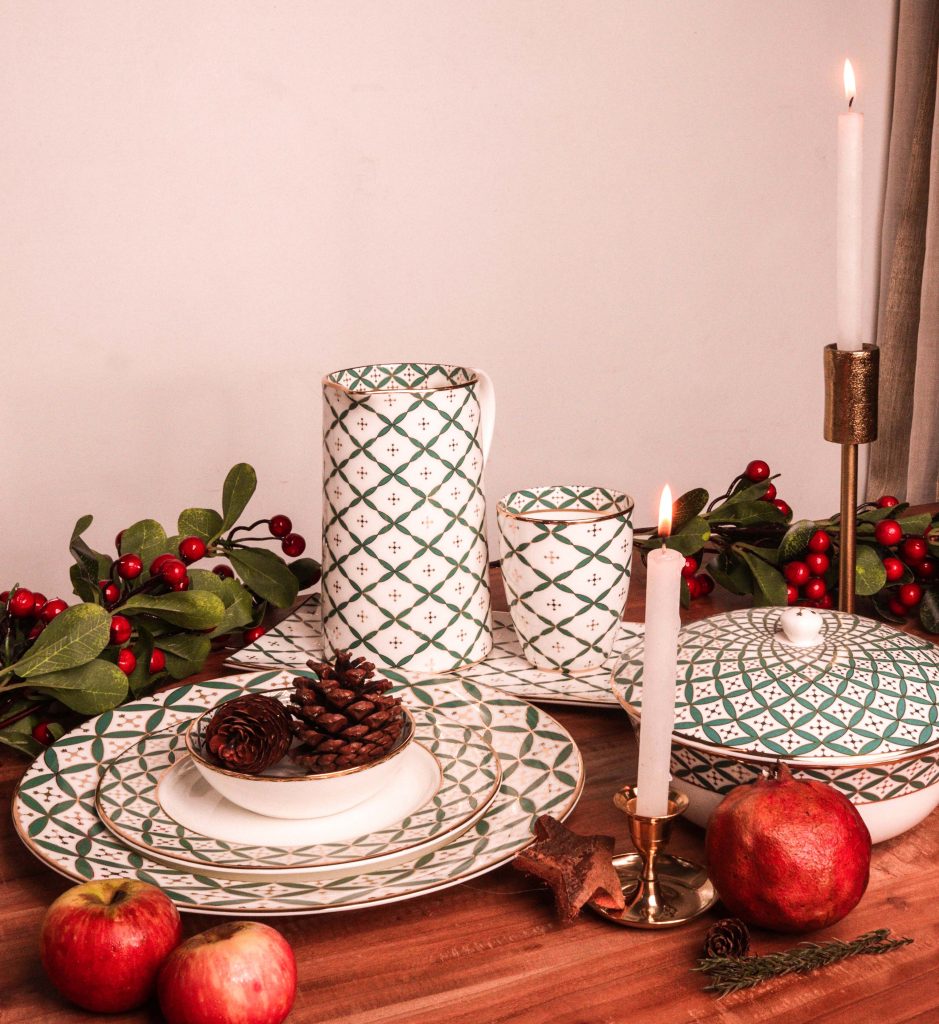 The Jyamiti collection comprises dinner plates, side plates, dessert bowls, dip bowls, soup bowls, serving bowls, serving bowls with lid in big and small sizes, rectangle cookie plate, square platter big and small, charger plate, jug and coffee mugs. Attractive gift boxes are also available.
About Kaunteya
Inspired by Indian mythology and its glorious heritage, Kaunteya presents bespoke tableware that brings a regal touch to your everyday life. Each piece from Kaunteya reflects an Indian story in all its splendor. Each of Kaunteya collections takes the incredible beauty of Indian art, culture, history and mythology to the world, and enriches it with its enchanting allure and depth.
The carefully crafted wares are created with utmost attention to every minute detail. The intricate designs are silk screen-printed, hand-decorated and then fired to achieve the breathtaking colours. They are accented with a touch of 24k pure gold, which transforms it into a perfect heirloom, which you would be proud to pass on to the next generation.
Availability:
Website: Kaunteya.in
The products are also available on the following Online Websites:
Tata Cliq Luxury, Home Artisan, MI Casa, House of Things, Jaypore, Qamaash Singapore among others.